Terminate Employment
To terminate employment, perform the following steps:
1. Click Employees on the left-sidebar
2. Find the employee in the list
3. Click the Action drop-down
4. Click Terminate Employment.
The window will appear to confirm termination of employment.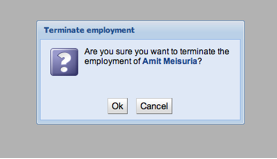 Once clicked OK, employment will be terminated.
 The termination of employment does not delete any personal or job-related data of the employee, i.e. project leave request, invoices, expense reports, time sheets, etc.
See also