Performance Appraisals
Roles
HR Managers, Administrators, Department Leaders, Directors, can assess employees' profiles and view the performance appraisals tab. However, whether they will be able to assess employees or not depends onPerformance Appraisal Settings (Settings – HRMS – Performance Appraisals). Employees are able to initiate appraisals to themselves and to view their own appraisals.
Initiate Appraisal
Your user role and Performance Appraisal Settings will determine if you can initiate appraisals, and to whom you can initiate the appraisals. Department leaders can initiate appraisals to employees in their own department; whereas HR Managers, directors, administrators can initiate appraisal to all employees.
In order to initiate appraisal, click Add New Employee Appraisal from add new menu or go to the Performance Appraisals tab and click New Appraisal.

Depending on your role and Appraisal Settings ( Settings – HRMS Settings), you will be able to assess employees by selecting an employee from Employees dropdown.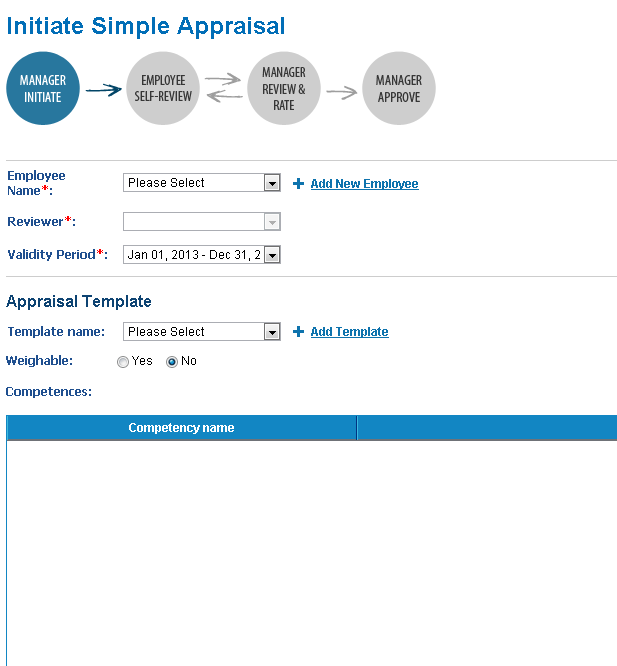 Fill in following details in order to be able to initiate the appraisal:
Employee Name – Select one of your employees to be reviewed from the Employees dropdown.
Reviewer – You can select other managers who should review employees. When you do so, appraisal is first sent to an employee for the self-review, then sent to a reviewer. Otherwise, you should choose yourself as a reviewer.
Validity Period – Choose a validity period for which the performance appraisal belongs. Validity periods are performance management or goal management cycles, for which appraisals/goals to all employees should be complete. In order to add Validity Periods, go to Settings – HRMS Settings – Validity Periods.
Appraisal Template – If Use competencies in appraisal checkbox has been ticked in HRMS Settings, it will be possible to review employees by their competencies.
Template Name – Select competencies template from the list or add a new appraisal template straightly. Competency templates are list of all competencies grouped together for assessment. When you select the template, the lists of competencies appear in the competencies list:

If you mark appraisal as weightable, you will be able to give scores and calculate performance appraisal scores based on weighted averages.
Assigned Goals – all employees assigned goals will appear here. In order to add a goal for an employee, click Add Business Goal, Add Department Goal, Add Project Goal or Add Personal Goal links.
Once all goals and competencies are there, you can give scores to each competency/goal and weighted averages will be calculated straightaway.
Initiate and Send to Employee
This button will initiate an appraisal and send it to an employee for self review.  An employee should log in to his/her account and view the appraisal in the Performance Appraisals – Waiting for your review tab. The employee can review the appraisal by just giving comments or by giving employee scores. Whether employees can give scores to themselves can be configured in Settings – HRMS Settings – Appraisal Settings – Enable Employee Rate.
Initiate and Review
When initiate and review button is pressed, manager will be able to review the employee by each competencies or goals and write comments in boxes.
Once the appraisal review is complete, managers either can approve and close the appraisal, or send to the employee for the self-review.
See also