Deactivate
There are several options to control the employee list and update it if necessary.
On the first column of the Employees list the Action drop-down list is available by default. Once clicked, dropdown gives several options as displayed on the screenshot: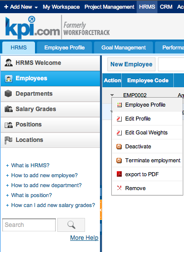 To deactivate an employee, perform the following steps:
1. Click Employees on the left-sidebar
2. Find the employee and click the Action drop-down
3. From the Action drop-down select Deactivate.
The deactivation function prevents the employee's access to the account, but all information related to the employee will be kept in the system.
See also