Remove Employee
To remove an employee from the Employee List:
1. Go to Empoyees section of the HRMS module
2. Find the employee from the list
3. Click the Actions drop-down
4. Click Remove
You will be asked to be sure whether to remove the selected employee or not. Click OK and the employee will be removed from the system.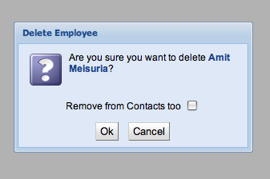 Remove function completely deletes all employee-related data from the system, whereas Terminate Employment keeps them in the system.
See also