The Employees section of the HRMS module stores the personal information of employees in the system. Only administrators, directors and HR managers eligible to add a new employee to the system.
To add a new employee, perform the following steps:
1.  Activate the HRMS module in the main menu
2. Click Add New+
3. Select Employee from the dropdown menu.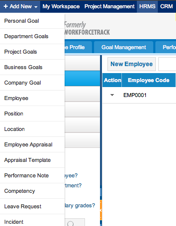 Once clicked, the Add Employee tab appear as displayed on the screenshot:
First Name – Employee's first name
Last Name – Employee's last name
E-mail – Employee's email address
 Since an activation link will be sent to an employee's email address, it is recommended to provide a genuine email address.
Role – Employee's position at the company
To assign a role to the person, select the roles from the existing list. Following roles are available in the system by default:
Employee
Administrator
Director
Accountant
HR Manager
Sales Manager
Customer Service Representative
Sales Person
To assign a new custom role and manage the existing ones, go to the Settings and click on Permission Management. This option does not come by default. To   enable Permission Management, contact the KPI Customer Support.
Department – The name of the department
Department is a unique division on an organization. Only administrators, directors and HR Managers are able to add a new department to the system. To get more information how to add a new department to the system, follow the link.
Location – The company address
Fill in the required fields and click the Save & Close button after completion.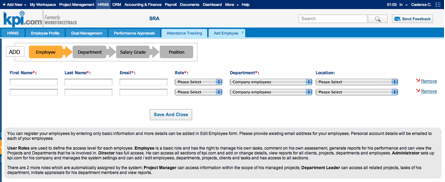 See also