Wiki
Searchable • Contextual • Onboarding
Employee Profile Summary
Employee Profile Summary shows an employee's personal information, employee permanent/temporary addresses, bank account details,  documents, custom fields, employment details, dependants, internal employments and past employments.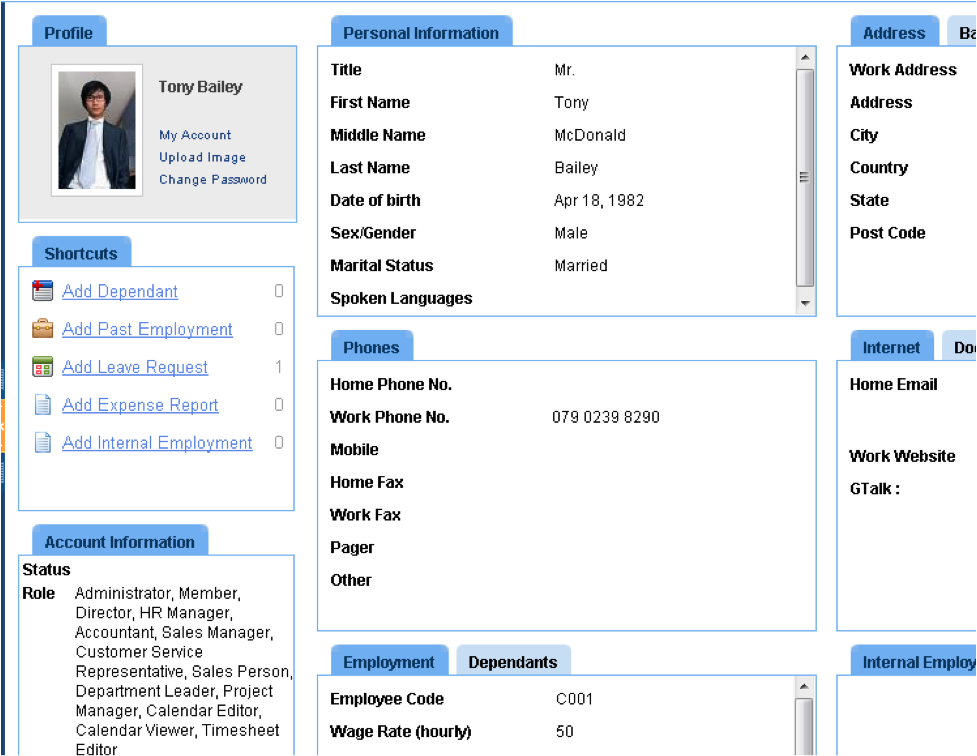 Profile
The Profile widget contains links to upload image, to change password and to view account details.
To upload image, click the Upload Image button and indicate the format of the image: .png, .jpg, or .bmp.
 If you upload the image with a big size, the system will crop and upload it. Therefore, the quality may not be the same as original.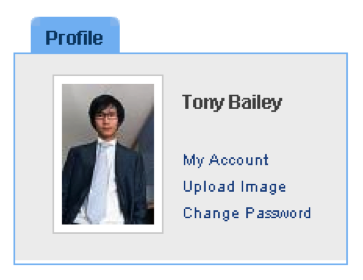 My Account
My Account link is available only for administrators of the kpi.com. If you click the My Account link, you will be redirected to the subscription page of kpi.com. You may buy a new subscription or extend the current one here.
Change Password
Pressing this button will redirect you to the Settings – User Credentials page. You can update your email address, but note that your username will not be changed, if you update your email here. You should remember your old username in order to login to the system again, or ask kpi.com Support Team if you really need your username to be changed.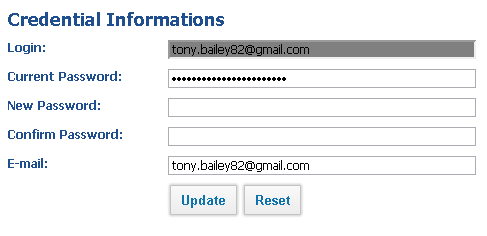 Account Information
You can view your own account activation status and your roles available in kpi.com. Only administrators are able to change employee roles in the system. If you need your role to be changed, please contact your administrator.
Edit Profile
Employees are able to edit their own profile: personal details, address, phone details, bank details, and documents. HR Managers are able to edit everything that employee's profile and as well as, employment details. Administrators are able to edit everything that employees and HR managers can, and additionally, employee's roles.
The following details need to be indicated while editing an employee profile:
Personal Information
First Name – Enter the first name of an employee
Last Name – Enter the last name of an employee
Middle Name – Enter the middle name if available
Date of Birth – Select the employee's birth date
Gender – Select the gender
Marital Status – Select the marital status
Spoken Languages – Indicate all spoken languages of the employee.
Contact Details
You can indicate as many contact details as you want. Since employee contacts can be synced with Google, all employees contact details can be entered as Google Contacts.
Email – Edit an email of an employee and indicate the type of the email. You can add as many emails as you want, but one of them should be selected as primary.
Phone Numbers – Add phone numbers of an employee with country codes.
IM Address – Indicate all IM addresses of an employee.
Web Address – Indicate all web addresses/blogs an employee has.
Address Information
Enter address information: Address Type, Address Line 1, Address Line 2, City, Country, State, Post Code here.
Employment Information
Employee Code – Enter an employee's employment code as specified in HR rules of your company. You can configure the employee code format in Settings – Project Management Settings – Numbering Settings – Employee Number Settings.
Department – Select the department in which the employee is enrolled. You can add the department to the system by going to the HRMS – Departments menu.(The employee may be a member of only one Department.)
Position – Select the employee's position. You can add a position by going to the HRMS – Positions – Add New Position.
Location – Select the office location in which the employee mainly works. You can add locations from the HRMS – Locations – Add New Location.
Supervisor – You can select any employee as a supervisor. Supervisors can assess  employees and add goals to their subordinates.
Wage Rate – Select hourly wage rate of the employee. Wage rate will be used in payroll and in invoicing project timesheet to clients.
Client Charge Rate – Select the Client Change Rate for the employee. Client Charge Rate is used in billing clients for employees project hours.
Bank Account Information
Bank accounts are used in payroll and in the Accounting and Finance Module as information. Indicate following details in order to add the bank account of the employee:
Bank Name
Account Number
Account Name
Bank Address
Swift/Bic Code
Sort Code
IBAN Code
Account Information
Only administrators can edit account information of the employee.
Account Status – By default, the account status appears as active, but it can be deactivated by administrators.
Role – Choose the employee's role from the options indicated below:
| | |
| --- | --- |
| Director –  | has higher levels of permissions: can see all projects, tasks, employees and can view any other listings in the company without any restrictions. |
|  HR Manager –  | has full access to the HRMS system, can view all leave requests, can approve those leave requests, and has full control over employees, positions, salary grades and departments. HR manager additionally has a member access role for other sections. |
| Accountant –  | has full level access to the Accounting and Finance System. Accountants can create sales quotes, sales invoices, etc.  They can also make manual transaction entries and view reports. Accountants can view other sections with member access role. |
| Admin Location –  | Administrators of office locations, can view all projects, tasks, employees, and all other data in the location, but cannot see data of other locations. |
| Sales Manager –  | can add, remove, and change the status of all cases, add solutions and close cases in the CRM section. |
| Customer Service   Representative –  | can add, remove, and change the status of all cases, add solutions, and close cases in the CRM section. |
| Sales Person –  | can see assigned leads, accounts and contacts, work with leads and tasks. Sales person has access to the CRM sections, but to see other sections, he/she has to be a member by default. |
| Department Leader –  | can see all projects, tasks, employees and positions in his/her department. Can add new employees to the department, and also can initiate performance appraisals to employees in their own department. |
| Project Manager  –  | has full control over the Project Management section. He/She can add projects, tasks, assign employees to the project, approve timesheet, and view reports. |
| Member –  | default role in the system. Members can view their own data only, and can remove their own data only. Members can add tasks to themselves, once assigned to the project; they can edit their own information in employee profile, and submit expense claims for approval. |
| Calendar Editor  –  | can see other people's calendar, can add events to other people, and also remove events from the events lists of others. |
Once you have added all details about the employee, you can save the profile.
Add/Edit Dependant
Dependants are employee's relatives, who can be contacted in case of emergency.
In order to add a dependant, go to Employee Profile – Add Dependant.
To edit the dependant, go to Dependants widget in Employee Profile page, select Dependant and click Edit.

Indicate the First Name, the Middle Name, the Last name, Relationship, the address information of the dependant.
Add/Edit Past Employments
To add past employments, go to Employee Profile – Add Past Employment.
To edit past employments, go to Past Employments widget – select Past Employment and click Edit.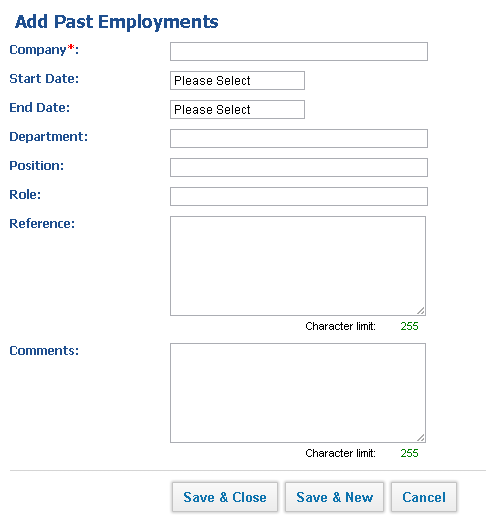 Indicate the following details to add/edit Past Employment:
Company
Start Date
End Date
Department
Location
Position
Role
Reference
Comments
Add/Edit Internal Employment
To add internal employment, go to Employee Profile – Add Internal Employment.
To edit internal employment details, go to the Internal Employments widget – select the Internal Employmentand click the Edit button.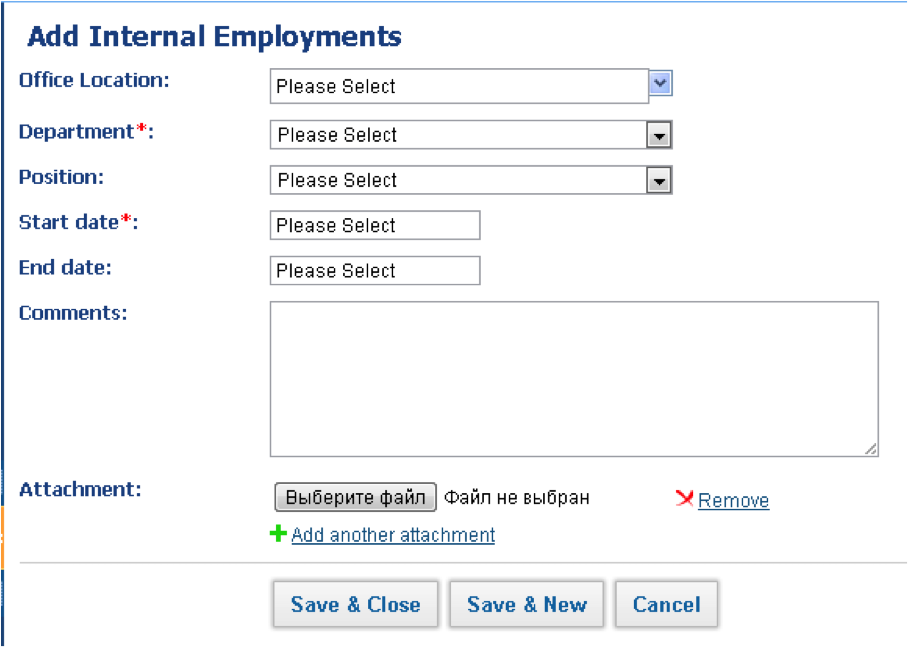 In order to add Internal Employment, fill in the following details:
Office Location
Department
Position
Start Date
End Date
Comments
Attachments
See also