E-mail Integration
Email integration
Message Center
Message Center Frequently Asked Questions
Case Management
Kpi.com is integrated with email systems in 2 ways: by setting up message center and case management. You can fetch the emails in your inbox to kpi.com system and create tasks and cases or reply to your messages from the system.  In this series of help articles, we will be using Gmail accounts as example.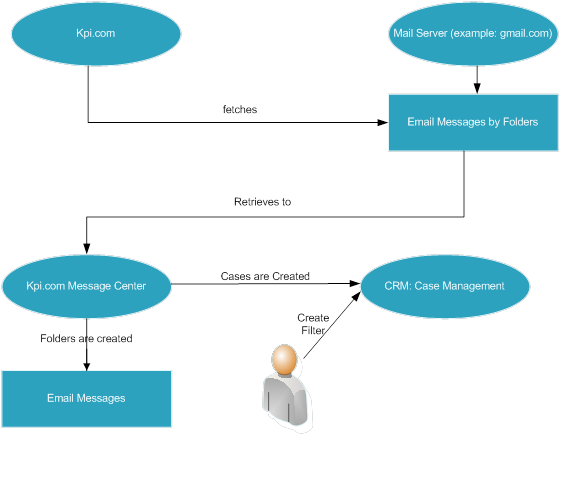 Your email account settings define the email account which will be used in order to fetch emails to the system. Only administrators are able to setup email accounts for any employee in a company. Employees are able to setup emails only for themselves.
You can define email settings at CRM>>Message center>>E-mail Accounts
Add/Edit Account – If you are adding a new email account, add new will be left by default. However, you are also able to edit existing employee mail account. Choose Edit if you want to edit email details of existing employee.
Employee – choose employee from the list (available for administrator only). Employees are able to choose themselves only. Administrators are able to setup emails for all employees in the company.
Default E-mail account – if your employee has one or more emails defined in employee profile of the hrms section, you will be able to choose default email account for which setup will be complete
Email Address – write email address here
Username – by default, email address and username will be the same in most mail servers. However, some mail servers might have different username for mail servers.
Password, Confirm password – enter password for your email account.
Mail Server Protocol – we support IMAP and IMAPS for fetching emails to the system. If you are using gmail account, please choose imaps option. Difference between IMAP and IMAPS can be found here.
Incoming Mail Server – incoming mail server domain which can be found in your mail server's setup. If you are using gmail account, type: imap.gmail.com.
Incoming Mail Server Port– this field can be left empty by default. However, some mail servers may require you to write specific port here.
Outgoing SMTP Mail Server – choose SMTPS or SMTP options. SMTPS is chosen by default, because it is regarded as secure connection.
SMTP Mail – smtp mail server domain name. If you are using gmail account, write: smtp.gmail.com.
You should enable IMAP from your email account in order for kpi.com system to be able to fetch emails from mail server.
You can enable imap by logging in to your gmail account, going to Settings – Forwarding and POP/IMAP section.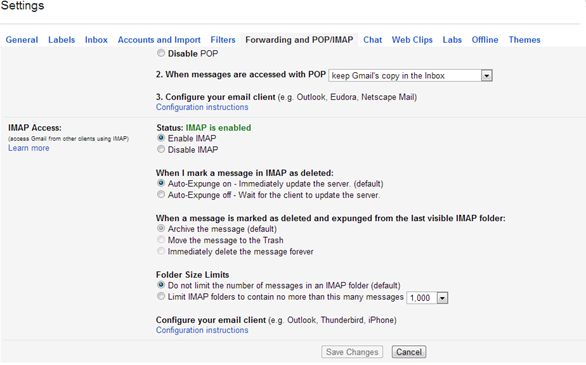 Once you have entered all required field, you can test connection and try to connect to one of your mail accounts.
If the test succeeds, then, you may be able to save and close the account setup, and start using emails in message center.
1. Can't connect to mail server using provided Username and password, please check your login details.
If you receive this error when testing connection, you should write different username and password details in the form and try again or enable imap in your mail server and try again.
However, modern mail servers such as gmail accounts may give this error even if you have imap enabled and even if you have typed login details correctly. In this case, you should check your email, and see if you have received following email: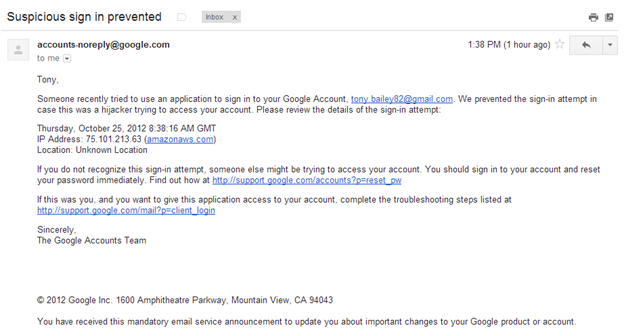 If you have received similar email, you should click this link: http://support.google.com/mail?p=client_login and enable kpi.com client to access your gmail account.
2. Couldn't connect to the server. 
You will receive such error message if connection has been timed out with the mail server due to number of reasons. Possible reasons can be: mail server is not available; you have indicated wrong imap and smtp protocol details.
3. Connection refused, the protocol you specified, is not enabled in your email server.
You might receive such error message if your mail server does not support imap or imaps protocols that we use in order to fetch emails.
4. Couldn't connect to outgoing server 
You might receive such error message if you have indicated wrong smtp server name or if smtp server is down. You should change the settings you have indicated, and try again later.
We use tracker numbers in order to track the replies and conversations to individual email messages. The system automatically assigns the tracker number to each received email in message center. It is equivalent with the ticket numbers in case management system. Tracker prefix is incremented every time new message is fetched to kpi.com.
When replying to the message, if you indicate the tracker number, the message will be automatically shown as reply to the original email.
In order to setup the tracker prefix numbers, go to Settings – CRM Settings – Tracker Prefix. You should change the Prefix figure only. The second part will be incremented automatically, as new message is received.
1. How many times a day emails are fetched?
Kpi.com fetches emails in your company about every 5 minutes.
2. Why does not kpi.com fetch all my emails?
If you receive many of emails a day, you might notice that not all of them appear in kpi.com. The reason of it is that, one user cannot fetch as many emails as they want. There is a daily limit of 50 emails per kpi.com user by default. We have set this limit, because, it will be costly from our side to fetch millions of emails per 5 minutes, and our performance might suffer.
However, the limit can be changed based on your needs. In order to increasy daily email fetching limit, you should contact the support team.
3. I do not see messages in sent folder, if I send email from kpi.com. Why?
This happens because kpi.com sends email using smtp protocol that was indicated in settings, and does not send the email directly. Therefore, you should wait about 2-3 minutes before it appears in sent folders in kpi.com.
Message centre module at kpi.com allows you to manage your company emails at one place. You can receive mails in your inbox, send emails and relate your emails to tasks and cases at kpi.com.
 Message center works only if it is configured for your company. If it's not configured for your company, you should contact the support team, after which it will be enabled for your company account.
You can work with message center after setting up the email account for your company or individual user.
After successful setup, the system will start fetching all emails to the system starting from the day when you setup the message center.
 Kpi.com system cannot fetch all your emails in your inbox when you setup, because, otherwise, it might take too long and server capacities for your company may not be enough. However, if you need your emails in inbox to work effectively at kpi.com please, contact support department.
After setting up the message center, the system will create 3 folders by default: inbox, sent, draft emails to the message center.

You can fetch the other folders from your mailbox by requesting it from support@kpi.com.
 Since, fetching additional folders from your email may incur additional server storage costs; you may enable this option by paying additional fee. In order to enable fetching by multiple folders, please contact support@kpi.com.
Once you have multiple folders enabled, you can indicate which folders to receive from: Settings – CRM Settings – Account Properties
Choose existing setup: indicate the email account from Add/Edit Account field.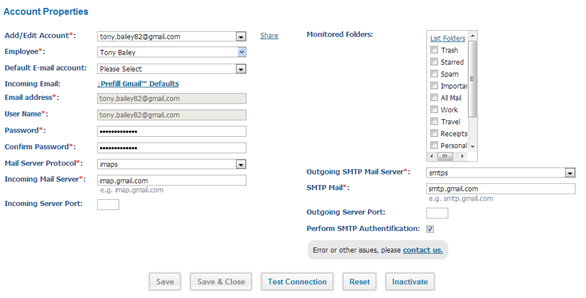 Once you choose existing email account to edit, you will view monitored folders checkbox list. You may check the folder from which you wish to retrieve emails.
There are following options while editing the form:
Reset
Reset button will save the changes and close the form
Inactivate
Inactivate button will inactivate fetching and message center emails for specific employee. System will stop fetching emails once this button is pressed, and confirmed
Test Connection
By pressing this button the system will reconnect to email server, and implement actions like fetching email, sending email.
If the connection has been successful, you should press Reset button.
You can compose mail by pressing compose button from message center listing:

You can write message by indicating following fields:

From – Choose email account from which email should be sent. Administrators can send email from any of the employee's account, but employees (members) can only indicate their own email account, and the email account of other members who shared email settings with them. This field is required.
To – indicate to email address here. You may choose email address of existing contacts. You should type the contact name, and the system will retrieve the contact email automatically. This field is required.
Subject – The subject of the email. Unlike the popular emailing systems, the subject is required field at kpi.com
Choose Template – If you setup the email templates from: Settings – Email Settings – Email Templates they will appear here. It's not required to have a template for the email
Attachment – Attach documents or pictures from your laptop or pc. All formats are allowed except for .exe files. You may attach multiple files, but they should not exceed 10MB per email message.
Email Body – Write your email body here. You may write your content in rich text format.
Send Email – If you press send  button, the system will send the email by using the smtp protocol indicated in email settings.
Sent emails will appear in sent folder. There may be small delay (about 5 minutes) before your message appears in sent folder. If it does not appear in 5 minutes, please check the email provider sent folders, or, contact the kpi.com support department.
Save as Draft – If you save message as draft, you may come back and send it later. Your message will be saved in draft folder. The draft messages will also be synchronized with your email provider.
Cancel – The action will not save any data and close the screen
You may reply or compose the new email outside the kpi.com (in your mail provider account), but if you indicate the tracker number in square brackets, the system will relate the email to the relevant conversation.

Replying inside the kpi.com
If you have received a new reply for your email, the message will be indicated in bold:

In order to reply to the email, click the message itself and open the mail view and click the reply or reply to all buttons.
In order to view the email details, click the message itself from message center listing. The email view has following subsections: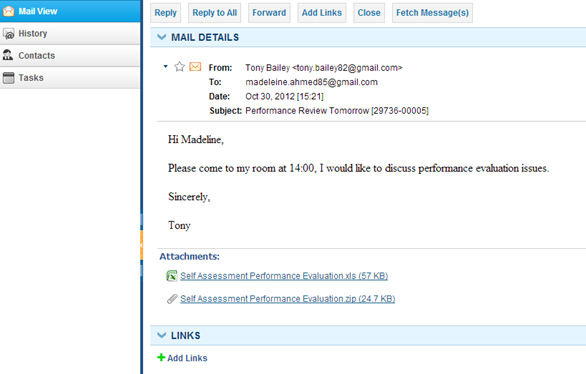 The mail view contains all message details including the attachments. You can do following in this view:
Reply, Reply to All – the reply form will open. You will be able to reply to the message using the tracker number which is inserted automatically at the subject field.
Forward – the action will open the standard forward form.
Add Links – you may link the email with all entities at kpi.com: projects, tasks, sales quotes, invoices, appraisals, meetings, etc. If you link the email with existing entities, the message will be shown in the properties of that entity. For example, if you link message with specific project, you will be able to view it while viewing the project.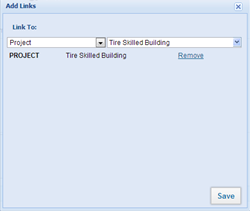 Fetch Messages – if you click this button, the system will check the server for the new messages that may have been received.
1. There is a received date field in Message Center Listing. Which date and time does it show, the date/time email has been received, or date/time the email has been fetched?
The system shows the date/time in which the email has been arrived to your mailbox.
See also