Wiki
Searchable • Contextual • Onboarding
Accounting Settings
Accounting Settings can be accessed through the main Settings.
Accounting Settings lets you view and change the majority of the most important settings ranging from seeing your invoice templates and giving different discounts to your products and services to creating shipping methods and working with your charts of accounts.
Invoice Settings
Invoice settings includes set up details for due date terms, options for switching on/off some options in Accounting, Payment Gateways which are linked to sales invoices using which your customers can make online payment directly, default options for bank accounts, options for PDF naming, default introduction and payment terms and your logo.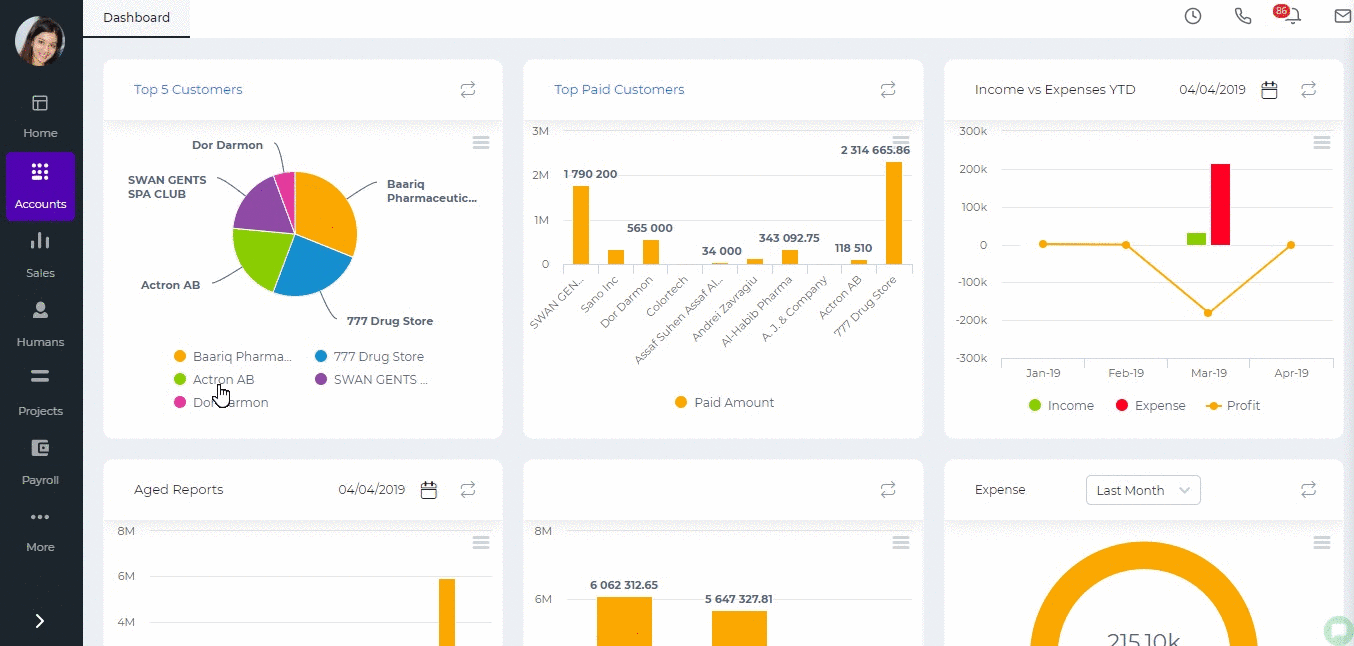 Financial Settings
Financial Details are the following:
Conversion Date – the year when your financial transactions start.
Financial Year End – the date when you fiscal year ends.
Currency – your base currency.
Close Posting Periods Before – you can choose the date before which nobody can post transactions.
Exchange Rate Floating Points – the number of decimals available in exchange rates.
Calculation Scale – the decimal points for prices.
VAT Return Report – switch on/off the VAT report under Accounts module.
Enable Inventory Transactions – switch on/off inventory transactions.
Sales Tax is for entering your company tax details like Tax ID number, Tax ID Name, Tax Period, Tax Basis etc and also the switch on options for showing tax in invoices and in reports.
Additional Settings includes switch on/off options for:
Enable Post Dated Transactions – transactions will not be posted until the date arrives.
Select Depreciation Date – you will be able to select a depreciation date for fixed assets.
Product Price in Multi Currency – you will be able to choose currencies in products and relates prices.
Restrict When Credit Limit Exceeds – the system will not allow you to create a sales invoice when the customer credit limit is over.
Department/Cost and Profit Centers – enabling budgets per department. For more information click here.
Update Cost Price as of Last Purchased Date – the cost price in the product summary changes to according to the last purchased price.
Double Confirmations – pop ups for confirmations.
Account Numbering
You can set up automatic numbering for Chart of Account categories.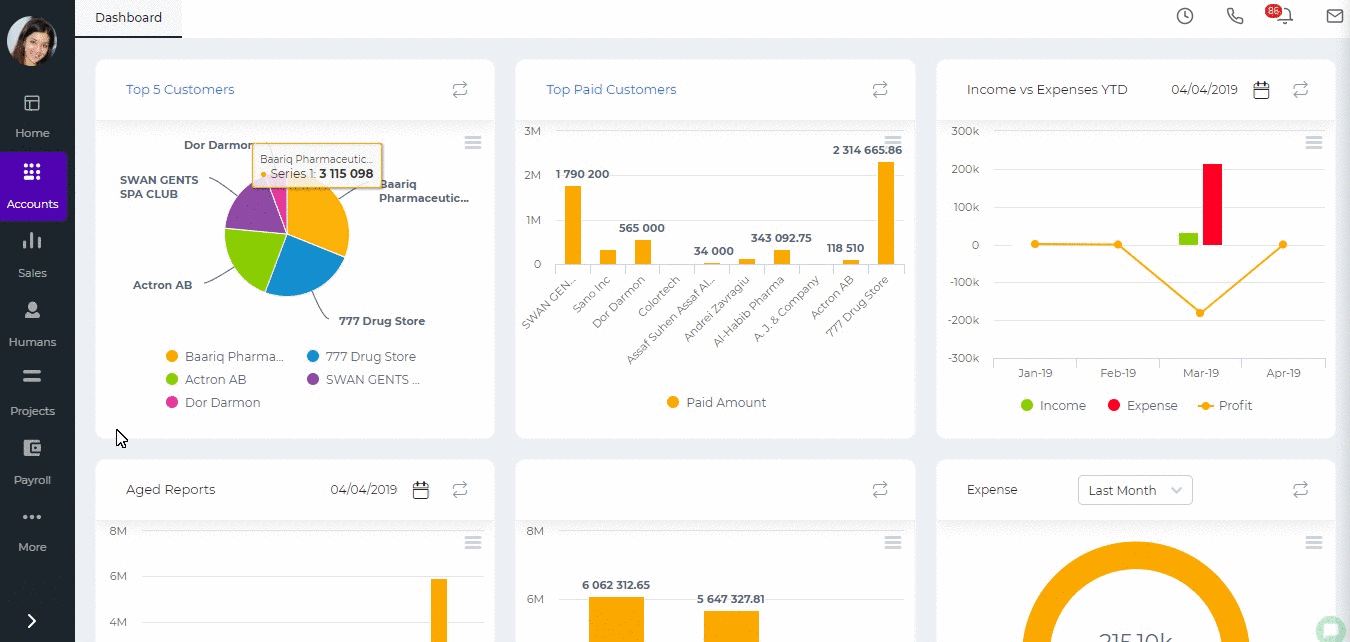 Numbering Settings
You can set up numbering for Products, Fixed Assets, Expense Claims, Stock Adjustment, Stock Transfer, Manual Transactions, Bank Payments, Bank Receipts, Cash Payments, Cash Receipts, Customer Prepayments, Supplier Prepayments, Invoices, Quotes, Purchase Orders, Purchase Invoices, and Credit Notes. You can also restart the numbering each year.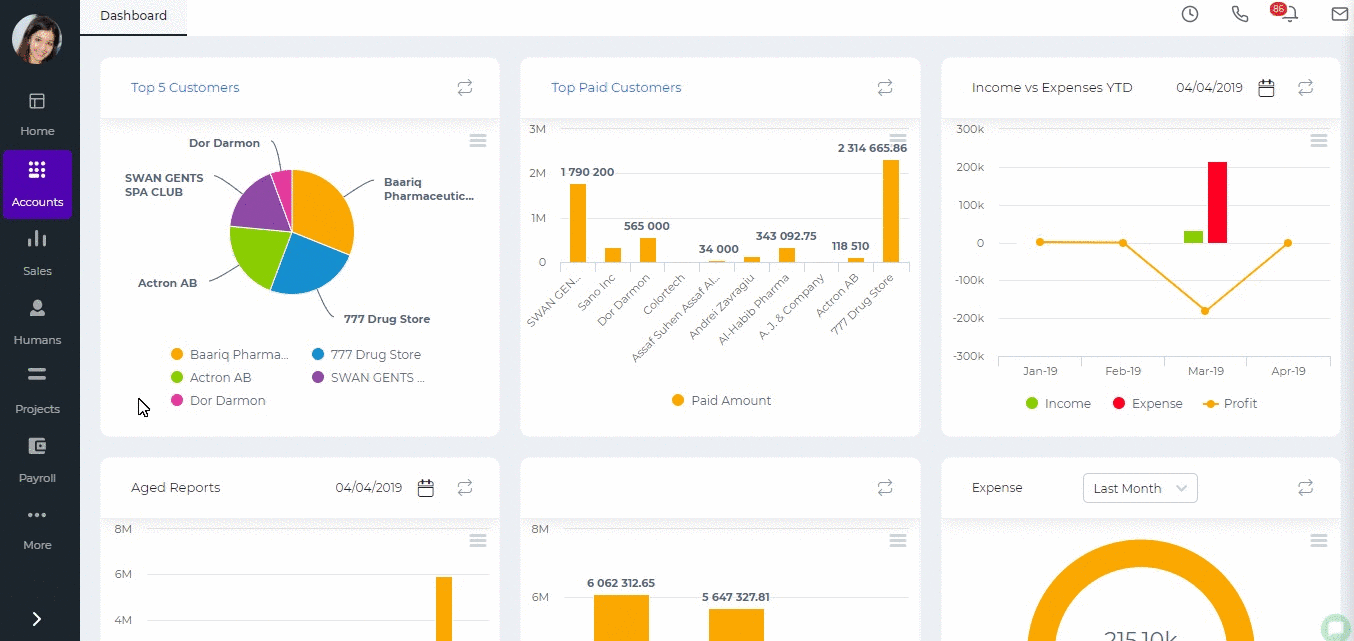 Tax Rates
You can create different tax rate which later you will be able to use in accounting transactions like invoices, purchase orders, expense claims etc.
Currency Rates
You need to create and set up all the currencies you use in your financial transactions here.
Discounts
Discounts can be created here which can later be used in all accounting transactions.
Measurements
You can create unit of measurements for the items used in invoices and orders. The unit of measurements can be items, kilograms, liters, meters etc.
Product Category
Different categories for your products and services can be created here. You can categorize your items by their color, audience they are made for, such as age group, sex, region and so on.
Brands
Brands of your products can be added and viewed in this section of the Accounting Settings.
Shipping Method
Different type shipping methods can be created with the price, account and names.
Payment Methods
In this section, you can specify methods of payments such as Bank transfer, Cash, Cheque, Credit/Debit card, Wire Transfer.
Invoice Templates
Several type of custom invoice templates are presented and available for purchase.
Product Table Settings
More information is available about the product table settings here.
Chart of Accounts
You can find the chart of accounts which is a listing of all accounts used in the general ledger of an organization. The charts are usually sorted in order by account number, to ease the task of locating specific accounts. You can edit, add and remove chart of accounts here.
Created by Aziza Israilova
April, 2019
See also