Project Summary
Project Summary Page
The Project Summary page displays the main details of the project.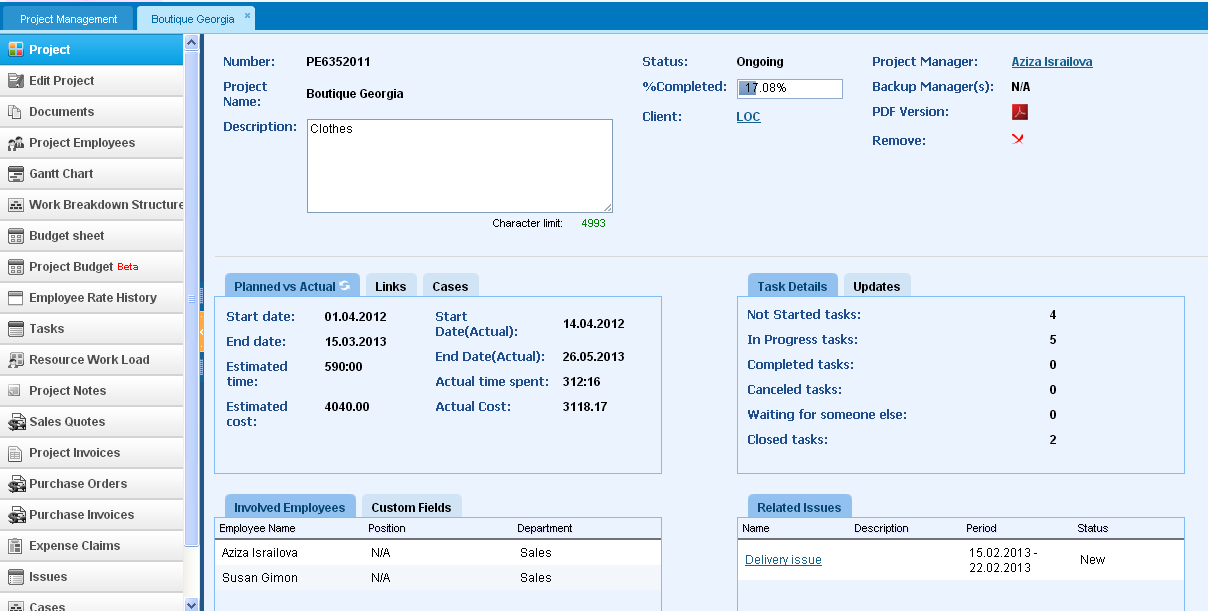 Percentage Completed displays what percentage of the project has been completed. It is calculated using the completion percentage of each task and dividing it to the number of project tasks.
Planned vs Actual tab displays planned start/end dates, and actual start/end dates. Actual Date is the date when employees started working on the tasks by entering the timesheet and completing the project. Planned Date is the date that you set while creating the project.
Estimated Time is the sum of all estimated time of all tasks in the project.
Actual Time is the sum of all approved hours in the timesheet.
Estimated Cost is the wage rates of employees multiplied by estimated hours given.
Actual Cost is the wage rates of employees multiplied by their approved timesheet hours.
Links shows the links to the items related to the project. You can add links while creating/editing the project or by clicking Add Links. For example, you can link the project to some of your contacts or opportunities in the CRM.
Cases
Cases display all cases that you related to the project.
Task Details
Task Details displays the number of tasks for each status like Not Started, In Progress, Completed, Cancelled, Waiting for Someone else, and Closed tasks.
Updates
The Updates shows you the create and last update date of the project, as well as the employee who performed the update of the project.
Involved Employees
The Involved Employees tab lists all employees involved in the project along with their position and departments.
Custom Fields
The Custom Fields tab displays the extra fields created for the project forms.
Related Issues
The Related Issues displays all issues related to the project those are created in the Issues section of the Project Management.
Project Notes
The Project Notes shows the recent notes added to the project by employees who are involved in the project. You can add notes from the Project Notes section or from Write a Note. If you want to write a longer note or want to see the note history, you can go to the Project Notes subsection.
Attachments
This tab shows the links to the files and documents uploaded to the project. You can upload more files by clicking Upload File or Documents.
See also