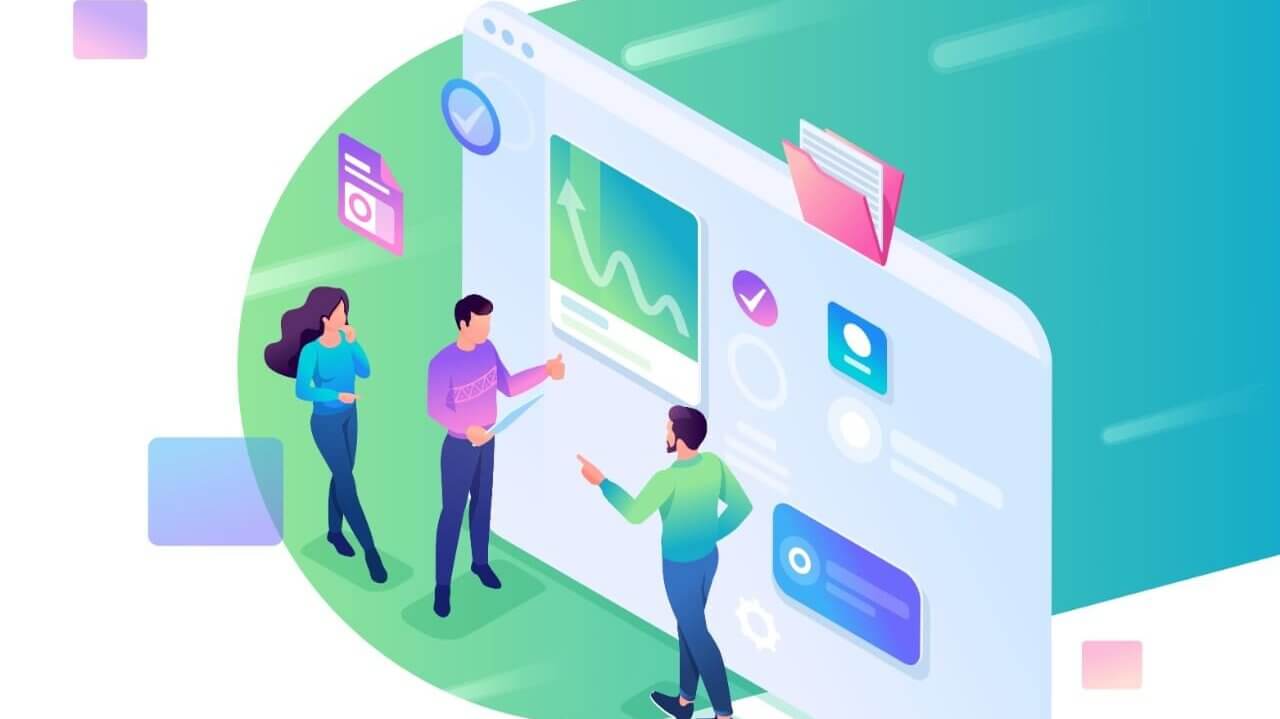 How to select cloud applications for your small business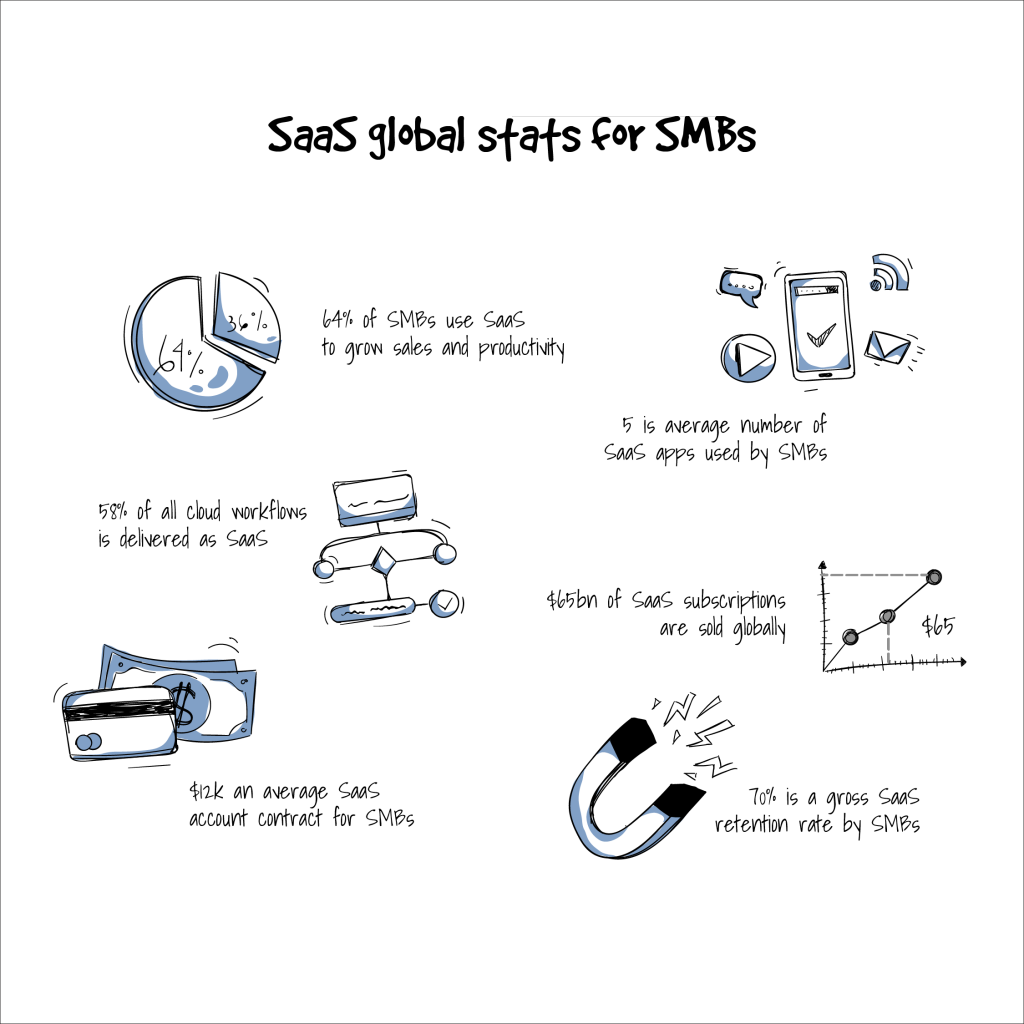 What are SaaS global stats for SMBs?
The growth of the software as a service (SaaS) industry has continued to fascinate the business community given the remarkable growth rate which it has nurtured for the past 3 decades. We are now headed to a new phase where thousands of both new and old SaaS companies are devising better ways to address almost all conceivable business needs.
By 2021, 75% of the total cloud workloads and compute instances will be SaaS, up from 58% in 2018. On the other hand, the use of traditional on-premise enterprise software is assumed to decline as many different companies experience the endless benefits of SaaS which include but are not limited to the following:
its lower relative cost
its continuous and seamless platform technology upgrades
and the increasing trust in security protocols offered by cloud providers.
In 2018, SaaS spent and adoption which continued to increase across all company sizes. It may interest you to know that globally, $65bn of SaaS subscriptions are sold out with $343,000 average use from companies on SaaS subscription. This is a 78% increase from the previous year.
That notwithstanding, 64% of small and medium businesses (SMBs) use SaaS to grow their product sales and productivity with $21k being an average annual SaaS spent for SMBs. The use of SaaS apps by SMBs is averaged to 8. The number of app usage tends to increase proportionately with the growth of companies. This implies that companies tend to buy the idea of using new apps as they grow in size than sticking to the ones which they have been using in the past.
The effects of this can be explained in two ways as either a result of specialization or as a signal of redundancy, leading to unnecessarily subscribing many times to a single app or different apps that serve the same purpose. 39% of SaaS apps are changed from 2017 to 2018 by mid-sized companies, which is higher than the industry average turnover rate. SMBs has shown 70% in a gross SaaS retention rate.
The turnover of apps and vendors is likely to affect the smooth running of a company massively and also the security and the company's compliance challenge. It is assumed that in about 2 years from now, approximately half of your SaaS stack will be very much different than it is today.
The benefits of SaaS apps are being reaped by every department in the modern-day organization. The increased SaaS spending over the past 4 years has relatively held steady the share of app spend by the department.
However, there have been exciting shifts in business processes management and automation. HR software spends increased year-over-year. Sales, engineering, and business operations continued to hold on the lion's share of subscription revenues, though these numbers (especially for sales) have alternated quite a bit over the last decade.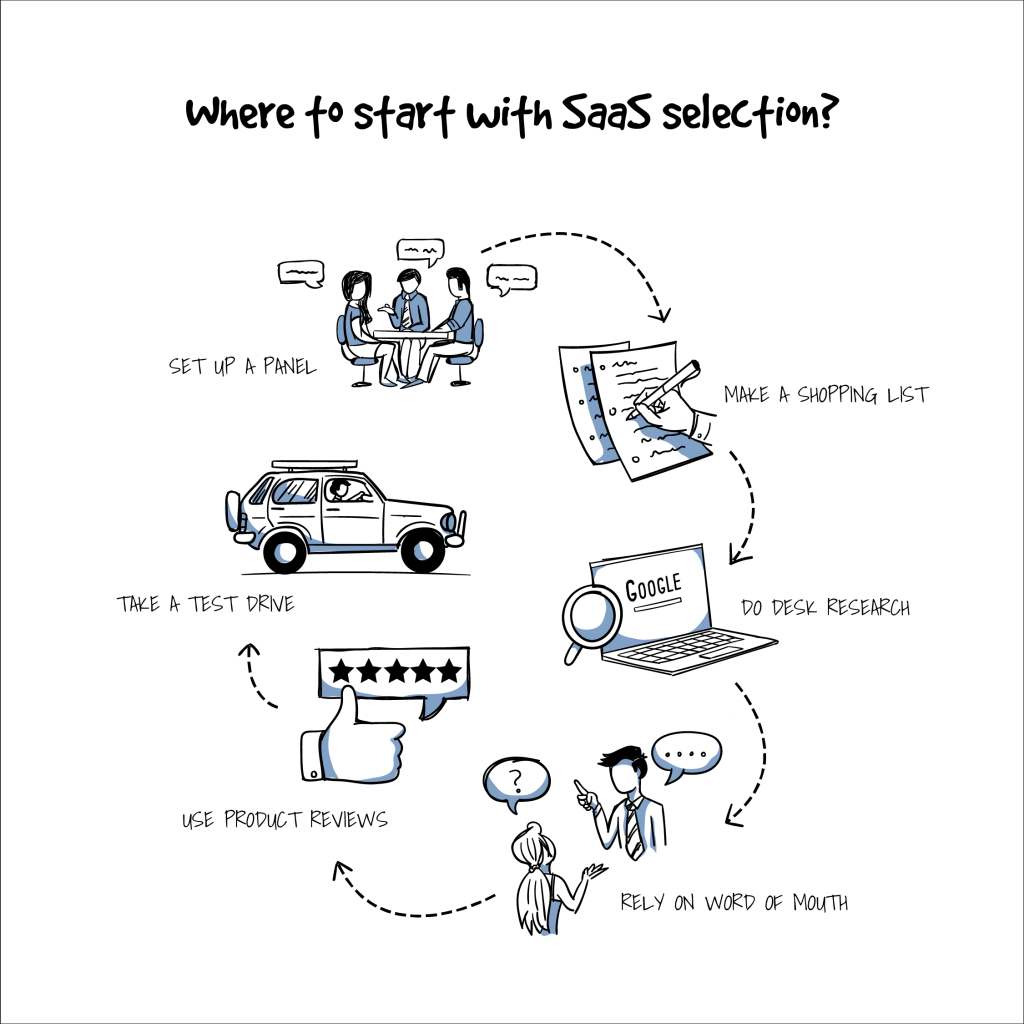 Where to start with SaaS selection?
Changing or updating software is a project and means preparing the following:
Written selection models that define your requirements and what you want to accomplish.
A way for benchmarking products, so you can draw useful comparisons between products.
A selection process that outlines the steps you will take to reach your goal.
During the software selection process, it is essential that you cover your bases by bringing people who will be interested in the big picture and also those who will be up for important details. Setting up a selection panel, forum or committee that represents a variety of interest and priorities will be of great help to you in making well-informed decisions. Involve the people who make use of the updated software regularly and who also understand the working processes well.
Write down the selection criteria that describe your requirements and what you want to gain by buying the application. Going to the market to purchase software without having proper selection criteria is very synonymous to shopping without a shopping list. You are bound to buying non-essentials that may seem like a good idea at the time of shopping, thereby leaving behind the items that should have been prioritized.
It is worth knowing that staff can be a useful information source when it comes to an understanding of the good, bad and ugly software in the market. Therefore, it is advisable that you ask the people in your network for their recommendation on any suitable products out there in the market. Their anecdotes and knowledge about the outcome(s) of the experienced by previous employers could provide invaluable insights you might not otherwise have had.
Google or Bing to find software and service providers. To get a sense of the "buzz" around different products, try searching for a description of the software by adding words like "top", "popular" or "best" to your search term in other to find well-established products.
Other ways to bring up a right mix of options include searching for specific products by their names, brands, or type, alongside the word "software". You can get good results by visiting vendors' websites but always bear in mind they can be a mix up of what is obtainable. In other words, while some are very transparent about their services, product features, and pricing; others are not.
Software comparison or review sites are a handy resource when selecting new tools. The aggregated product reviews and summaries of the functionality available make research convenient and time-efficient. Some of the big software comparison sites include Capterra, G2crowd, Getapp, SoftwareAdvice, TrustRadius.
To reduce your investment risk and also increase your chances of selecting a great product for your business, always check out the free trials of the products in question. Getting hands-on with a product takes you beyond theory and surface-level details, to the practicalities of what using the product on a daily basis will look like. SaaS companies tend to offer 14- or 30-day free trials; others provide no free access. Plan your approach smartly before starting the trial so you can take full advantage of it. Have the right people available to use and test the product. Aim to involve people in your network who know and understand the processes and tasks to be performed, and have the experience to spot potential issues.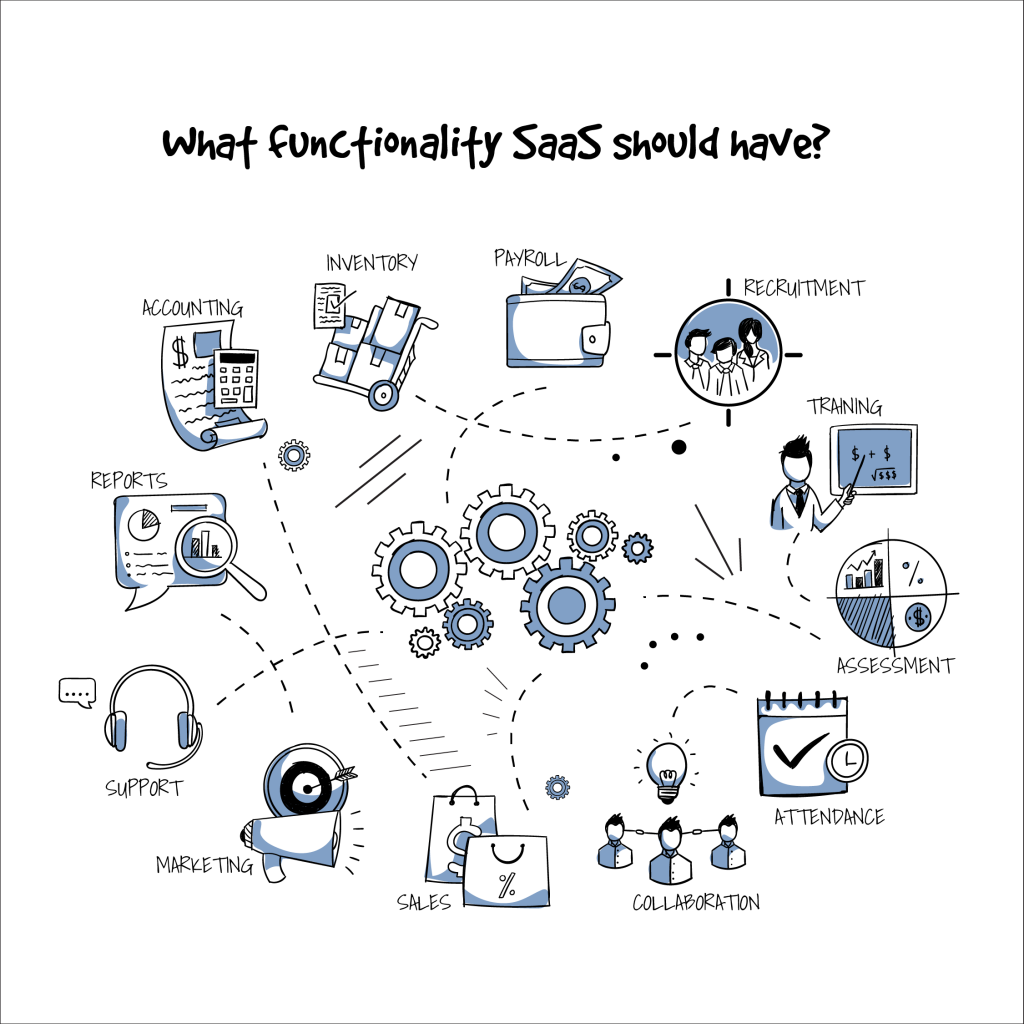 What functionality SaaS should have?
In other to ensure that a business is running effectively, SME owners are required to track the various business resources which include cash, production capacity, raw materials, as well as the status of the business orders and payroll. It is most important for business enterprises to make an error-free as well as forecasts and realistic projections to deliver effective result and the operation of their outcome.
This enables Enterprise Resource Planning (ERP) program to help and automate all their business operations because business owners find the tasks terrifying. ERP software for medium and small size enterprises helps to streamline automate and manage the core business operations, which include sales, purchasing, human resource, inventory customer support, and accounting. ERP software aids businesses to gather, interpret, store, and manage the various units and data of the company and departments together with the external stakeholders. It also streamlines cross-departmental workflows and automates back-of activities.
Capital inflow and outflows, general ledger balance sheet, payments, tax management bank recognition, inventory management can be handled in small and medium enterprises by the help of the ERP program. This helps different business units and departments to generate reports and financial statements.
Customer Relationship Management
CRM is integrated with sales components to push conversions. It also helps SMEs customer services to become boosted, manage leads, customer issues, and opportunities. The marketing and sales tools in an ERP suite handle the workflow of sales like inquiries, orders, invoices, and sales quotations.
Human Resources Management System
Reimbursements, travel expenses, wages are integrated into the payroll suite with the financial tools for proper management. HRMS tools are the time tracker, timesheet, employee records database, skills, and job roles. Performance reviews and payroll system is likewise added. Some also the training and onboarding function.
PM software is software that assists project managers and teams to collaborate and meet goals while managing resources and cost on time. Their function includes time tracking, task distribution, budgeting, resource planning, team collaboration, and several of them.
This helps in generating financial statements that are compliant to a particular region. It is required to help ad-hoc reports that adjust to the ever-evolving business changes and needs. ERP allows in-system query and smart filters put together with real-time data. It comprises of standard dashboards that allow the user to mash up quantitative vs, qualitative data at user, role and development levels, displaying KIPs with drag-down links.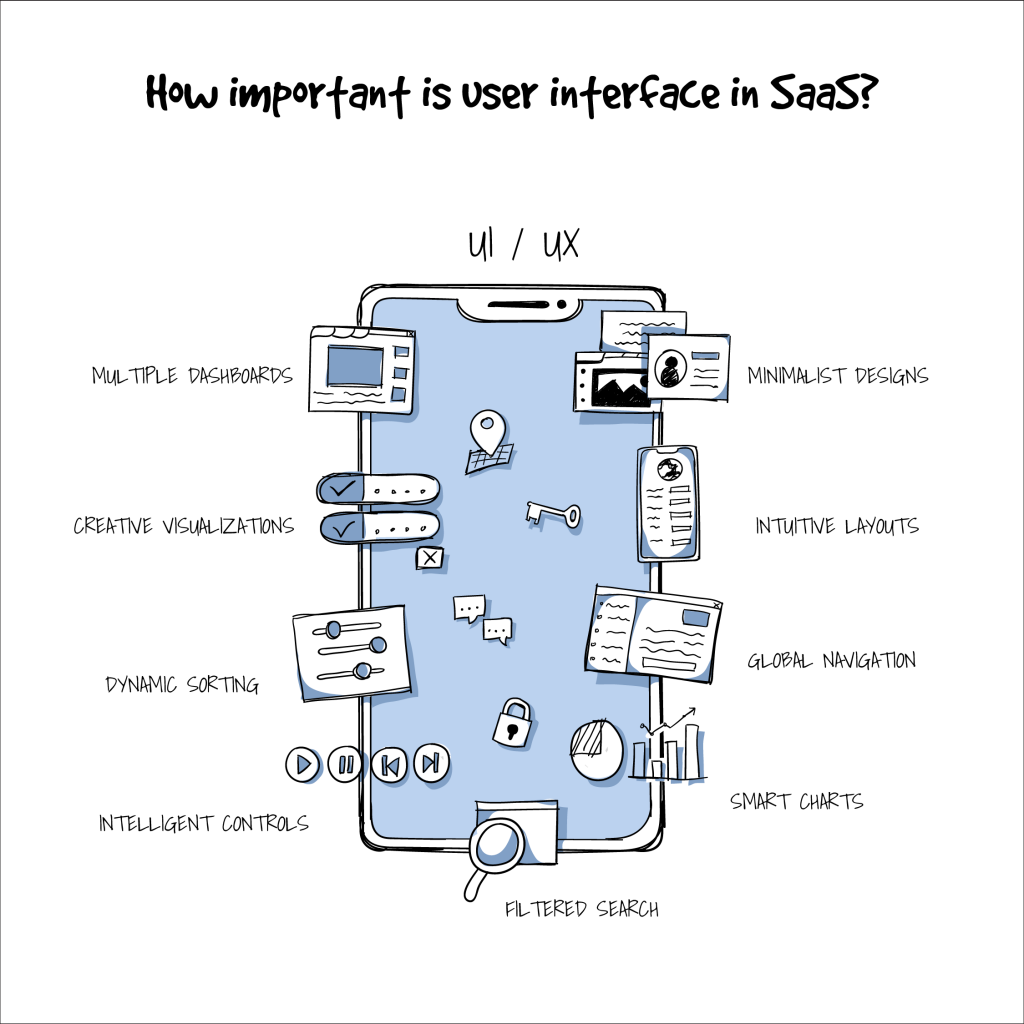 How important is user interface in SaaS?
An excellent user interface can produce or separate your software as a business. A prominent interface resonates with the users and complements their activity, improves maintenance, stickiness, and of course, making it productive. To design a SaaS product for the web is a complicated task. It entails a precise idea of how it works and of which features you it will support.
Panels and Navigation
The major SaaS app needs some high global navigation. This is where it will keep the links to your devices, features, and data. The users don't just want to go searching around endlessly to find what they are looking for. The best practice has a vertical panel which displays icons and labels next to the figures so that you can quickly tell what each of the links is for. It is always a trade-off which shows global navigation panels and menus so that they can hold as many links as you want and become truly "global" in the whole SaaS interface. To avoid much cramming, you can make them usable at the same time.
Search and Sorting
A good number of a web application requires a specific type of data or research features in which both of them can work better if you can narrow down the sought after data concerning the valuable information given. That is why sorting has to be dynamic in all of the pages. The sorting option is hidden below the dropdown menu so that it can be extended at will. In the interface, the top horizontal navigation includes links similar pages while the vertical navigation includes sorting and customization.
Dashboards and Visualisation
Information sharing and data curation into one dashboard is a distinct feature found in some of the biggest SaaS apps. This feature of immense help and probably the primary reason why people build SaaS products. Good SaaS products feature lots of custom charts, tables, and data, which means that your choice of design should clearly show them. Deep navigation into the interface should only display data relevant to the appropriate topics of each page. Their use should also be extended to the dashboard when possible since they make data very much more comfortable to consume at a glance.
Tight Interface Designs
The UIs you get from SaaS gives a better feel when they are busier and tightly packed than when they are spaced out. This is very good for users since they want something that works with easy-to-access features. Contrary to that, you don't necessarily have to make the interface so cramped that it is not useable. Always aim to make an outstanding balance of fitting onto the pages while still keeping everything clean. At first, this may be off-putting which makes new users struggle to get started. But the more you use the application, the simpler it becomes and the clearer it is to freestyle with.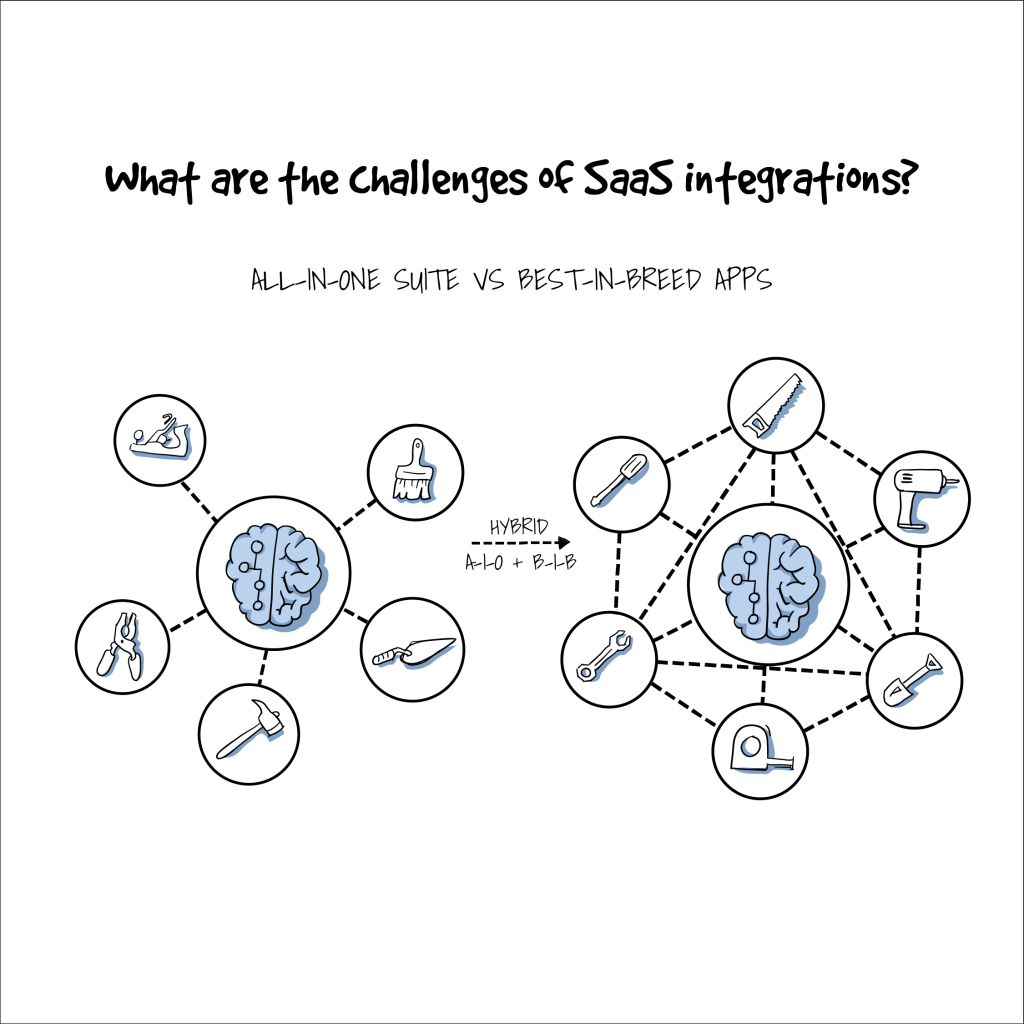 What are the challenges of SaaS integration?
Some time ago, a discussion went on, whether companies should invest in an all-in-one integrated suite that "does it all", or in a best-of-breed approach – a combination of multiple niche tools to build an overall stack. SaaS users have argued over the years about which approach delivers the ideal balance of user features, time to value, cost management, and business benefits.
In today's world, companies need a complete basic business management automation site and aspects which includes big data, communication, storage, and collaboration, etc. Business websites can be integrated using the SaaS ecosystem, including all files and reports. This permits the users to share the system between internal and external departments and also enhances information.
There are pros and cons for each of those approaches, and here are some key ones.
All-in-one pros:
The solutions that are from the same vendor are made accessible through the overall integration of the system and also based on the vendor's set-up and workflow.
There are simple user interface and architecture that flow through the products which make it easy to navigate and administer.
Based on the vendor's ability to provide volume and team purchasing with discounts, it will reduce various costs of licensing.
All-in-one cons:
Businesses are to expect that there will be missing features and have to adapt to the processes, live with the missing features.
When your business has multiple applications, you will have access to products that will are likely never to be used or taken advantage of.
When selecting one's vendor, businesses are expected to experience the "vendor lock-in" feeling and innovations in products, and the features are at the pace of the vendor.
Best-in-breed pros:
You are typically bound to discovering unimaginable capabilities than what you have initially sought for, and you will be guided to other products through the differentiator's help.
The system is easy to update as the function is centered on a specific purpose. This enables businesses to respond quickly to changes.
Due to the smallness of the system, it helps to reduce the risks of the projects and provide value more quickly. It also makes the implementation time shorter.
Best-in-breed cons:
The ability to share data can prove difficult across the different system because the solution will typically not combine and work together with other products
Different solutions that are needed in handling multiple implementations and licensing agreements eats up financial and human resources.
Usually, users look for a familiar look and feel, which is one of the requirements which can't be reached with a best-in-breed approach.
With any of the above approaches, the number of SaaS application will inevitably increase within an organization, and so does the need for connectivity arises among SaaS and on-premises applications. You will get most of your SaaS integration initiatives by connecting all your SaaS applications and exchanging information with customers and suppliers in real-time with APIs.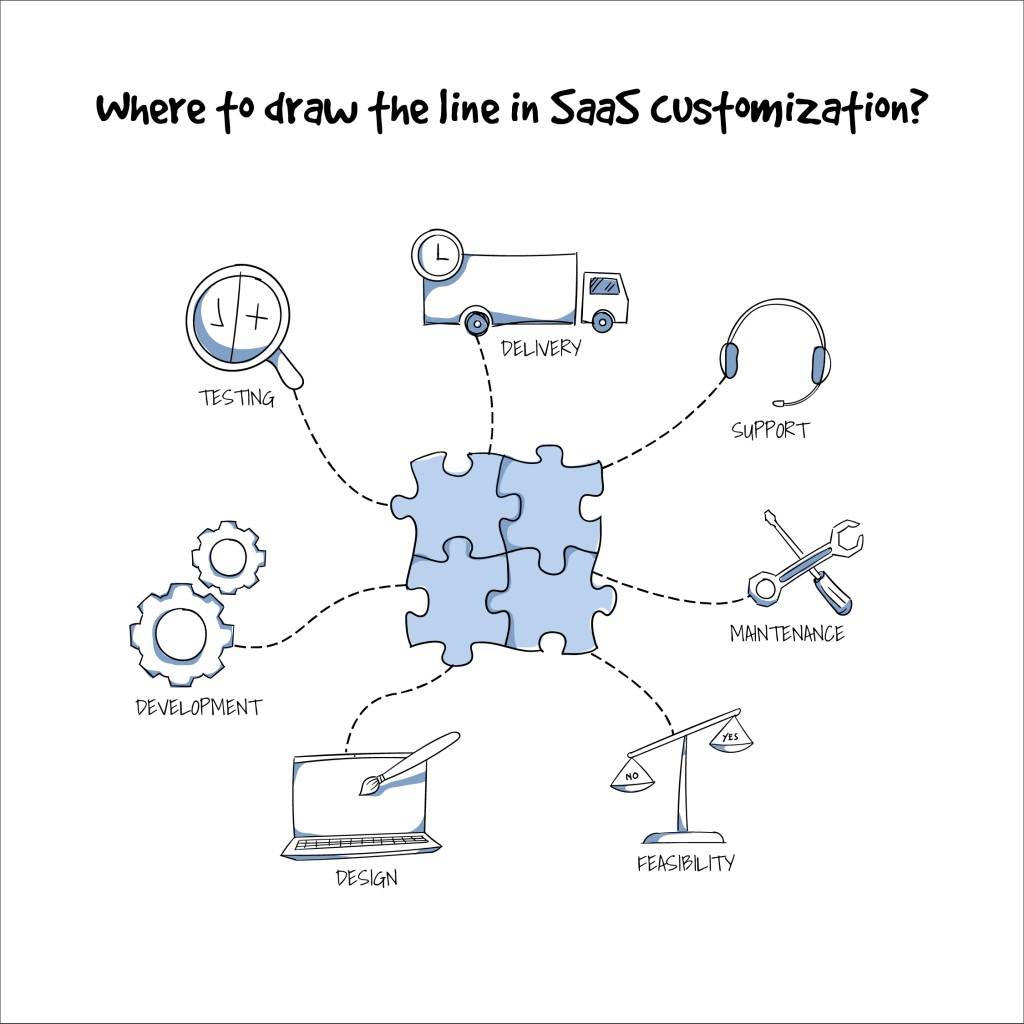 Where to draw a line with SaaS customization?
Some software vendor's look at customization in various methods. Many think that it is essential and go the extra mile, while some make their SaaS product to be configurable. Standardization versus customization is an old debate, and it ends up being a situational result.
Customization is a service that is based at a premium on the "boxed" product. It means holding a customization based code in different branches in code respiratory, which regarded to be manageable. Since a single based system has been created in the SaaS version, there is some un-learning requirement, but they don't normally say no to customization as their customers are now acquainted with it.
When a customer requests for customization, he gets various forms of responses like "not possible at this time "or "it is in the product roadmap, wait next release" or "it can't be done at all," etc. If the software developer refuses the customization asked by the user, it can lead to a loss to the customer as the product may not be termed as fit.
The engineering team is required to provide answers and infrastructural solutions to make customization possible in SaaS. Having said so, with customization, to maintain it will become more complex and costlier than before, The software companies are also expected to think about the core products as well as the extended product. It will become a challenge to the source code management itself, and fixes will have to be analyzed across the customization to minimize, if not eliminate, regression.
So the question is, where do software companies draw the line when users ask customization for a SaaS product? One-of customization per se is bad. This is SaaS and not a service business. Being paid to build something important, whether it is ready or not on your roadmap can sometimes be magical. This will help the software companies to be able to see the future.
When big companies offer to pay a large amount for a standard contract, and it also includes a requirement to a feature that is important and yet you don't have it, then build on it.
Not only the big businesses but also the small businesses need high touch customizations to tailor the product to their unique requirements and also have a large amount of variance in how they expect to be. Most of the common cases require the ability for custom fields to be added, the ability to define custom workflows, customizable dashboards, quick custom filters to narrow, granular permission schemes, etc. To make 80% of this value significant, therefore focus on this 20% features sets of customizability.
The big question becomes- who takes a decision and caps the customization? The answer is both the user and software developer. Both of them must be aware of the complexity of the customization and the challenges facing them in SaaS products and have to look at different alternatives on customization. Once the organization on both sides are arranged to SaaS, the definition of the criteria to accept customization will evolve based on the recent experience.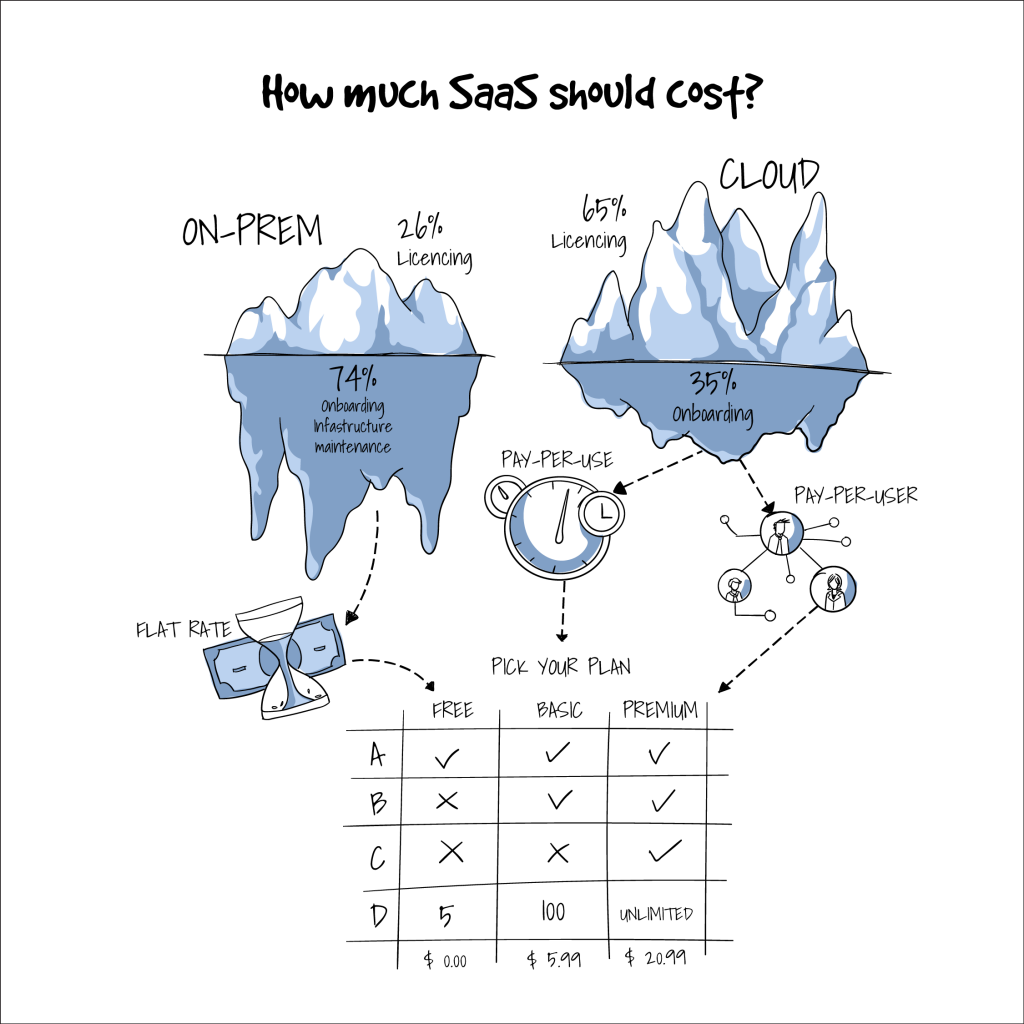 How much SaaS should cost?
On-premise traditional software is offered based on maintenance agreement and license. A client acquires a license to the software, which is then followed by on-going maintenance fee paid to receive software update and also has full access to service assistance offered by the software provider. Employing staff to ensure the smooth operation of the software and the corresponding hardware is solely a responsibility of the client.
On the other hand, the SaaS pricing model necessitates user fees which are billed monthly or annually. The cost of entry by the user to gain access to the software is substantially lower in comparison to buying an on-going premises license.
The SaaS revenue model is mainly characterized by the ability of the users to be granted access to the software which is being managed by providers in the public cloud. 70%-80% of SaaS companies have got no pricing charts on their websites while the rest have pricing which is only made available by the salespeople upon request. Interestingly, they have a good reason for not displaying their pricing charts to the general public. Also worth knowing is that the software pricing from SaaS companies is, without doubt, the best.
Flat rate pricing
The easiest way to market a SaaS solution is through flat-rate pricing whereby you obtain a single product with a unique set of features for a single price. There is a lot of similarities between flat-rate pricing and the software licensing model which was in use before the existence of cloud infrastructure. The major advantage of flat-rate pricing is that it is cost effective and you are usually billed monthly.
Usage-based pricing
Another name for the usage-based pricing is Pay As You Go model. This pricing strategy directly relates the cost of SaaS product to its usage. That is, the bills you pay for using the services is determined by how often you make use of the services. Interestingly, SaaS companies have sought ways to adapt the model, such as providing an accounting that charges per invoice.
Tiered pricing
This pricing model is the de facto preferred model which is being used by most companies. The tiered pricing permits companies to offer multiple packages which come with a combination of different features offered at different price ranges. The medium number of packages on offer clocks in 3.5 – often blended towards low, middle and high price points.
Per-user pricing
This pricing model is also known as Per Seat Pricing. Its popularity is largely attributed to its simplicity which gives room for a single user paying a fixed monthly price, who then adds another user to double the price. This makes it very easy for clients to understand what their monthly subscription gets them fully, and also makes it easy for SaaS startups to manage and predict their revenue.
Freemium pricing
Many leading SaaS companies use free plan or freemium pricing. This offers free-to-use product which is supplemented by additional paid packages. The use of the freemium business model is typical as a part of tiered pricing strategy in which the regularly paid packages being supplemented with a free, entry-level tier, urging users to upgrade at a certain level of usage.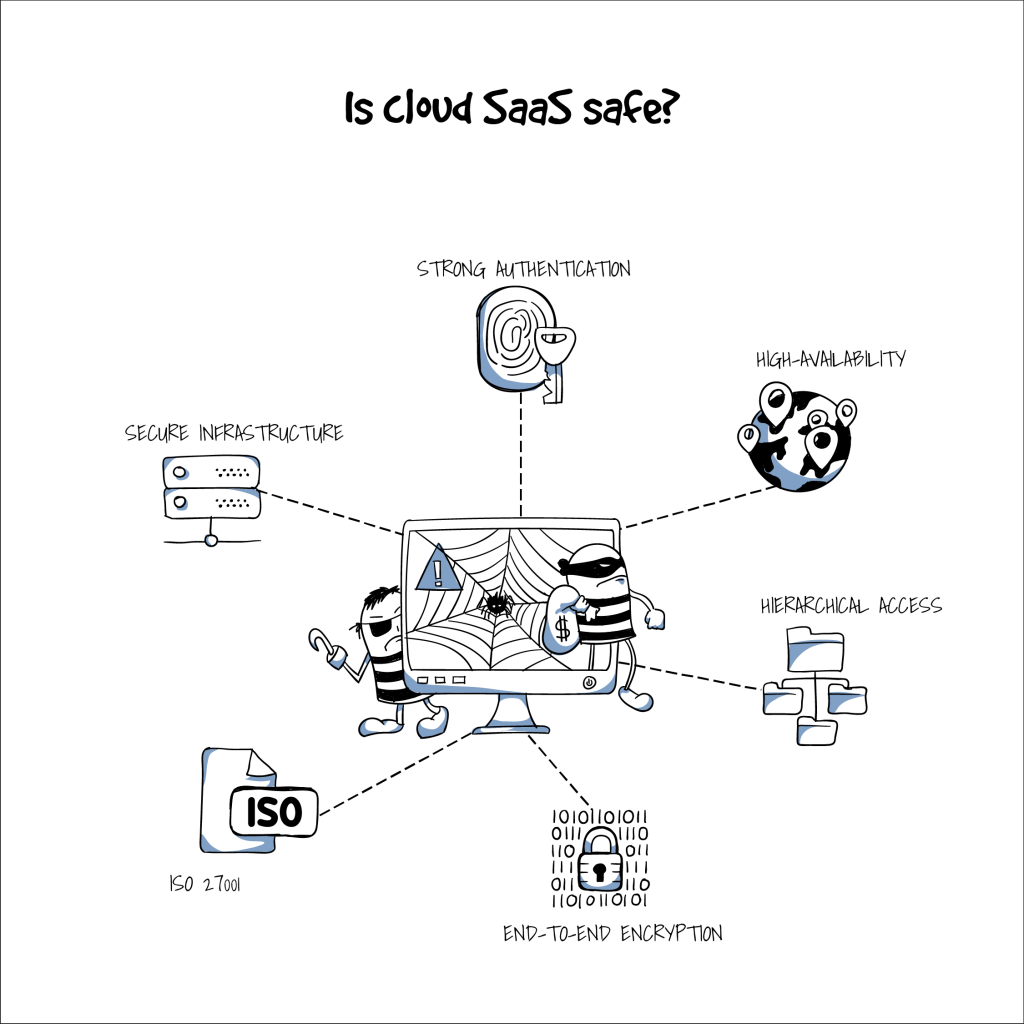 Is cloud SaaS safe?
The big reason why business owners or companies are afraid of moving to SaaS data security is that they are afraid of their data not being safe because it is not internally managed anymore. This is, without doubt, a huge misconception as SaaS companies offering cloud computing services are rarely prone to data loss and security breaches in their system.
Nevertheless, it is your sole responsibility to choose a trustable platform, regardless of the type of SaaS application you want to acquire. Also, you are to check if the software is deployed on a secure cloud server, ensure data security and privacy, has the right certification, etc.
Secure infrastructure
The major cloud servers and data centers where SaaS companies host applications and data include the following: Microsoft Azure, Amazon Web Services, and Google Cloud Platform. The architectural planning of SaaS application has to be by strict information privacy policies and best behaviors recommended by the cloud platform, as mentioned earlier.
High-availability
Cloud-based software stores data in multiple fault-tolerant servers and can guarantee high-level uptime. This implies that the failure of one server isn't noticeable as your cloud provider will immediately "failover" to another functional server, allowing you to continue working as though nothing happened. Cloud servers are also geo-redundant with little chance that local natural disasters or power outages will lead to significant downtime.
ISO 27001
The International Standardization Organization (ISO) publishes international standards that describe how to manage the security of information. Such standards enable SaaS companies to earn certification. This implies that an independent certifying body has verified that an organization has implemented information security by ISO 27001.
Hierarchical access
Negligent employees are the greatest threat to endpoint security, thus controlling and observing how your employees use a SaaS is probably a necessary safety measure. Access control to cloud computing within your company with hierarchical access according to the employee's function within the company.
End-to-end encryption
Data at rest and data in transition are both encrypted end to end, and every interaction with the server happens over Secure Sockets Layer (SSL) transmission. The SSL is the standard security technology for which is employed in establishing an encrypted link between a browser and a web server. SSL primarily ensures that all data passed between remain private and integral.
Strong authentication
A proxy server may be set up by our platform into the users' network which requires two-factor authentication (2FA). The user is given access to login with username and password in order to authenticate the process. Once this is done, we will receive a token which serves as a second factor to grant the company access to our platform.
The impression that SaaS applications are essentially more defenseless than the on-premises solutions is of more myth than reality. Cloud security is only going to get more powerful. This adds to a growing list of reasons why more businesses should switch to SaaS.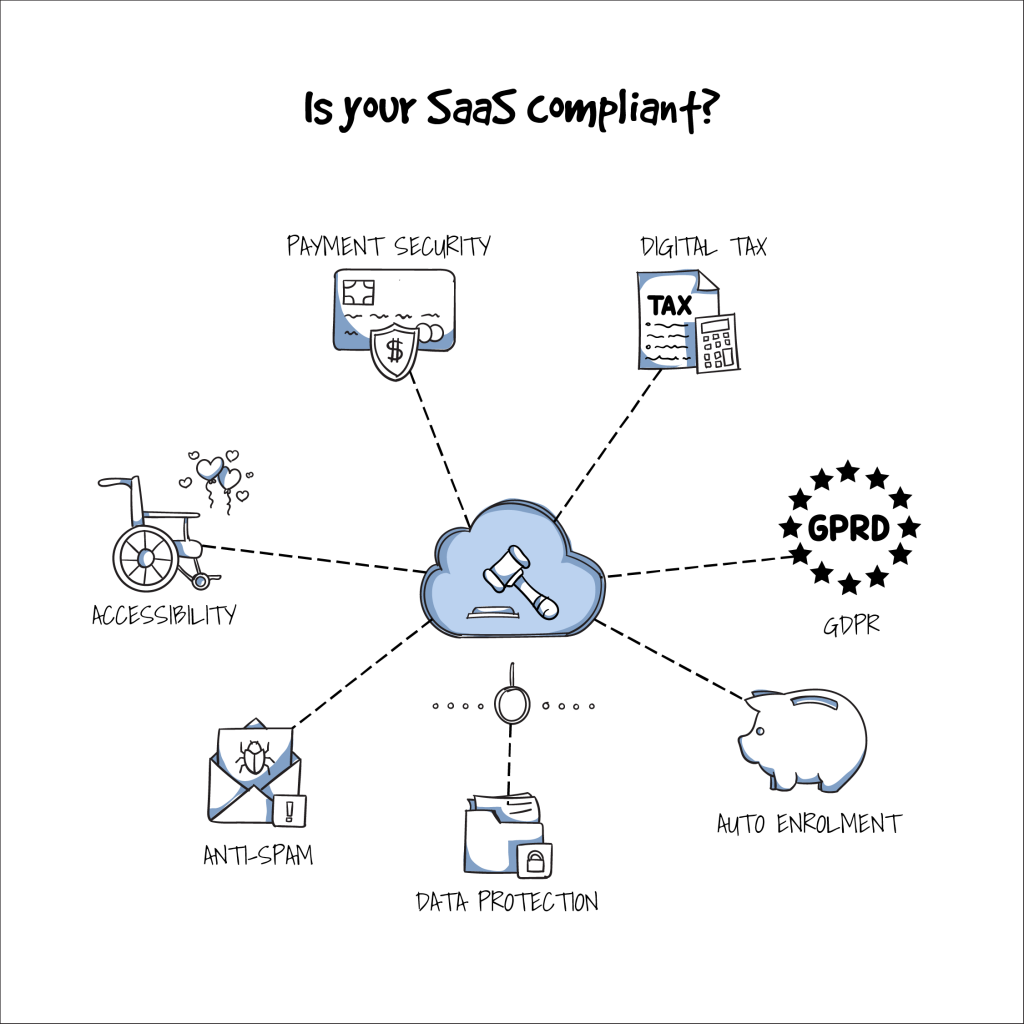 Is your SaaS compliant?
The legislation set by the government, or other rules specified by ombudsmen, authorities, associations, or other bodies, may have effects on your choice of software, and on how your organization may be able to use it.
Always watch out for systems that are unable or partially able to comply with the relevant legislation or other rules which apply to your business. This is to ensure that any software you choose will add value, and certainly cause no harm in these respects.
Most of these regulations relate to the use, storage, and management of data because how they protect and store customers' information are the responsibilities of businesses.
The software should be easy to use for everyone, including those with physical disabilities, or impairments such as deafness, impaired vision, blindness, epilepsy, dyslexia, color blindness, or any combination of these. Ensure that staff with disabilities have access to any tools or software they need to operate the software you expect them to use in the workplace. This software may include screen reader software, which is an alternative to the mic for people with impaired motor skills, or other aides.
Employees in some countries will need to be "automatically enrolled" into a workplace pension scheme by their employer. The company size determines the staging dates used to phase in auto-enrolment and assign compliance deadlines to businesses.
Anti-spam legislation
Legislation relating to spam and the sending of commercial emails may affect the way you can communicate with customers across many countries. Australia's SPAM Act 2003, Canada's Anti-Spam Legislation, various regulations covering the EU, USA, and the UK are only a few to name.
Any organization that holds or uses information about its clients, employees, or other people is legally obliged to protect that information. Data protection laws and regulations define how personal information may be used, and all businesses are required to follow data protection principles.
General Data Protection Regulation
GDPR applies to any business that processes the EU resident's data. Non-compliance to the rules of this data regulation body carries penalties of up to 4% of a company's global turnover. This law comes into force from 25th May 2018, and from this date, the GDPR will supersede national data protection laws, creating a unified set of rules across all the EU member states.
From July 2018, most businesses in the UK will have to begin updating HMRC online every quarter. From 2019 most companies will be expected to provide quarterly updates relating to VAT, with corporation tax to follow in the same cycle in 2020.
Payment security
Payment Card Industry Data Security Standard (PCI DSS) is a worldwide standard that helps businesses process online card payments securely and reduces both debit and credit card fraud. Compliance with the standards means adhering to tight controls for the transmission, processing, and storage of cardholder data.