Wiki
Searchable • Contextual • Onboarding
Reporting System
The Reporting  System is very handy for creating reports based on the data you have in the system, saving them and sharing with your colleagues. The Reporting tool already has some necessary reports built in for each section such as Sales Reports, Lead Reports, Overdue Projects reports and so on.
REPORT FOLDERS
In order to see Report Folders list, click on 'Folders' button, where you can find created folders in the system. You can directly Edit and Delete the folder you choose.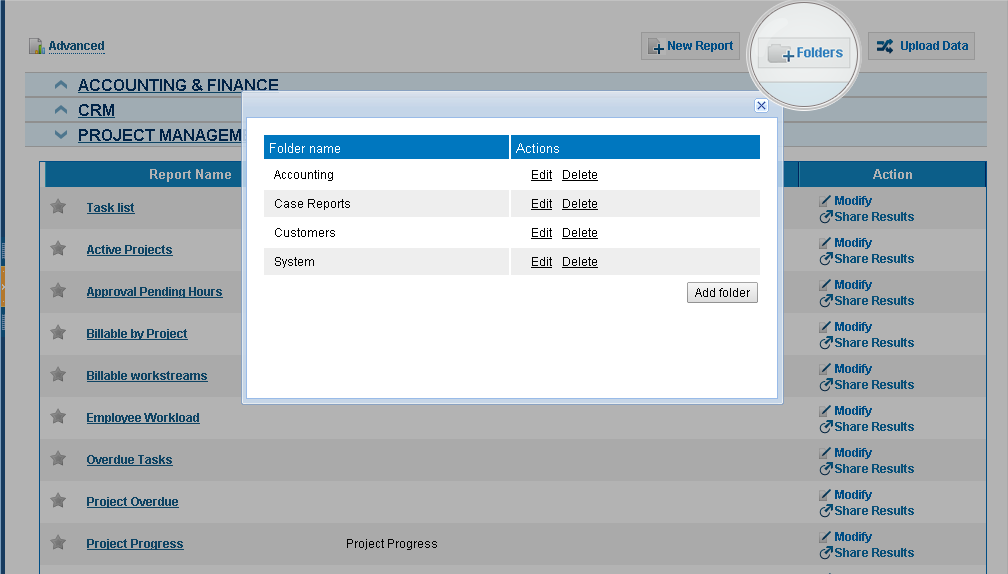 Add Folder
You can add a new folder by clicking on Folders button. In order to create a new folder you need to enter Folder name and choose Folder type and click on Add Folder button to save it. There are two default folder types: Publicand Private. If you choose Public, your created folders will be visible to all users, whereas if you choose Private option the folders will be visible to you only.
Import your Data
In order to import your data, click on Uploads Data button. Then, write the name of your data type in the Import Your Data section, choose template category and click on the Choose File button and Upload it.
CREATING A REPORT
Step 1: Selecting Data Type
You will be given several options to choose and it's up to a report type you are going to create. Select the type of data from Accounting and Finance, CRM, Project Management, Surveys & Polls and HRMS sections.

Step 2: Select Report Type
The next step is selecting the report type. You will be given two options: either Tabular Report or Summary Report. The former type of report is the fastest and easiest way to list your data. From the latter report type you will be able to view data with subtotals and other summary information.
Step 3: Select Report Grouping
This step will be visible if you choose Summary Report type from the previous step. In this step you can select fields to be grouped and summarized in your final report. Also, there is a dropdown called Sort Order where you can chooseAscending or Descending orders.

Step 4: Select Columns
In this step, you can select the fields to be added to your report by ticking on respective column labels. Also, there is aSet Columns Order option where you can set the order of those chosen columns by dragging and dropping them.
Step 5: Select Summaries
In this section, you can choose to view the Sum, Average, Largest Value, Smallest Value and the number of items by ticking for each item in the row.

Step 6: Select Chart
In Chart Settings, there is a list of Chart Types. You can select any kind of chart (Bar chart, Pie chart, Horizontal Bar, etc) as regards to the type of your report. Also, you can see the preview of the chart you chose in Chart Preview. You can customize the selected chart in the way you want in Chart UI Settings.Chart UI Settings enable such features as title size, label, chart size and so on.

Step 7: Select Filter
In this step, you can set filters for your report fields depending on data type you selected.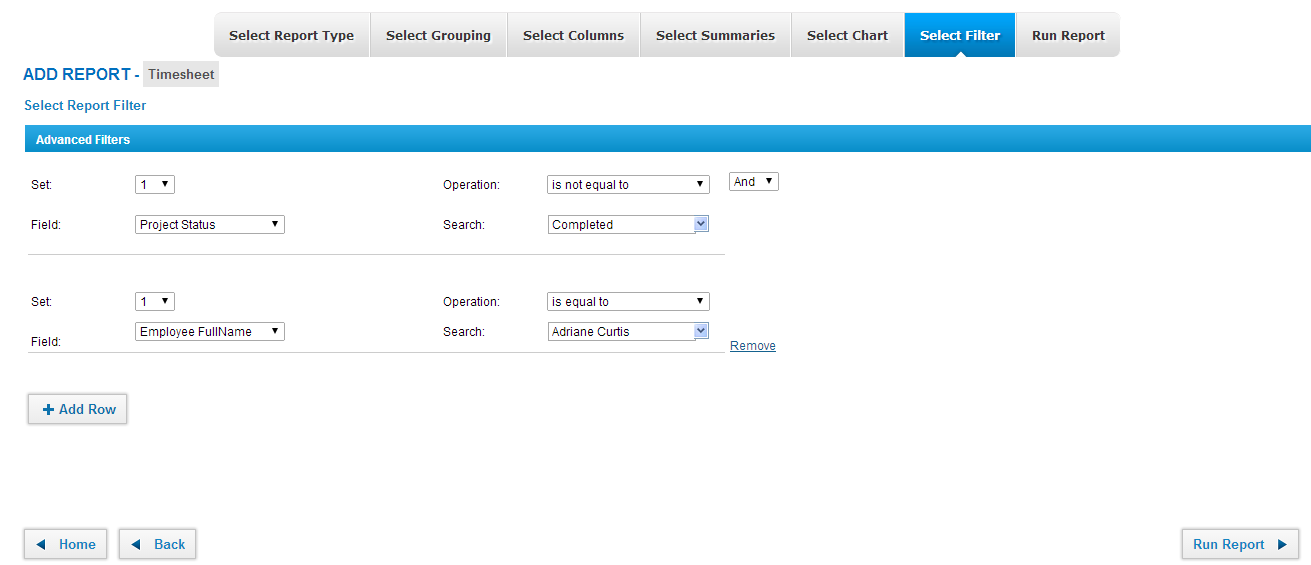 Step 8: RUN REPORT
In this step, you can see the results of six steps which you filled in. Run Report page enables to view the whole report as well as filtering feature where you can filter some needed information once more. Also, you can view the report chart in this page. You can export your report as CSV, XLS and PDF formats from this page as well. Also, note that you don't need to go by each step to run your report, you can use Run report button on any previous steps.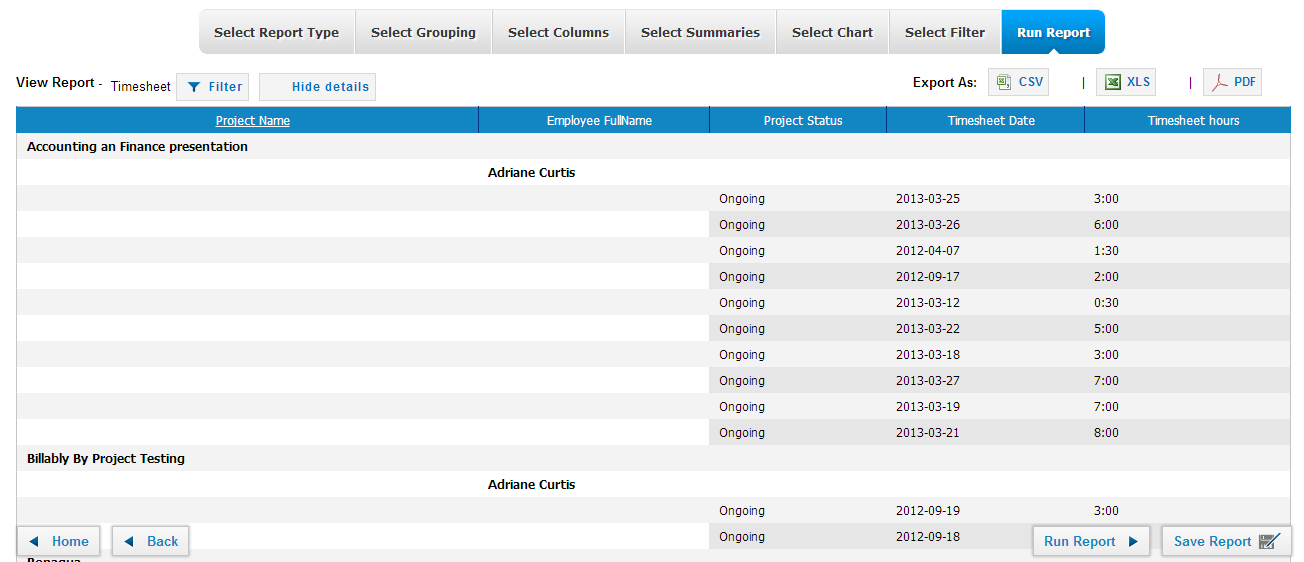 Save  Report
In order to save the report you need to click Save Report button and fill in the fields given.
Modify Report
You can edit previously saved reports by clicking on Modify option of the report on Reports list.

Share Results Function
With this function you are able to share the ready reports with your collaborators and even schedule recurring emails with attached report. You can find Share Results Function feature in the view page of the report.