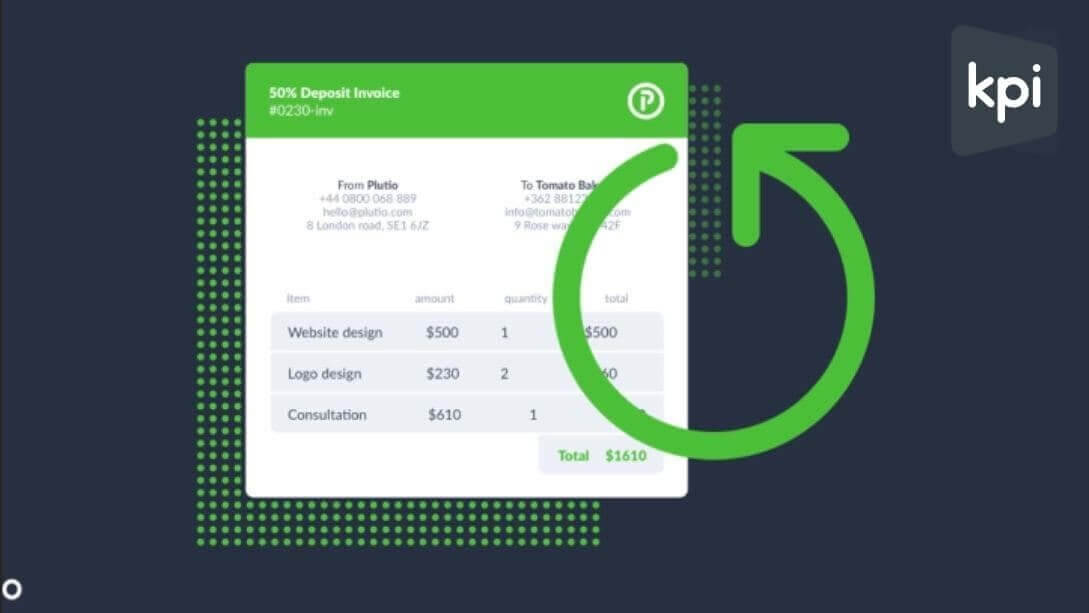 Recurring invoice
Recurring invoices are accessible in modern businesses to automatically charge customers for an agreed amount for goods and services. These invoices usually are submitted, or the charges often applied every month.
For a company to utilize recurring invoices, the company first has to get permission from the customer to be charged regularly for an average amount. The charges will continue till an agreed-upon termination date or when the customer withdraws approval.
Online software businesses most popularly use recurring invoicing, cable companies, cell phone bills, utilities, magazine subscriptions and gym memberships.
The benefits of the recurring invoice
Recurring invoicing gives the great advantage of convenience. The supplier doesn't have to wait for the client to pay or request the customer's credit card information repeatedly. Similarly, the customer does not have to send manual payments regularly.
For instance, a magazine company can supply one year's subscription to a customer where the magazines will be delivered regularly, and the client has to perform no other actions. When the term is completed, the customer can choose to terminate or extend.
A stable stream of monthly income can be a godsend, especially in months where the business is slow. It is not a surprise that a growing number of small businesses perceive the capacity of recurring invoices: Invoices that you send automatically on a regular timetable.
But sending regular invoices is not proper for anyone. This article will know whether using a recurring invoice structure is for you and what you stand to achieve.
There are, basically a lot of advantages of sending recurring invoices with an accounting solution online. Here are some essential compelling benefits:
1.IMPROVES CASH FLOW
As it was mentioned above, recurring invoices contribute to an instant stream of monthly income. They develop your cash flow from month-to-month so that you have enough money to cover your business costs and other expenses.
Additionally, the practice also improves cash flow plans. Consider it this way: when you pay cellphone bill every month, the cell phone company knows they can bank on a particular amount of monthly income from you (and of course their millions of other customers).
2. RECURRING INVOICES SPEED UP PAYMENT
We are all creatures of habits and used to paying instant bills, such as phone, rent and cable. By sending invoices at recurring intervals, you will assist clients in locking into the similar payment regime.
In addition to this, any top invoicing software lets you connect with a client's credit card, which encourages prompt payment and makes it quite convenient when paying.
3. REDUCES TIME SPENT CHASING PAYMENT
Since recurring invoices speed up payment by effectively cultivating good habits, you will spend a lot less time chasing debts. No more worrying about those weird "where is my check?" conversations!
Your clients will also benefit: They do not have to remember to make a payment and won't be subject to any feasible late payment fees.
4.AUTOMATES YOUR PAYMENT PROCESSES
By utilizing online software, you can create an invoice from a template, set the timetable, link your customer's credit card and make the necessary changes once. Have peace of mind considering that the invoice will go out on a stable schedule for prompt payment. You no longer have to replicate unnecessary work.
Accounting software solutions that are online also let you review recurring invoices before sending them. It is ideal for customers where monthly invoice values fluctuate. For instance, you might have a regular invoice for $200, but you do a lot of work in a month and need to increase it to $250.
5.DEVELOPS CUSTOMER RELATIONSHIPS
In place of being perceived as an "ad hoc" vendor, your customer is more likely to see you as part of their big team and ongoing budget. This recurring relationship is usually the basis of forming "anchor clients".
6. RECURRING INVOICES SAVE YOU TIME AND eliminate OTHER HIDDEN COSTS
It might only feel like minutes, but minutes add up: It takes much time and costs money to create, track and process every invoice. Someone needs to do the work by cutting these unnecessary costs by implementing a recurring invoice technique.
7. YOU CAN FOCUS ON WHAT MATTERS
You can pay your attention to other critical business areas such as marketing and sales by saving time.
The disadvantages of recurring invoices
Recurring invoicing does present disadvantages too. The one big drawback is that it will be harder to spot mistakes in the invoice and to have that fixed. In standard invoicing, the supplier consents an invoice to the customer, and if there is any error, the customer will send it back to the seller who will then resubmit it.
However, with recurring invoicing the charge is automatically used. If the client sees an error, he will have to go through more steps to get his money back. That's why the recurring invoice, while convenient, does make it more arduous to fix invoicing errors.
There are as mentioned above, some potential downsides to using invoices, but these are mostly caused by poor management and inefficient processes:
A poorly drafted, vaguely worded document can be mistakenly interpreted or easily disputed by postponing payment.
If the hours of work or product sales assumed are not noted, an invoice can appear approximate and could be challenged. A proper invoice is detailed, clear and precise.
Invoices, being issued late, can allow customers to be equally relaxed regarding settling the debt. Demands should be increased immediately to impress upon the customer the need for swift payment.
When is invoicing not appropriate?
Invoices do not fit with all types of payment. For instance, if there is no ongoing relationship with the customer or if the amount is needed upfront, an invoice would not be utilized.
Some industries use many upfront payments for goods or services, such as e-commerce and retail. Merchants within these sectors demand instant payment until they hand over or dispatch physical goods. Those operating in the hospitality sphere, such as bars, pubs and cafes, also mostly take cash or digital payments from clients on the spot, so they rarely issue invoices.