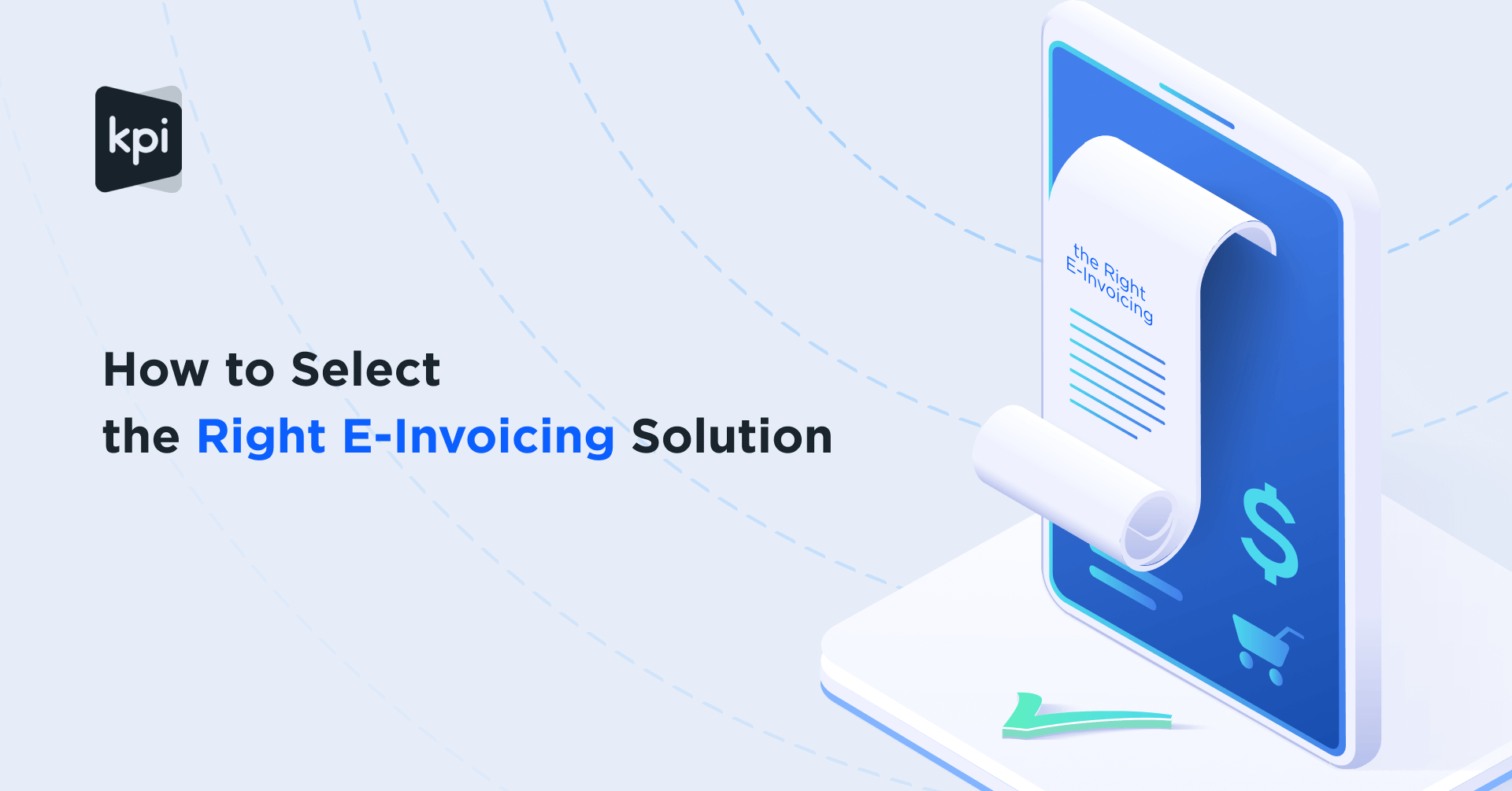 How to Select the Right E-Invoicing Solution
Compared to a paper-based and manual system, an e-invoicing solution can greatly reduce your business's processing costs and improve compliance, and reduce audit time.
E-invoicing systems support every step of account management from the generating invoice to payment processing. In a manual process, there is a high possibility of human error, which can lead to erroneous data entry, duplication, and delays.
So which e-invoicing solution is right for you? The features highlighted below have been identified as the most vital aspects for successful e-Invoicing solution implementation.
EDT- Electronic Document Transfer
Regardless of the standards of the accounting system you use, its organisation's size, technological ability, or geographic location, the solution chosen should facilitate document transfer between customers and vendors. It should also support other documents that are part of the e-invoicing process, such as purchase orders, billing and credit notes, payments, and more. Finally, it should be compatible with your company's and partners' security rules and communication plans.
Accounting Systems Integration
To fulfil your organisation's objectives, every department must cooperate, share data, and collaborate. This is especially true in the accounting-to-accounts-payables relationship. Accounting captures all of the data generated by your AP activities and feeds it into your accounting application, whereas accounts payable concentrates primarily on processing invoices. It enables you to track where your operating dollars have gone and where your company's finances are heading. If your AP software does not link with your accounting tools, it will be difficult, if not impossible, to handle your accounts effectively.
Compliant with Regulations
There are usually a lot of boxes to check to guarantee that you protect your suppliers' and customers' data, preserve accounts payable data for the minimum term required by relevant financial authorities, and only collect signatures over a secure and compliant protocol.
An ideal e-invoicing tool should be able to do the following:
Save bills for a specific period of time.
Provide legal-compliant digital signatures that are secure and compliant.
Manage the data of your suppliers with a tried-and-true security protocol.
No matter how many complex features an electronic invoicing solution tool has, if it doesn't comply with existing legislation, it'll only be a matter of time until it lands you in legal problems.
Reporting
During your accounts payable process, you'll need to review your numbers to see where your budget has gone, which supplier relationships have proven to be the most beneficial, and whether your accounts payable systems and processes have been performing as expected.
All of this falls under the auditing category, and to achieve it; you'll require electronic invoicing software with robust reporting capabilities. Reporting is all about presenting data on a single page so that stakeholders can see how it all fits together. Reporting compiles your accounts payable data from individual invoice settlements onto a single canvas so that stakeholders can see what's working and what isn't to figure out how to improve your AP process.
Invoice Archiving
Invoice archiving is one of the most important needs of numerous regulations. Many governments require that digital invoices be kept for a long time. The e-invoicing solution you choose should be able to accommodate these needs while also allowing for easy access and retrieval.
Auditing
Given that VAT and sales taxes account for a significant portion of most countries' GDP, auditing (external or internal) is a critical component of any e-invoicing solution. As a result, it's critical that you pick a solution that includes the following features:
Presentation of invoices in a way that people can understand
Reports are available for anyone who require them, both inside and outside the firm.
Unsigned EDI documents require compliance paperwork.
Laws governing the protection of personal information are followed
To learn how kpi.com all-in-one e-invoicing solution can help you to tackle these changes and features, schedule a complimentary demo of our system today.