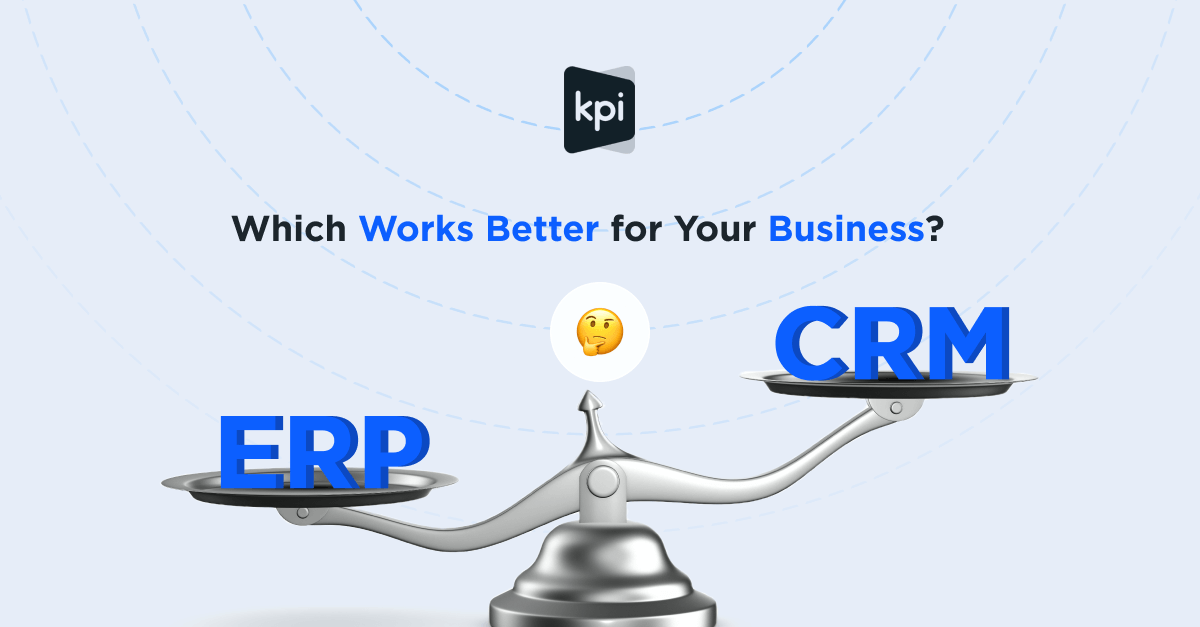 ERP vs CRM: Which Works Better for Your Business
If you have not yet started your digital transformation, you will most likely find that your company is lagging behind its rivals in terms of sales and efficiency.
When it comes to automating fundamental business activities, businesses typically resort to two primary software platforms: ERP and CRM.
At first glance it might seem difficult for business owners and managers to understand the features of a particular software. To get beginners up to date, we have prepared a material about the purpose of CRM and ERP, as well as their differences. These are the systems that come to the fore when it comes to business management.
In short, CRM (Customer Relationship Management) is a sales management system. It is mainly focused on the process of working with clients.
ERP (Enterprise Resource Planning) is a set of systems for managing enterprise resources: production, personnel, finance, logistics processes.
What is CRM
CRM is designed to collect and store customer information in an orderly manner. The system manually or automatically enters customer contacts along with other information required for the business. One of the main goals is to simplify the work with customers, making it faster and easier. All communication channels and the entire sales history are stored in CRM.
In the system, all clients have personal cards, where all correspondence and even records of telephone conversations are stored. At the same time, the order history and personal preferences of the client can be stored in CRM.
In addition to external communications, CRM allows you to track the productivity of employees. Users set tasks for each other, add the deadlines for their implementation and the result. Subsequently, based on these actions, statistics and visualization of the workflow are formed.
Depending on the scope of the company and the specific CRM system, additional modules can be connected. In particular:
Corporate website management system.
Systems for building sales funnels. For example, modules for setting contextual advertising in Google or Yandex, targeted advertising in social media networks.
Email distribution services.
Cloud storage.
Messengers.
It is vital to mention that it is better to use CRM for its intended purpose.
What is ERP
ERP is aimed to streamline both work processes and operations within the company. With its help, the management of human resources, assets, the supply chain and the production of the final product, as well as financial management is carried out.
This is more complex software with several modules. It is intended for companies with a complex and multi-level production and service structure.
ERP allows you to monitor and improve processes in a company at great cost. Most of all, they are relevant for large developed businesses where the processes can hardly be reproduced in memory or on paper.
ERP functionality can be roughly divided into several modules: finance, HR management, project coordination, reporting, payroll and inventory management:
Accounts & Finance
ERP's main module will help to organise the accounting and finance processes.
Inventory management
ERP streamlines inventory management, supply procurement, and warehouse space management. If space is restricted or shelves are empty, a storage system ERP will automatically generate solutions.
Reporting and Analysis
ERP helps to boost productivity by providing the right data and reports. It will definitely help to coordinate future tasks and ensure that progress or setbacks in one area are instantly visible in other areas.
HR Management
A huge corporation's workforce includes more than marketing and sales people. ERP manages various elements of hiring, training, insurance, and employee relations from offices all around the world, regardless of whether the employees are salaried, executive, contract-based, or hourly.
Project management
ERP can give project-related information in real time. ERP will assist in the optimum allocation of resources to a project. Throughout the project's life cycle, ERP will help assist with any necessary remedial steps.
Payroll
CRMs are used by the sales department to track invoices, but the ERP system is used to streamline and automate payroll, finance, accounting, and other related data of an organisation.
How to choose CRM and ERP
In summary, ERP will suit more medium enterprises, where business strategy focuses on cost-cutting and simplifying processes.
Small enterprises, new company entrants, startups, and lone entrepreneurs, on the other hand, should start with a CRM system. CRM will suit more if your current business aim is to increase sales.
CRM and ERP can work well together, and this is the best solution. Some ERP solutions include a CRM module as a part of the solution e.g. kpi.com.
With KPI cloud ERP, you quickly convert your business into a more productive and agile organization. Try kpi.com's 14-day trial and fill out the form below to request a demo.