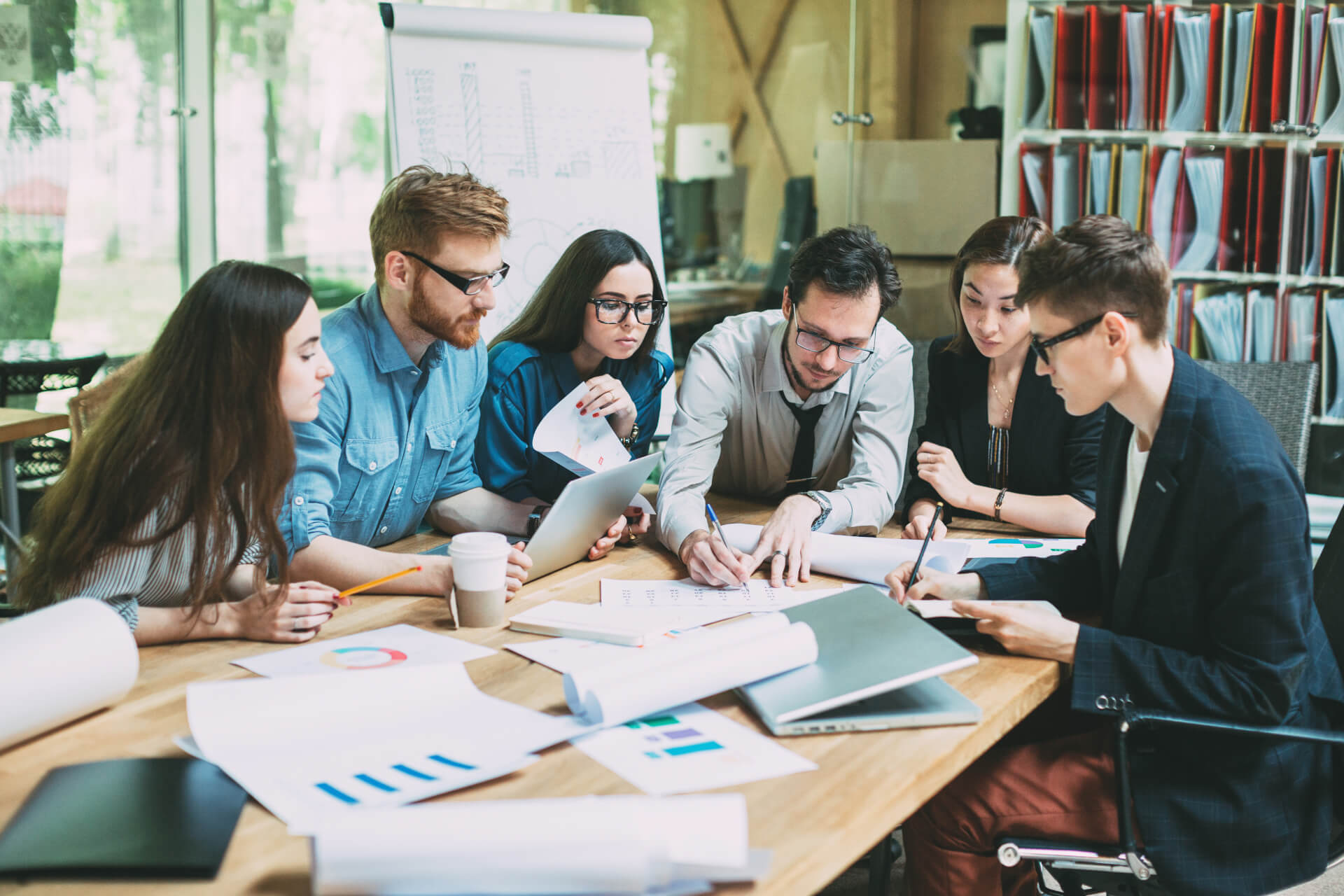 How to Apply KPIs to Different Project Stages
If you want your project to succeed, you need to know the stages it is going through and how to measure a success or a failure via KPIs at each stage.
Project management is a discipline of initiating, planning, executing, controlling, and closing projects. When you set up a new project, you need to pay attention to lots of different factors for each of those stages, such as tasks, specs, resources, risks, budget, and objectives.
A project manager should keep everything under control, there are a number of approaches for managing project activities, it depends on the type of the project and its peculiarity. However, there is a traditional approach to project management. The processes of project management should be carefully addressed by the project manager and performed by the project team.
Initiation stage – creating an idea for a project, determining whether or not it benefits the organization. During this stage, a decision-making team will identify if the project can realistically be completed.
Planning stage – drawing a project plan, writing, outlining the work that needs to be performed. During this stage, a team should prioritize the key tasks of the project, calculate a budget, define a schedule, and determine what resources are needed.
Execution stage – making sure the tasks are assigned and teams are informed of scope, quality and deadlines. Here the work starts. This is a good time to bring up important project related information and start tracking the performance.
Monitoring stage – comparing project status and progress to the actual plan, as resources perform the scheduled work. During this stage, project managers may need to adjust schedules, modify tasks or do what is necessary to keep the project on track.
Completion stage – commissioning of the project to the customer, getting the project approved. A comprehensive evaluation of various metrics is necessary to highlight project success and learn from project failures.
Certainly, not all projects will pass every stage, they even can be terminated before they reach completion. Some projects do not follow a structured planning or monitoring process. Also, some projects might go through steps 2, 3 and 4 multiple times, due to changing circumstances.
As you see, project management is a complex and unpredictable concept. That is why the KPIs for each project stage can vary from one situation to another. Nevertheless, in general, project management KPIs should be agreed upon early in the project. They reflect the organization's central concept of the project and solidify project responsibility across administrative divisions. A project manager can set the KPIs for each stage and thereby track the status accordingly with an increased potential for overall success.
KPI

Description

Formula

Actual Cost (AC)

Indicates how much money you have spent on a project as to date.

Sum up all the project-related expenses you've used to date.

Planned Value (PV)

Estimates cost for your project activities planned or scheduled as of reporting date.

PV = (the hours left scheduled on the project) X (project worker's hourly rate)

or

PV = (Planned % of tasks left to complete) X (project budget)

Budgeted Cost of Work Scheduled (BCWS)

Assesses how much cost should be spent on the project for the work that should be done up to a certain date according to your schedule.

BCWS = Total Budgeted Cost * Scheduled Project Percentage


Estimate at completion (EAC)

Shows the cost of the project as the project progresses.

EAC = actual costs (AC) + budget at completion (BAC) – earned value (EV)

or

EAC = actual costs (AC) + estimate to complete (ETC)

Estimate to Complete (ETC)

Demonstrates how much more money will need to be spent to complete the project.

ETC = estimate at completion (EAC) – actual costs (AC)


Deviation of Planned Time Schedule (DPTS)

Calculates the difference in time between the planned baseline against the actual schedule.

Actual Schedule/ Planned Baseline x 100%

Percentage of Completed Planned (PCP)

Describes the percentage of work which was planned to be completed by reporting date.

% Completed Planned = PV / BAC (Budget at Completion)


Percentage of Completed Actual (PCA)

Estimates the percentage of work which was actually completed by the Reporting Date.

% Completed Actual = AC / EAC (Estimate at completion)

Deviation of Planned Budget (DPB)

Shows the variation of the planned budget (or cost) is the difference in total costs between the planned and actual budget.

Actual budget/ Planned Baseline x 100

Deviation of Planned Hours (DPH)

Equals to the deviation of the planned work is the difference in work hours between the planned baseline as compared against the actual statement of work.

Actual hours spent / Planned hours of work x 100%

Percentage of Overdue Tasks (POT)

Calculates the percentage of the tasks that are not finished yet.

Quantity of the overdue tasks / Total quantity of tasks x 100%

Cost of Managing Processes (CMP)

Costs of managing processes in a special period of time, usually based on the number of Full Time Equivalent personnel (FTEs) involved in management functions or processes.

Total cost for managing processes / Period of time

Cost Performance Index (CPI)

Budgeted cost of work performed divided by the actual cost

BCWP / ACWP

Cost Schedule Index (CSI)

Measures the likelihood of recovery for project that is late and/or over budget

CPI x SPI

Cost Variance (CV)

Budgeted cost of work performed minus the actual cost

BCWP – ACWP

Estimate at Completion (EAC)

Actual cost of work performed plus the estimate to complete for all of the remaining work.

ACWP + ETC

Schedule Performance Index (SPI)

Budgeted cost of work performed divided by the planned value

BCWP / BCWS

Schedule Variance (SV)

Budgeted cost of work performed minus Budgeted cost of work scheduled

BCWP – BCWS
Resource utilization measures how the time of team members is used while working on the project. It implies how much time are people working on billable activities compared to the time spent on non-billable tasks.

Percentage of milestones missed helps managers keep track of the percentage of projects that have missed milestones. Percentage of milestones as recorded in all projects/programs that have been missed. Identifying milestones and achieving goals are important to maintaining project. When too many milestones are not achieved or are shifted, employees may feel frustrated. Identifying when milestones are missed can help restart a project and mitigate similar challenges in the future.
Deciding what KPIs in Project Management you need to measure and analyze, don't forget that effective KPIs should be:
Agreed upon by all parties before the project begins
Quantifiable measurements can be shared across your team at any time
Measured regularly
Directed toward the benefits the project seeks to deliver
Aligned with objectives and project goals
Cost-effective
Reflective of an organization's success factors.
An excellent project dashboard gives a complete overview of the project and team performance. Depending on your goals, add to your KPI tracking dashboard accurate metrics that help you make informed decisions and to keep your hand on the pulse of all projects.

KPIs in Project Management are used not only as a performance management tool, but also as a motivational tool. When all teams are united with common goals, their individual contributions can shine. Team competition, incentives and rewards can be a powerful motivating tool to keep project pushing forward. Using attainable and consistent KPIs can help project managers assess project goals in an objective, fair and powerful way.