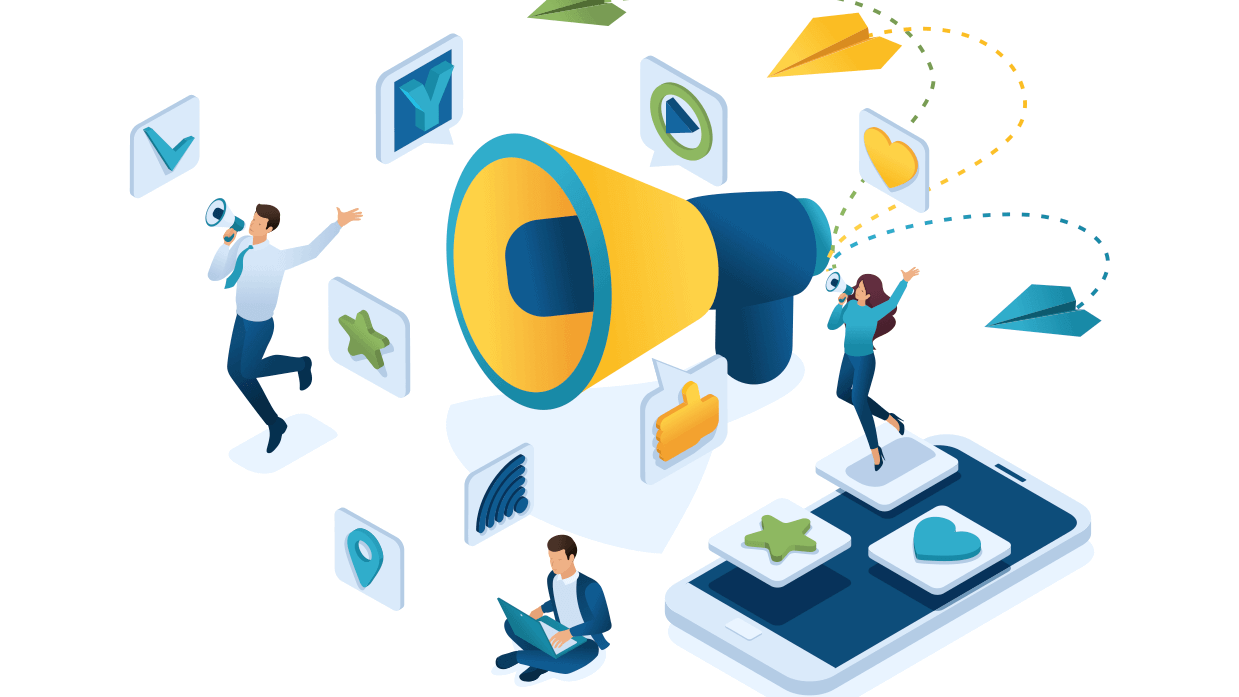 Complete guide to customer relationship management software
Customer relationship management (CRM) is a software application for running an organization's relationships and communications with leads and customers. It promotes sales, marketing, and customer services, delivers insights, and fosters team communication.
Without CRM, all this data will go into analog or independent media such as notebooks or laptops or will even stay in people's hands. This method has made it easy for details to be forgotten or lost, or for a conference or phone conversation not to be followed as promised.
Customer relationship management system aims at addressing difficulties like this. It takes customers data and turns it into a useful and actionable insight that can transform a business. It helps everyone in the company to update simply records and get entrance to the latest information. If it is a cloud-based system, they will be able to do this whenever they are connected on any device.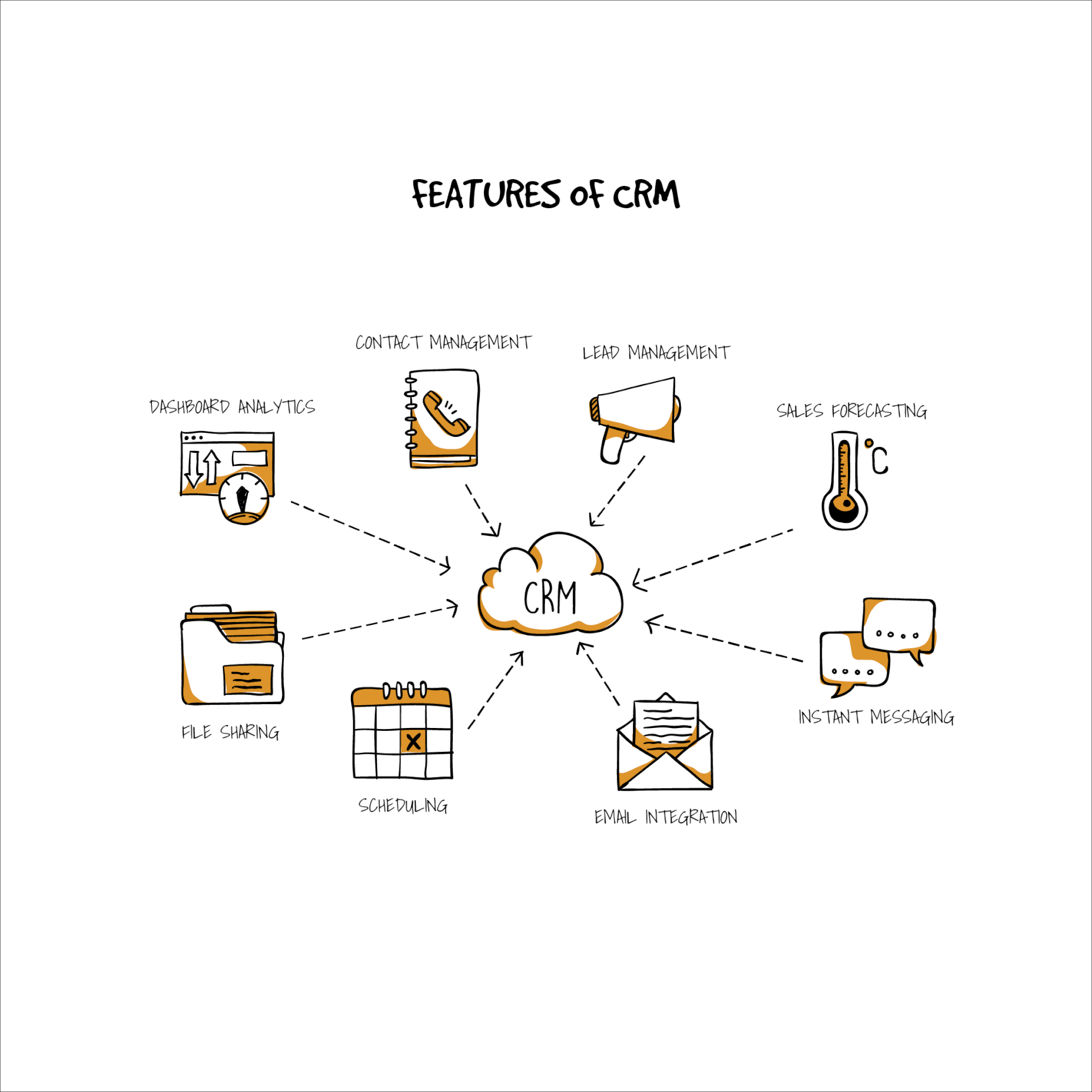 Key features of a CRM system
CRM system helps businesses to keep customers details up to date, track all the customer's interaction, and controls customer's accounts. You can save all your prospects and customers, send emails, make calls, create reports, plan appointments, add notes, handle your pipeline – all under one cover, without moving out from the CRM system. It is necessary because of the large amount of data such business make every day.
Contact management
Tracks your business contact information in a single database for the communications you make on a daily basis, including names, addresses, emails, and phone numbers. You can use a contact manager to seamlessly organize and find all the details linked to business communications. Latest information about customers from contact details to service communications can be easily accessed and updated.
Lead management
The process of targeting, capturing, processing, and qualifying leads for sales. It is an essential role that organizations must engage in continuing growing their business. For companies that depend upon lead generation, the benefits of lead management software include the capability to categorize, analyze, and qualify leads before passing into a sales funnel. CRM system allows the users to set up sales pipes and sales stages, track activities in pipeline, tasks, and targets all from prospect through communication.
Sales forecasting
Predicts what a sales rep, sales team, or company as a whole will sell weekly, monthly, quarterly, or annually. Forecasting of reports enables sellers to have better visibility over their pipelines and qualifies more accurately, and see how close hitting their targets is. The sale managers can use reports to motivate and control their people. Sales forecasts also come handy for a number of key decisions, from hiring and resource management to goal-setting and budgeting.
Instant messaging
The functionality of immediate messaging makes it easy for coworkers to question and answer each other's queries. For instance, supporting service interaction and live sales ops. A sales rep might want to check some commercial or technical information with his colleagues quickly. The functionality of online chat allows CRM users to exchange instant messages with their customers.
Email integration and tracking
Allows users to email their clients right from inside CRM. Thus all incoming correspondence is automatically registered and all information about current and prospective customers are kept in one place. It also gives you a tool to modify CRM records without leaving your inbox. With Outlook and Gmail, syncing the email of clients instantly with the CRM system will allow business people to have the complete view of their customers and leads without going to log in and out in different systems.
Schedule of events and actions
Activities can be either time-bound calendar events, such as meetings, seminars, appointments, etc., or status bound tasks, such as sending a status report to a manager, sending email to a customer, etc. Calendars can be seen across every device. Reminders and notifications can be created and controlled within a single workflow.
Content and file sharing
Members of the team can upload information to a central stored location and shared easily instantly with coworkers. Share content instantly instead of sending long threaded emails and numerous copies of documents. Make your documents available for viewing or editing immediately to your team by adding them to a dedicated team folder.
Dashboard analytics
Customer management analytics is crucial to the decision-making processes of businesses, as it allows a business to manage company interactions with past, present, and future customers. Aggregate information is made and presented in a natural and meaningful dashboard layout that can be customized based on every individual's priorities. Real-time snapshot of leads, sales and service activity.
What are the benefits of CRM?
CRM software brings all information into one unit. CRM system is, therefore, a one-stop solution for all front office terms. It might be the difference among losing a deal or customer and winning it. It can be the gateway for increment in sales of productivity, healthier pipelines, and good coordination within and beyond teams.
CRM is not just for professional sales but from marketing to customer's support and team collaboration. Your company might find other essential uses of CRM besides sales.
Sales
The biggest challenges that sellers face are how to fit and follow up on leads and how sales activities can be prioritized. Despite that, CRM is a tool that not only solves the fundamental problems. To figure out if a lead is either hot, warm or cold, reviewing recent conversations of customers, assessing the monthly sales pipelines, logging calls, sending of emails and tracking them is some of the numerous uses of CRM software for sales reps.
Marketing
Collecting information about the visitors of websites using different web forms and chat application, setting up email campaigns are some of the uses of CRM software in marketing teams. CRM software not only provide you with a contact database and gather your actions, but also makes slice and dice of data easy into meaningful insights, and target group prospects and that of an individual.
Support
The primary function of CRM support for customer service is that customer service blends marketing, sales, support, and retention of efforts made. Integrating CRM software with a helpdesk software gives a lot of information on the issues put up by customers before an upsell or cross-sell activity. For businesses in which the customer service are essential, CRM can push and pull data from many areas of the company to streamline communication within an organization.
Small businesses
Most of the small business owners hesitate to spend on CRM software. They see it as a bulky and complicated tool which only big business owners can make use of. They cannot afford to spend like an enterprise do on CRM software. If they can think along the same line, then it will put a stop to this thought. A small business CRM is a software solution. Unlike the big enterprise CRM, the CRM for small business is designed in such a way that it grows businesses, easy usage, and at an affordable price.
Large enterprises
Enterprise CRM is a complete business application solution. You might have possibly heard of providers like Salesforce, SAP, and Microsoft Dynamic. A CRM enterprise is tailored to large companies that have a more sound need. This organization most times have several departments and locations, all of which are relying on instant access to the data enterprise. CRM enterprise gives way for higher-level automation and comprehensive support, onboarding, and implementation.
B2C
B2C CRM is a platform that brings the data of customers and campaign execution together, enabling marketers and buyers to have a better understanding and use data to directly power campaigns.B2C CRM is built to scale with the business. Customers interact with the company on an ever-growing number of channels and devices at varying times and in several ways throughout the buying journey. Tracking website visitors, saving customer's information, identifying the sales-ready leads, sending emails, and making phone calls.
B2B
CRM is made for sellers particularly and specifically designed for the requirements of businesses selling to other businesses. Functionality for managing leads and opportunities are provided and moving them to the different steps of the sales cycle. If you are a SaaS business, you are reaching out to resellers, partners, and companies of all kind daily. A SaaS CRM will help you to handle the data from one spot whether you are managing subscriptions, tracking sign-ups, or even setting a demo for your contacts.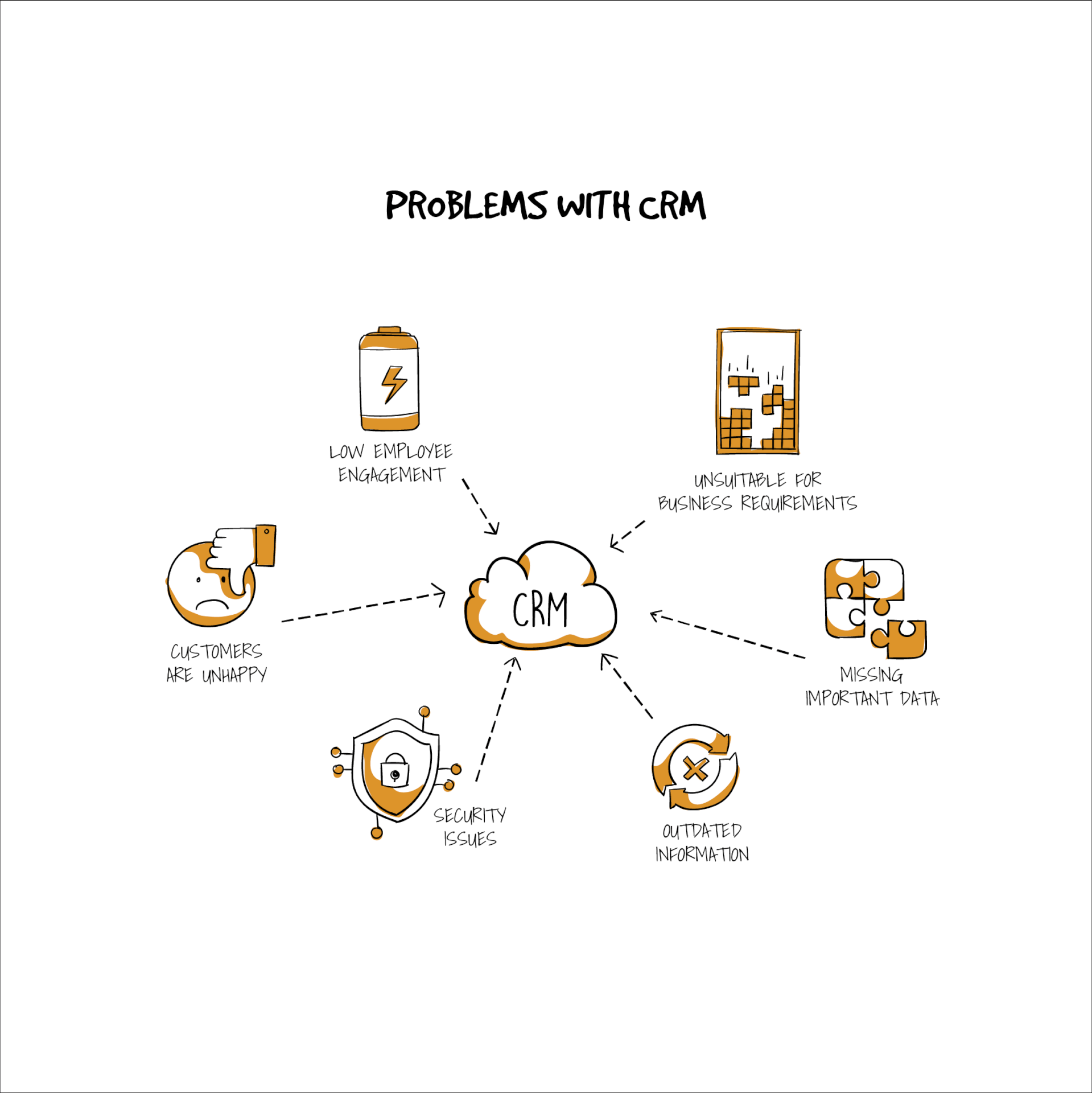 What are the problems with CRM?
The reason why CRM systems are useful for helping businesses to sell more products and services better and also the improvement in the way businesses run, users will, unfortunately, encounter issues which mean that they failed to use CRM to its full potential which can explain to be a big waste of money and time.
Low employee engagement
Most times getting to hold with a new system, especially when old systems have been in use for a long time, can mean that stuff is to the new application of CRM software. Showing every staff levels, which includes management, the benefits of the CRM system in helping to improve the business as well as maybe offering staff incentives for positive outcomes using the system can help to fight this.
Customers are unhappy
If, for instance, you are using CRM to form an automated customer service system, it may prove that a problem for customers who prefer to have more personal contact. They might choose to seek other forms of conversation or decides to go elsewhere, such as an email. To make or keep your customers happy, trailing your system correctly and striking a balance between efficiency and personal contact is necessary.
Unsuitable for business requirements
Most times, businesses are not entirely informed and will end up spending in a CRM package that that is unfit for their needs. Some software is created such a way that it is hosted on single platforms, which is suitable for small businesses. Larger businesses are to consider an alternative method and research thoroughly. A large business should look towards cloud-based CRM software packages which will enable them to have access to their data across many locations whenever the need arises. Lots of CRM companies offer free trials or a short free service, which will become useful for trailing different products and explore some of the best free CRM systems.
Missing important data
Being smart with the set of data you choose to get can be a huge difference in your CRM's effectiveness. Collecting sales of data and personal details is not enough to stay ahead of the competition. The best CRM system will combine with your social media channels. Tracking interactions and engagement is a vital tool. Active engagement with your customers on social media can go a long way in helping you develop an in-depth understanding of your current customers and new prospects will help enhance their experience on that. A nice CRM system allows you to capitalize on this ever-growing channel.
Security issues
The nature of CRM software poses the potential for abuse of data. In such large databases, some holding hundreds of personal details are stored online and being accessed by teams around the globe. Moderate these risks by introducing regular and thorough testing of the CRM package. You have to make sure that your employees are fully trained on how to handle sensitive information, and ensure your internal security systems are strong enough to inhibit external hacks. With online services, saving sensitive data is never 100% risk-free, but there is an important measure you can take to minimize those risks drastically.
Outdated information
The data of customer changes from time to time. Customer's tastes are continually evolving, and it is crucial that the marketers do not lag by using old information. Regularly, auditing your data and asking your customers to verify their details periodically is an easy and better way to ensure that your available data is relevant.
Small companies having a problem with CRM system can usually be settled through seeking the advice of an expert as well as looking for an efficient CRM provider for your needs.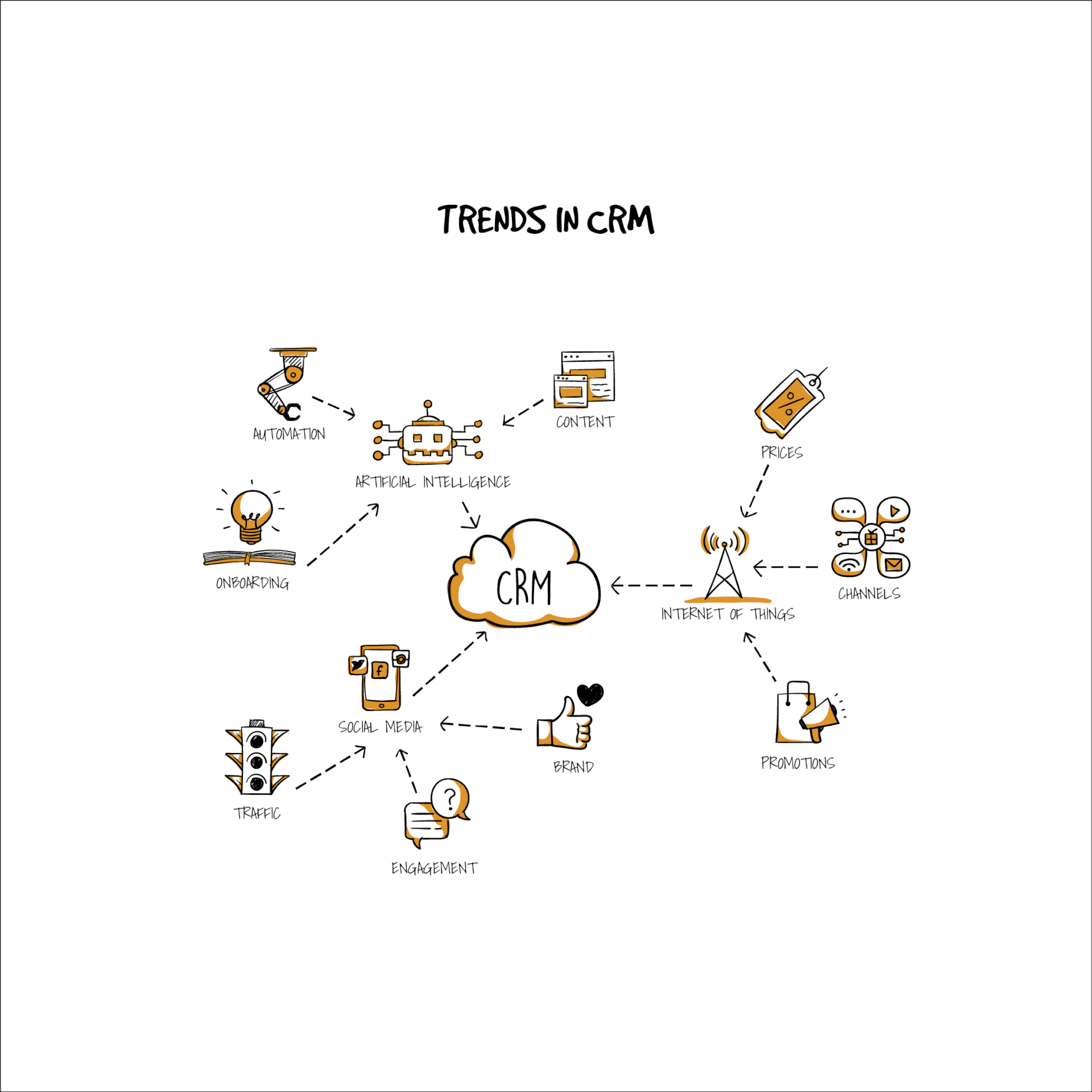 What are the new trends in CRM?
Technologies and social trends are progressing, inevitably impacting all markets including software application advancement. Remaining abreast of such modifications is essential to staying competitive in a constantly shifting business environment. The use of CRM is growing across the board and in an extremely competitive market, it is essential to be updated with the new trends.
Top CRM suppliers have actually been making enhancements in essential functionalities. New capabilities improve conversion rates, increase sales, gather more relevant data, and improve customer satisfaction. With changes and improvements in technology for CRM we move from standard to more intricate features and functionality.
Social CRM
Social CRM is a combination of social media channels with customer relationship management platforms. Significantly, CRM platforms support social media along with conventional channels so consumers can connect with services by means of their chosen channels. This allows much better customer service and higher marketing insight collected from client social media information.
Social CRM makes it possible for a company to interact with clients utilizing the channel of their option – whether by phone, text, chat, email or social media (e.g. Facebook, Instagram, Twitter, Pinterest, LinkedIn, etc.). Based on these interactions, a social CRM system assists organisations collect richer, actionable insight about client sentiment on their business, their brand name, and particular product and services.
Social CRM has the perspective to provide returns throughout and in between a number of core customer relationship functions:
(1) Social customer service: By tracking and handling client contacts throughout channels and business functions, customer service teams can deliver significantly better service and improve resolution times substantially. Customers typically rely on social media for product problems before getting in touch with the company. Incoming client inquiries offer companies a chance to foster meaningful engagement and construct brand name advocacy by resolving a case. However, even indirect mentions permit assisting a proactive client to potentially reverse negatively trending brand discusses. Social CRM solutions can likewise include this engagement as an audit history of consumer interactions that can yield even more insight into costs per client.
(2) Social sales: Track each visitor's website journey and location within the sales funnel utilizing a social CRM. Sales teams can develop a personalized experience for a particular type of users, instead of using the conventional CRM blanket technique. Pitching directly to social connections isn't always effective, because not everyone who posts about an item is ready to purchase. Social selling tools can assist you to pinpoint potential customers who are closest to making a buying choice, and discover repeating signals, so your efforts aren't squandered. Some social CRMs can even recommend specific methods to engage leads based upon their demographics and browsing history.
(3) Social media marketing: Increased reach and presence, lower costs. Marketers can utilize social CRM to increase reach while improving client tracking and measurement. This can feed back into other marketing methods and assist drive lead generation and sales. A marketing team may be producing fantastic material – blogs, posts, videos, infographics and tweets – but that part of the conversation is only one-way. By using tracking tools to see who's engaging in conversation with the organisation, social CRM can assist companies to determine and reward brand supporters and influencers, motivating them to spread out the word still further.
Social media analytics informs marketing projects, lead qualifications and lead scoring models, sales approaches and customer support with social-specific KPIs, such numbers of followers, retweets, impressions, clicks or mentions. Social CRM tools facilitate the following metrics to determine the level of successful consumer engagement:
(a) Traffic. Social CRM determines traffic and conversion rates from social media platforms. This enables a company to see the number of customers visit sites and how those clicks convert into deals.
(b) Engagement. Social CRM enables you to determine not simply clicks, but user engagement with the websites. Social CRM helps recognize active followers and how they do or do not engage with the company's material.
(c) Brand mentions. Social CRM assists determine how many followers are talking about a business or brand and if those customers are liking or sharing their experiences through social media platforms.
If you're championing the effort on CRM software application procurement, you'll need to develop a compelling case that "offers" social CRM to its future stakeholders in the business. To make sure this massive time and money commitment are not in vain, effective adoption and long-lasting ROI are achieved, it is necessary to get top leadership on board from the outset. They require to concur with the need for a social CRM option and the value it will include after application.
Artificial Intelligence CRM
Artificial intelligence (AI) and machine learning (ML) are growing trends in CRM. Combing these technologies delivers more predictive and individualized customer focus in all areas of your organisation. The advantages consist of accelerated sales cycles, improved list building, personalized marketing campaigns and lower expenses of support calls.
As the internet has actually become the foundation of modern-day sales and marketing efforts, CRM has needed to develop to catch up and classify a continuously growing stream of signals and data points about potential customers, customers, and companies.
That is a great deal of details to process and absorb. Asking a salesperson to check out all of that info, frequently on the fly, and make a smart decision about how to best make use of that data in their interactions is, no pun planned, a difficult sell.
This is where AI and ML systems come to the rescue to deal with the analysis, and make clever suggestions about a customer or a lead-based upon all the information about that person the system has gathered. CRM with ingrained AI provides users things like:
(1) Transcribe and analyze sales calls. Sales departments can deploy AI call analytics software application to record meetings and calls, capture time-stamped notes, acquire records, and highlight recommendations to subjects or expressions of specific interest like budget, prices, next actions, choice maker, etc. Sales departments can identify topical trends in phone calls, recognize finest practices and combine it with CRM data to compare versus historical context.
(2) Accurate lead scoring and predictive marketing. Implementing an effective lead scoring model is simpler stated than done. Weighting criteria for sales importance can be inexact and accountable to change. AI CRM solution leverages your existing marketing automation information – behavioral and market information – by enhancing information integrity and conclusion, adding marketing signs from public databases, and recognizing buying propensity from your past closed deals to supply real-time ratings for existing leads.
(3) Content production with natural language generation. Organisation drawing in leads through incoming marketing face the challenge (and cost) of producing high-quality, pertinent material tailored to the interest of their customer base. AI CRM solution is capable of developing natural-sounding, original material based off design templates and added data for product descriptions, landing pages, personalized emails, reviews, short news articles, client reports, and so forth.
(4) Account-based marketing through social media. AI CRM options dig through comprehensive industry information based on qualifying criteria– profiles, activity, engagement – to recognize optimal B2B account-based marketing prospects. Account alerts and notifications can be customized to deliver news and social content according to buying triggers while complex enterprise accounts can be simplified through a system of buying authority – freeing up resources and labor for other marketing activities.
(5) Automate support with digital service agent. Customer support departments receive a lot of redundant assistance calls. Customer care AI applications can minimize the load on helpdesk representatives by anticipating which group or agent is better geared up to handle certain tickets. Even more, it can advise certain canned actions based upon ticket requirements or perhaps use a reaction design template for specific tickets. AI CRM can imitate natural language and deal with basic operations such as opening accounts, signing up new clients, processing claims or answering queries.
(6) Onboard new sales and support reps. AI assistants provide worth not only through deep analysis and time-saving but likewise by guiding human reps to make educated choices. AI CRM determines the health of leads and chances based upon activity and client profiles, identifies successful sales habits among representatives to assist new hires and presents itself as a module in frequently used applications to increase general CRM user adoption.
We are getting in the era of smart, integrated CRM and the future is looking great. Part of the factor for that development is the anticipation of higher integrated machine intelligence in CRM systems. Marketing data, insights and customer-centric knowledge drives more efficient decision-making, customer intelligence and more favorable client experiences.
If your service has currently begun with both CRM and AI patterns, you lead your competition. Organizations that are already using the complete power of their CRM system will likely discover a lot to like about integrating an AI tool. Those who are having problem with CRM adoption, on the other hand, might discover it to be excessively complicated and unneeded.
Internet of things CRM
Internet of things (IoT) is defined as an internet development in which everyday objects have network connectivity, enabling them to send out and get data. Consumer products, from wearable devices such as smartwatches to devices like refrigerators to car vehicles, are fit with various sensors that can connect to the internet, creating a fully connected environment in the world. These devices also send and receive information and share updates with other gadgets. CRM companies take this massive opportunity by utilizing the big data created by smart devices to improve relationships with clients.
CRM systems are increasingly leveraging IoT innovation to improve front-end processes. By linking devices, items and equipment to the web, IoT drives product and service insights throughout different teams and departments – sales, marketing and customer service. The combined powers of IoT and CRM enhance performance and help companies respond quickly and efficiently to clients' needs.
Smart gadgets can let you know how, when and where your items are being used by particular clients, motivating highly individualized customer experiences. When your CRM software application has access to data from your products, you can discover lapses in efficiency and find the reason for the issue prior to your customer even realizes any problems.
Marketers can utilize these insights to provide content and offers to specific sectors at just the correct time and exact format. Based on their buying practices and requirements, clients can get relevant product suggestions, helping you win their repeat purchases. IoT CRM information increases chances for upselling and cross-selling, too. These insights allow businesses to plan their sales and marketing projects better:
(1) Adjust prices according to demand. Get real-time information about the availability of products and utilize it to your benefit by altering the costs immediately. Lower the prices when supply is plenty to get an edge over your rivals. Alternatively, you can increase prices when demand far surpasses the supply.
(2) Create new sales channels. With the help of IoT, companies can analyze client traffic in their online or brick-and-mortar store to map their shopping journey. Based upon this info, businesses can tailor the in-store shopping experience, thus developing a new CRM channel.
(3) Customize marketing promotions. With integration of CRM with IoT, it is possible to find out which consumers have an interest in buying items and planning marketing campaigns and promotions, specifically targeting their tastes and choices, taking away much more expensive options of acquiring a customer.
(4) Decrease customer churn. Utilizing CRM applications and IoT information, organizations can anticipate whether a consumer is at churn-risk and take proactive steps to satisfy his expectations. Trending based on previous customer loyalty analysis can supply a lot more informative and precise churn forecast.
Increase your marketing ROI via contextual and personalized deals based upon numerous elements on client's location, product portfolio, present context, purchase patterns, client habits, activities, demographics and so on. High volume information streaming suggests a need for more data storage for small companies. By using mobile phones and other connected gadgets, the streaming of info from these devices to a database is endless.
Through near field interaction (NFCs), radio frequency identification (RFIDs), and wireless interactions between gadgets, businesses will need larger database platforms to store info. Companies are able to enhance their Platform-as-a-Service (PaaS) and Infrastructure-as-a-Service (IaaS) platforms by incorporating IoT gadgets to develop brand-new CRM channels. Third-party platforms for IoT can help small companies to generate income from information streams, comparable to bigger business.
IoT is the future and CRM is at heart of it. Connecting customers to the IoT will require integration of devices with capable big data analytics, back-office systems, enterprise applications, knowledge systems, artificial intelligence and cognitive computing.