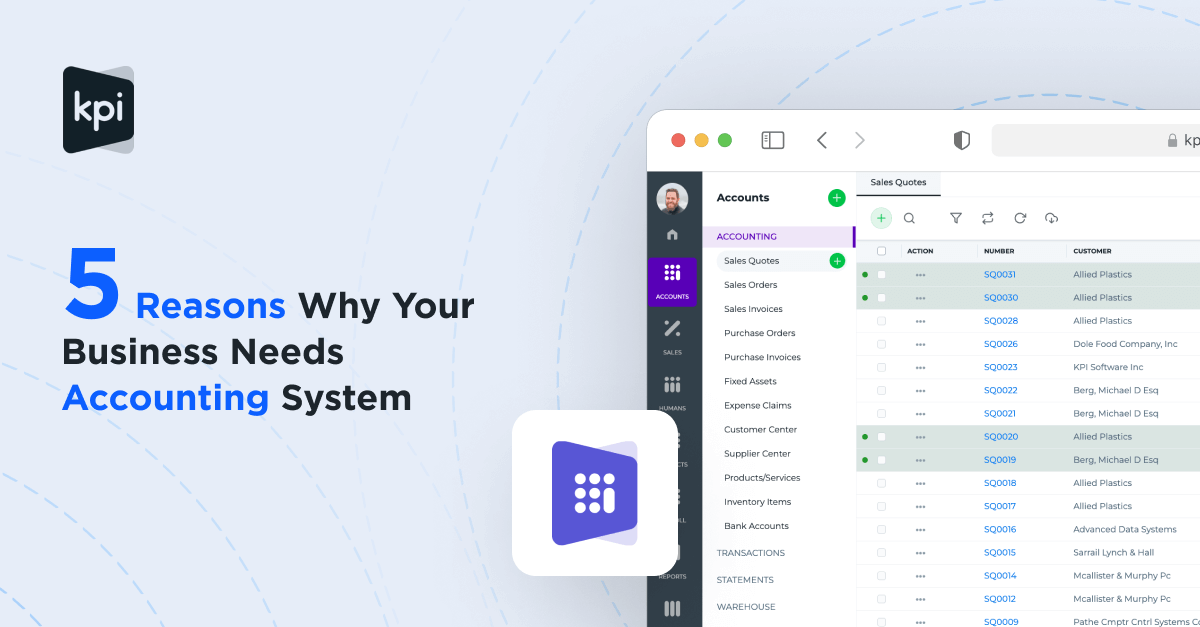 5 Reasons Why Your Business Needs Accounting System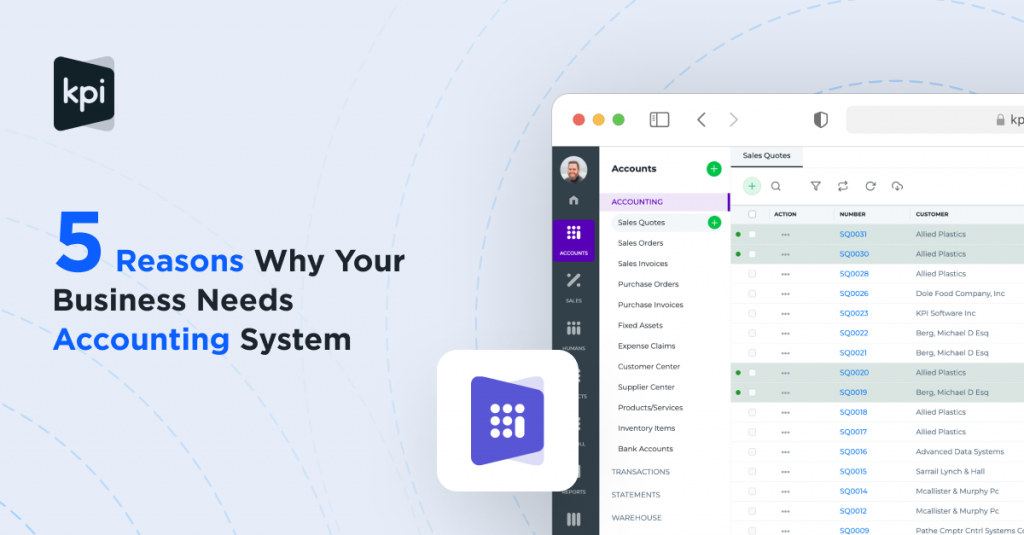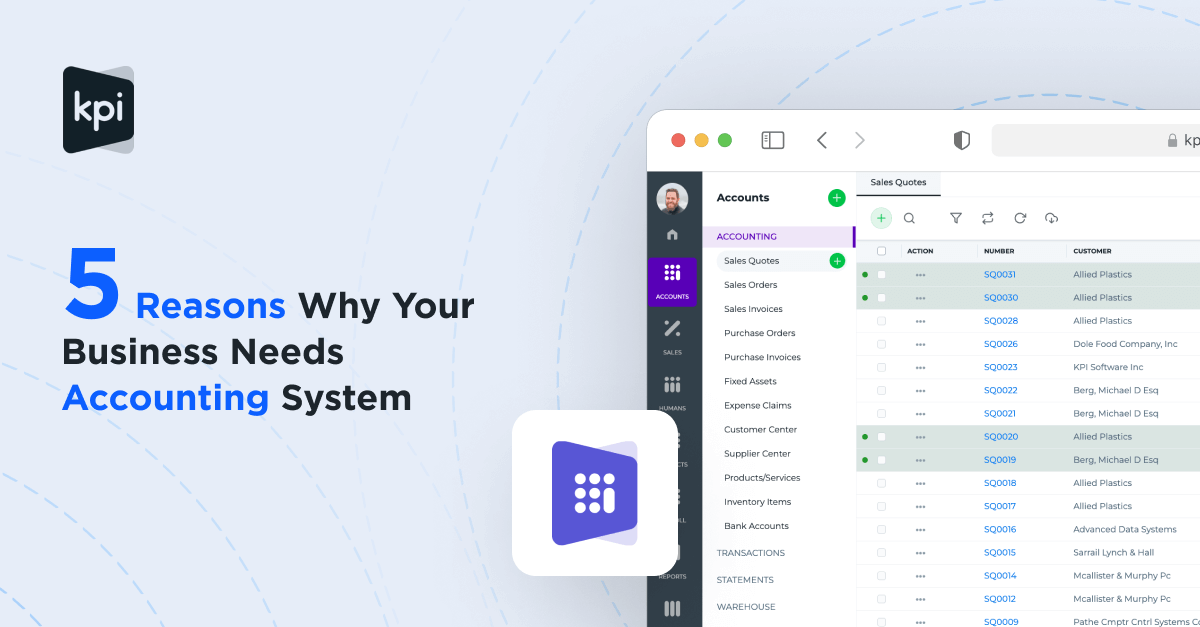 Most business owners are aware of the amount of capital required to maintain daily operations, including payroll, paying operating costs, such rent and electricity, and keeping up with vendor invoicing. Nevertheless, failed businesses sometimes have a lower awareness of the amount of money made through the sale of their goods or services. This mistake leads to cash gaps that might cause a firm to close up their businesses very fast.
Business owners should create a realistic operating budget and be ready to invest in some software solution in order to better handle frequent mistakes like the one mentioned above. Businesses may efficiently do this by understanding their entire cash flow in relation to their operating budget with the use of an accounting system.
Here are a few of the top advantages of automating business processes with accounting software for your business.
What is an Accounting System?
Different accounting and bookkeeping functions are performed by the accounting system. It helps in documenting and summarizing financial transactions. This type of software implementation facilitates the analysis and comprehension of money flow computations. To effectively use this tool, you don't need to be a bookkeeper or have accounting knowledge, and you can generally use most contemporary accounting software from any internet-connected device.
Why Do You Need the Accounting System for Your Business?
Investing in the appropriate tools might spell the difference between development and stagnation as a small company owner or prospective entrepreneur. Maybe you've thought about investing in an accounting system in the past or you've just begun looking into your alternatives, but you're still unsure of the benefits.
Here are some of the main justifications for why your company could benefit from opting an accounting software to aid you in working through this process.
Reduction of Manual Processes
Time is money in business, as we all know. Business owners would say that they would much rather concentrate on the tasks associated with their companies. Data entry should be automated for 'run-the-business' operations. An effective business owner understands the value of documenting transactions, maintaining up-to-date and correct customer and vendor data, and managing bills and invoices.
Syncing Financial Data
The tedious process of needing to download transactions from each source and manually input them into the program is avoided when financial data from several sources can be collected and shown in one place. Again, the danger of human mistake during an import is removed by this availability.
Accounting duties become considerably more simple if credit card and banking accounts are linked to programs like kpi.com.
Automation of Reporting
The core advantage of implementing the accounting system into the workflow of your business is generating reports that are available with one click.
Business owners can better analyze their profit and loss, increase profitability, get insights into expenditure, and reduce costs by developing personalized dashboards and standardized reports. The accuracy of each report generated is significantly greater than a report that must be made manually by a human since the data that is entered into the software is controlled and altered automatically.
Taxation of Businesses
Ensuring that all of a company's data is appropriately recorded may significantly lower the danger of having to pay a significant amount in taxes. Keeping track of transactions, paperwork, and tax liabilities also helps you be ready for an IRS audit.
Receipts and other documents may be photographed, updated, and associated using tools like KPI.com to certain records and transactions. The ease of taking a photo of a receipt and other papers with your phone and putting them into accounting software minimizes the need to keep paper around for extended periods of time. A tax audit proceeding is significantly less complicated when such data is easily accessible with just a few clicks.
Cost Cutting
Automation and cost reduction in a firm go hand in hand. Once a process has been built within the accounting software, the advantages really start to materialize. The precision and automation of these duties will provide a corporation with a comprehensive image of its advantages and disadvantages. Things like a staff growth or decrease, and again utilising their personnel for company tasks that are more profitable.
Implement Accounting System for Your Business Grow
An accounting system that grows with your organization is essential if expansion is your aim. The ability to automate operations effectively and reliably using accounting solutions is what separates successful companies from unsuccessful ones.
You will be in a better position to scale—as the capacity to expand with your business—if you choose software solutions with sophisticated functionality. Don't accept anything less than a system that provides sophisticated reporting, clear dashboards, personalized benchmarking, and robust automation features.
Use the KPI Accounting system to automate your accounting processes.