Add-ons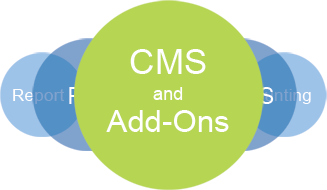 Overview
Kpi.com's CMS and Add-Ons application responds to a wide range of the enterprises' demands and contributes to the more convenient functioning. Easy in use Outlook plugin with the help of which CRM tool is integrated with program Outlook, mobile accessibility at any time and place, convenient adaptation of website design – these all are available with CMS and Add-on application of kpi.com. Once acquired it can be fully customized considering the nature and the corporate style of the enterprise contributing its development and growth.
Add-ons library
In kpi.com add-ons library, you can tweak and gear the application towards your needs. Each add-on comes with an additional monthly fee. After you request an add-on for your account, sales team representative will contact you and assist with setting up the feature in your company account. 
You can request the add-ons from the Accounting and Finance>>Settings>>Add-ons tab: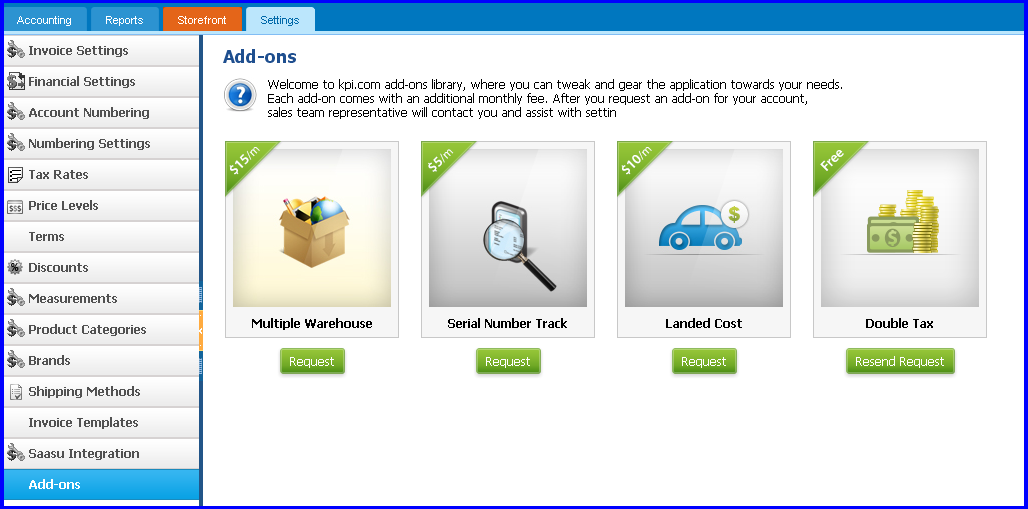 Multiple Warehouse – Easily manage multiple warehouses and item locations by enabling this feature.
Serial Number Track – Attach serial numbers when receiving and selling items and be on top of serials via reports.
Landed Cost – Allocate expenses to your purchase items to arrive at better cost per item.
Double Tax – By enabling this add-on, you can apply two tax rates at the same time per line item in your Sales Invoice and Purchase Invoices. (Apt for Canada, Indonesia)