Faceted Filter
This past weekend we ran a monthly system upgrade for June and it contained some major changes for task filtering. To avoid any possible malfunctioning we recommend you to reset your existing saved filters.
Major changes made:
1. We separated Task Managers from Task Assignees. Previously, when you filter by Task Assignee, the system automatically included Task Managers as well. But to advance the filtering options, we separated the Manager from the Assignee allowing you to filter purely by either Assignees or Managers
2. Also, we have introduced Assignee Status within the faceted filtering for tasks. Until you select a unique assignee, this box will not display any data. For those who wish to filter by overall task status we have added Overall Status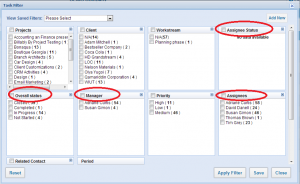 If you are not familiar with the faceted filtering option within kpi.com below find the in-detailed guide of the usage.
Faceted filtering is one of the unique features that kpi.com offers. Users can filter the tasks, contacts, cases etc to efficiently use the listing pages.
See the following screen shot to locate the button.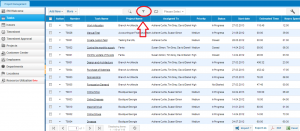 Once you click on the highlighted button, the new window pops up allowing you set various filters then choose either Apply filter or Save
As the name suggests when Apply filter is chosen, the set filters will be applied for the temporary use- once you switch between the pages, filter will be gone. If you wish to save the filter for the future use, then you should click on Save and enter the name. Clicking on Close will cancel everything.
You can always retrieve the saved filters from the drop-down menu (see below)