Expense Reports
An expense is an outflow of money sent for business purposes from an employee's personal account to pay for an item or service. Expense Reports section is located in both Employee Profile and in Accounting and Finance sections. Employees can add expense reports and if manager approves the expense report, the expenses will be refunded to employees by accountants.
In order to view all expense claims of the employee, go to Expense Reports menu from Employee's Profile.  Employees can view their own expense claims, add new ones and send them for approval.
  Accounting and Finance system should already be configured by administrators so that, employees are able to add expense claims; otherwise, expense errors might occur while adding them. Please contact your administrator to setup Accounting and Finance module for your company.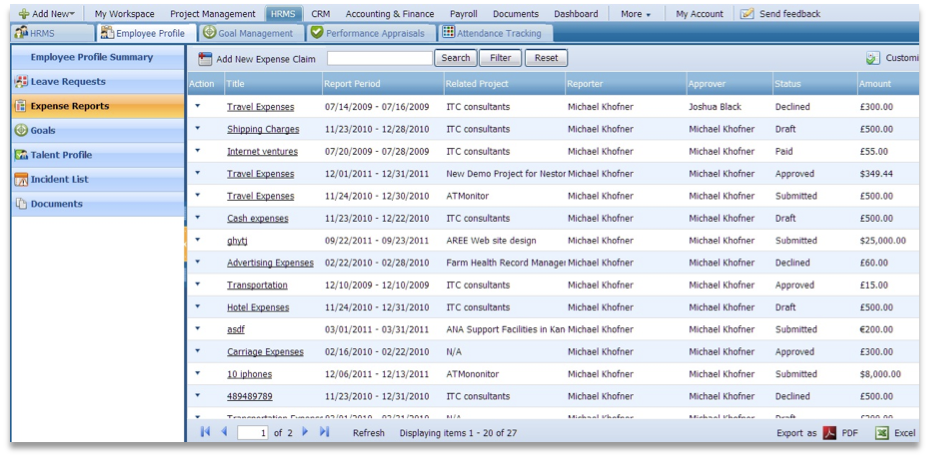 Add New Expense Claim
To add a new expense claim, you need to go to Employee Profile section and click Add New Expense Claim.

In order to add expense claim, indicate the following header:
Date – Select the date when expense has been incurred
Report title – Enter expense report's short title
Description – Provide short description of the expense items incurred
Related Project – Choose the project for which expense has been incurred. If you relate the expense claim to the project, if approved, it will appear as project's actual cost in Project Budget section.
Approver – Select the manager who will approve the expense claim. By default, project managers and department leaders will appear in this column.
Once the header is complete, fill out expense items:
Expense Category – Choose a GL account for which expense category belongs. The chosen account will be used in making journal entries
Description – Short description of the expense item
Units – Indicate for how many units of the item has been charged
Cost Per Unit – Indicate the per unit cost of the expense
Tax – Indicate the tax rate which has been applied for this line item
Receipts – You can attach receipts related to this expense in .jpg or other image format. All attached receipts can be viewed in pdf version of the expense claim.
Total – The total amount of the line item in foreign currency (if multi currency is enabled for your account)
Total (currency) – Total amount in base currency
Bill To – Indicate the client who should pay expense item. Once done, the client may be invoiced against expense claim items in Accounting and Finance.
Actions List
By default the Action dropdown is available on the first column of the Expense Reports list. Once clicked, dropdown gives several options as displayed on the screenshot: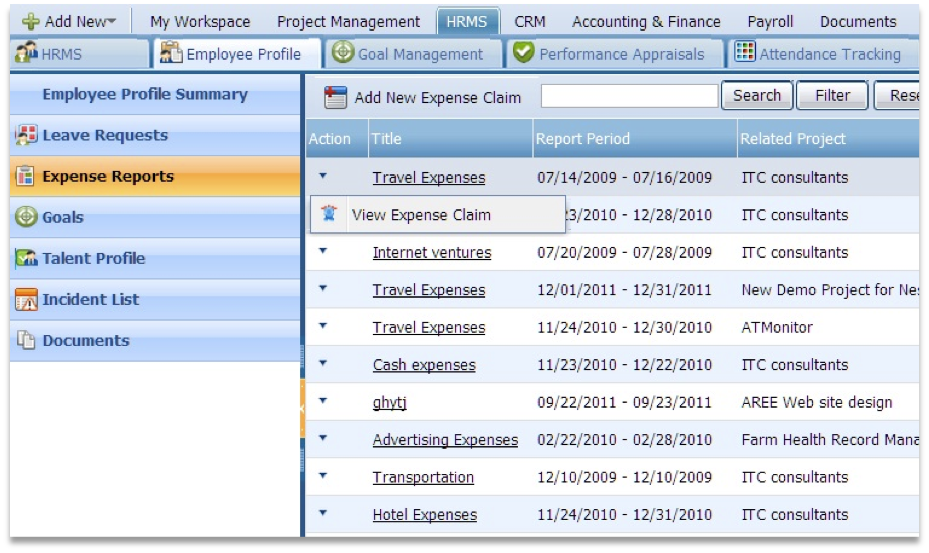 View Expense Claim
To view the summary of an expense claim, you need to click View Expense Claim in the Actions list on theExpense Claim section.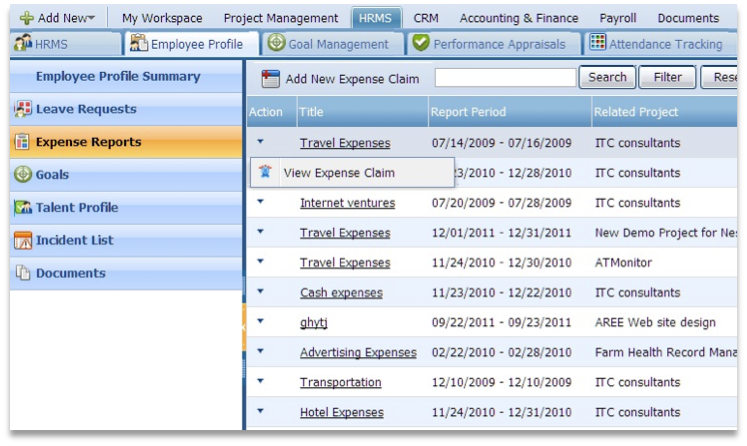 Remove
To remove one of your expense reports, you need to click Remove button that is located in the Actions list of theExpense Report section.
Only draft expense claims can be removed from the list.
See also