Business Goals
Business Goals include specific and measurable company goals that need to be achieved in specific period of time. Business Goals can be viewed by company members, while only  HR Managers, directors and administrators are able to add business goals.

Add/Edit Business Goal
To add a business goal, go to the Goals tab in the Business Goals section and click Add New Business Goal.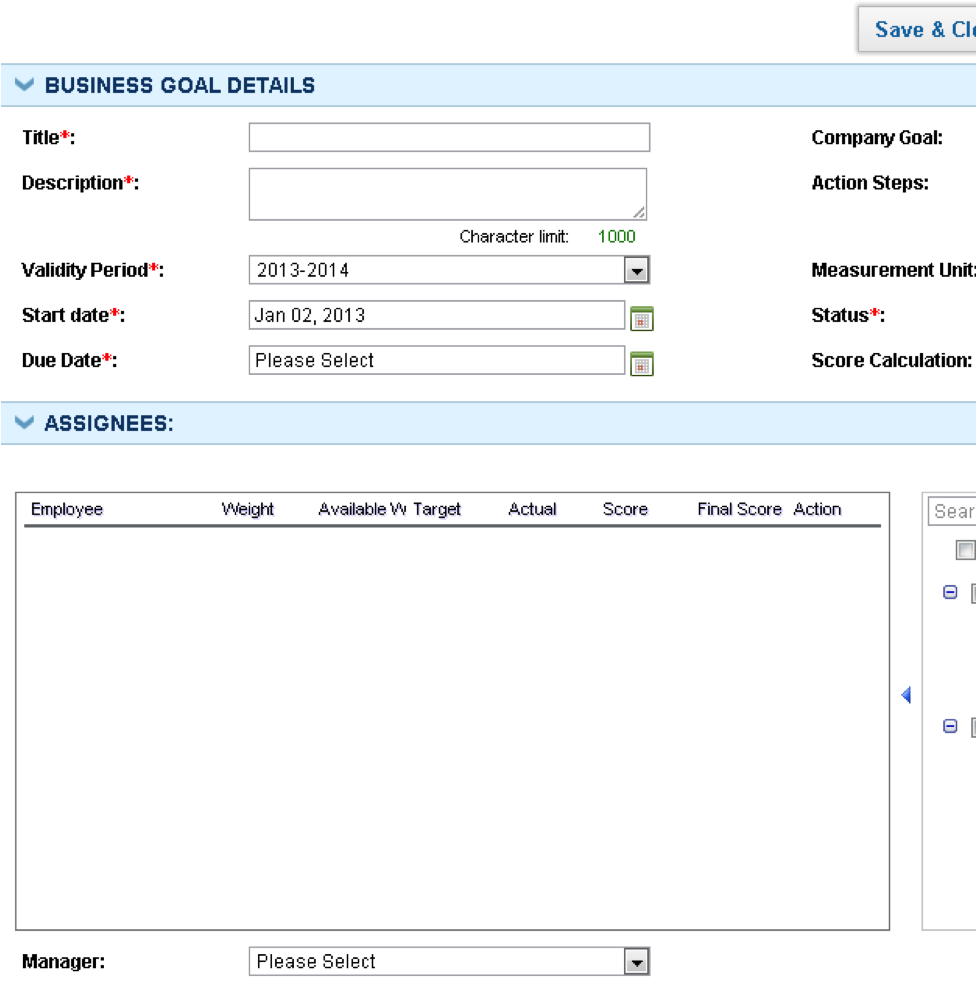 Enter the following details:
Title – Short title of the goal
Description – Short description of the goal
Validity period – Choose the period for which the goal belongs too. You can add Validity Periods in Settings – HRMS Settings – Validity Periods.
Start Date – The date when the goal implementation should start
End Date – The date when the goal implementation should end
Department – Choose a department for which business goal is being added
Company Goal – If the business goal is the part of the company goal (strategic goal), choose the company goal from the Company Goal dropdown, or leave this field blank
Action Steps – Describe all action steps that need to be taken by an employee in order to achieve goal
Measurement unit – Indicate the measurement units of the goal (dollars, days)
Status – Indicate the current status of the goal
Score Calculation – Choose Minimize, if the intent of the goal is to minimize the figures (for example to reduce costs). Choose Maximize, if the intent of the goal is to maximize the figures (for example, to increase the revenues).
Assignees – Choose the employees for whom the goal needs to be assigned from the list of employees checkbox.
Chosen employees will appear in assignees table. Provide the details about goals weight, target and actual figures. Actual figures may be left blank if they are not available, and they can be edited by employee, in employee view.
Notes – Additional notes about the goal.
After entering all the details of the goal, click Save & Close or Save & New.
Score and final calculation
Based on targets and actual, performance scores are calculated while adding goals. If actual figures are not available, the performance score will not be calculated. However, employees can write up actual figures themselves later. When actual figures are entered by an employee, system automatically calculates the performance score (final score) and it can be used while conducting performance appraisals.
The formulae to calculate the score are the following:
ACTUAL/TARGET x 100 (for KPI MAXIMIZE, the HIGHER the BETTER)
 TARGET/ACTUAL x 100 (KPI MINIMIZE: the LOWER the BETTER)
The formula to obtain the final score: SCORE x WEIGHT/100.
Final scores can be used to determine bonus allocations, salary increase, and promotions.
See also