Wiki
Searchable • Contextual • Onboarding
Accounting Getting Started
To start using the Accounting and Finance system, you will need to setup your company's full details including financial settings. Other employees and accountants will not be able to enter the Accounting and Finance Module, ifGetting Started is not completed by your company's administrator.
Once your Accounting and Finance Module is setup, your accountants will be able to view all accounting data and reports.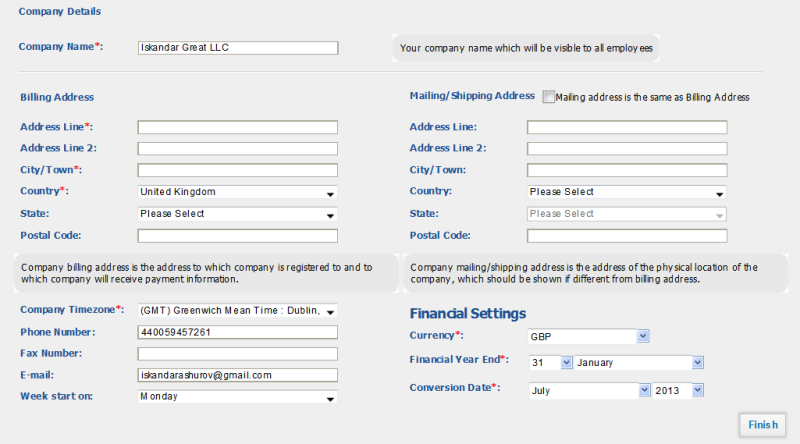 Setting up the Accounting and Finance system takes couple of seconds. Enter the following information onGetting Started screen:
Company Name – Indicate the legal name of the company. This name will appear in your outgoing financial documents (invoices, sales quotes, sales orders, etc) and all financial reports.
Billing Address – The billing address of the company, as it will be indicated in all financial documents. You may change your billing address later in Settings – Company Settings.
Mailing/Shipping Address – The address indicated here will be included in Sales Orders and Sales Quotesas mailing/shipping address field.
Company Time-Zone – Choose the operating time-zone of your company. If you have several other company locations, indicate the time-zone of a parent company (the company which will hold all accounting data). The time-zone is used by kpi.com to determine which date and time is shown in financial documents and transactions.
Phone Number – Enter the phone number of the company.
Email – Indicate the corporate email address. It will be used in sending invoices and other financial documents to your clients.
Currency – Choose the base currency of the company. By default, the currency of your country will be displayed here. You can change the base currency of the company in Settings – Accounting Settings – Financial Settings. However, we do not recommend you to change the currency and other financial settings once they are setup.
Financial Year End – This will be set to December by default. The year end date is used in generating financial year end reports and in VAT e-Filing.
Conversion date – The date you want to start using kpi.com for your business. Enter the date that you intend to begin processing all your transactions in kpi.com.
Important note*.
Conversion date in kpi.com starts on the 1st of a month. All transaction dates should be after conversion date.
Once you have done setting up Accounting and Finance data, click Finish.  You may change your settings later on, however, we do not recommend you to change Financial Settings frequently for keeping correct consistency of data.
See also