Manage Your Company's Growth with Organizational Charts
A growing company brings more than one challenge to any leadership team. Going from 3 person team to a ten-person company to growing to 20 or 50 people brings about different challenges. Left unmanaged, this may mostly lead to chaos and miscommunication among the team. Therefore, understanding your organization and its structure from multiple aspects is essential to being a successful HR leader. In trying to do this, Organization Charts are an essential tool. While many people think org charts show the company's structure, their planning tool is frequently overlooked. We'll look at how we can optimally use Organizational Charts to manage your company's growth.
Keep track of the current organization
Drawing the organizational chart to match the current organizational structure is an essential step. It takes a few minutes to remove one, and the diagram literally can convey information worth thousands of words in a document.
Record additional dimensions on the chart with visual changes.
Many people think you can only convey 3 things in an organizational chart. The Name, Position and reporting structure. Yet by changing things like Line Style, Outline colour, fill color and having one or more text fields in each box can convey so much more in an org chart. By drawing the prospective employees and where they belong in the long run inside the same diagram, the management can see clearly where the company is supposed to grow.
These diagrams were quickly drawn in kpi.com, a web-based organizational chart software with a beautiful set of org chart shapes and pre-done org chart templates.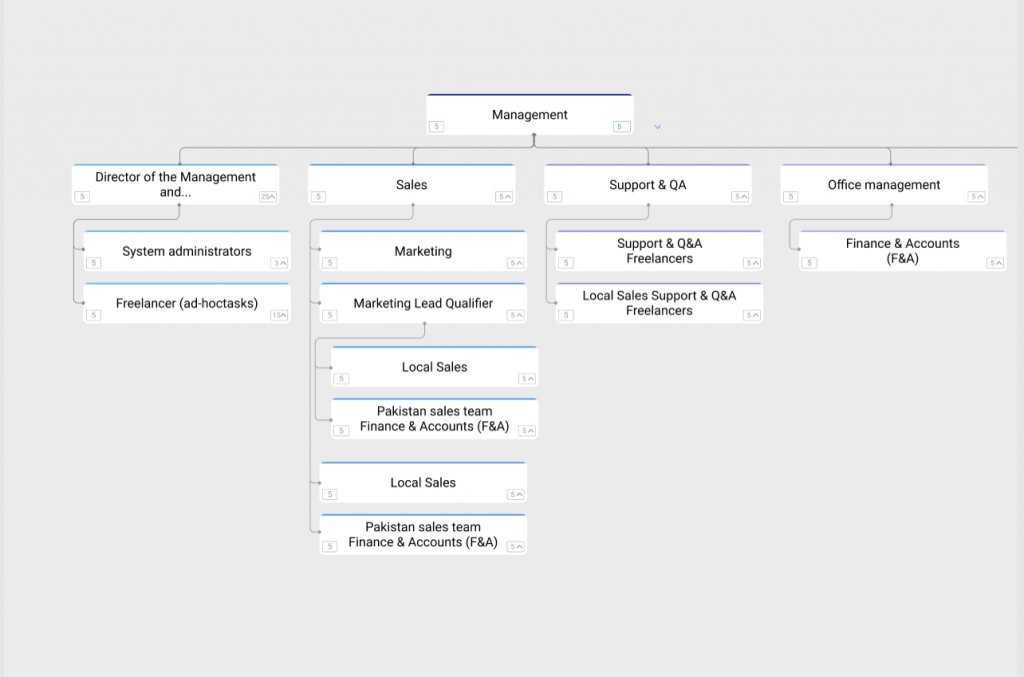 We will now look at the ways how we can add organizational charts in kpi.com.
The organization chart is available under Humans. To set up an organization chart, you should have departments. To add departments go to Settings>>Humans>>Departments and click plus button. You will have various departments that are available in your company, and will be named accordingly.
While adding the department, assign employees who work under that department and set parent department if needed and save. By having those departments, you can have employees in groups that will be convenient to manage.
You can also set a parent department right in the organization chart. By clicking the more option in the department name and click "Report to". You can have multiple "report to" departments and customize the chart as you wish.
Mapping out the future
By using the techniques used above, you could quickly draw out the future state of the organization. It makes sense to do this with multiple diagrams for each hiring period that you want to do to see the organization's growth in stages. You can use this to align with the company's strategy and easily spot any issues early on.
In conjunction with a chart, using a spreadsheet to project the growth is essential. Suggested things to track in such a sheet include Roles, hire dates, salary expectation, critical skills for the role, department to belong to, hiring manager etc. This would give you a summary view of the larger picture and a way for you to play with the numbers and budget when planning for the future.
For more information try our 14-day free demo or book a zoom session with our representatives.