Progress Invoicing in kpi.com
Progress invoicing is a process that enables you to bill your clients for the quantity of a product, percentage or portion of an estimate over time. Mainly progress invoicing is used for services, clients pay for the work which is done and can be payable. It is a convenient feature for your clients as they will be able to pay some proportion of the Sales invoice and pay other part in the next week or month.
In the stage of creating Sales Quote, you should click on Progress invoicing, add items and then save it. Next step is client approval, if the clients approves the sales quote, click on Client approve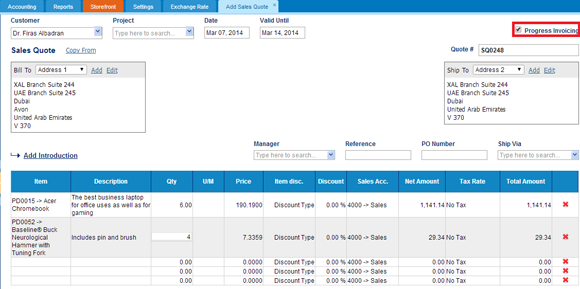 In Sales Quote listing page click on the sales quote which you saved as a progress invoicing. Then click on convert it to Sales invoice. When you click on Convert to Invoice, the pop-up window will appear where you can create invoice either for remaining balance of the client or for a percentage of entire quote amount or by items in the sales quote. 
After you decide with the Sales invoice, the system generates Sales Invoice for the selected amount or percentage of the Quote. Further, you can Save & Approve and send Sales invoice to client.