Lead Generation and Lead Management
Sales lead emerges in first stage of selling process and provides seller with the information about contact details of the client who has interest and authority to purchase goods. It is important to have full information about potential clients, in order to make first successful sale. Nowadays, with the development of IT, not only contact details of clients like telephone number and address information are recorded, but also social data is increasingly being saved since this type of information gives deeper insights about prospective clients. Kpi.com provides with the functional sales lead where users can add information about clients address information, E-address, social data and company details.  They can add email address and IM address like Skype, Google talk, Yahoo, Jabber and etc. Kpi.com lead generation and management is strong tool as it provides users with qualified lead. Additional operations of sales lead such as finding potential customer in Linked in, Google maps, Google news and in Hoover's, Inc., are also available after providing initial contact information.
Adding lead
In order to create sales lead go to CRM >> Sales and click Add New

The following window will appear: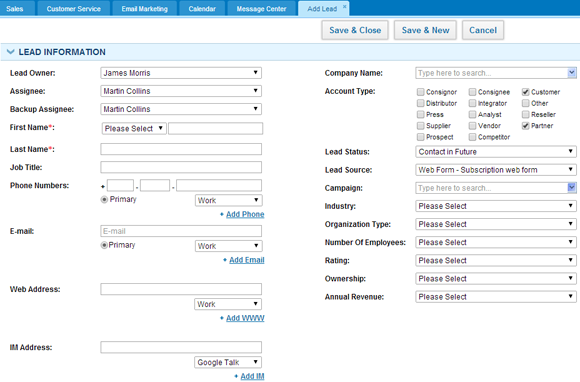 While adding sales lead, you can specify assignees, provide basic information about lead such as First name, Last name and E-address. In addition, you may want to fill in basic company details of the potential client, indicate lead Account Type and Lead Status and source where the lead is taken. Basically, if you have information about industry, organization type, number of employees, rating, ownership, and annual revenue you can specify these parameters in respective fields. Moreover, at the bottom of the page you can add Address information and enclose attachments as well. After completing these steps you can Save the lead.
In kpi.com, you can manage saved leads by changing assignee, adding notes, send sales invoices and etc.
You can manage your leads in action menu or by opening a lead view window.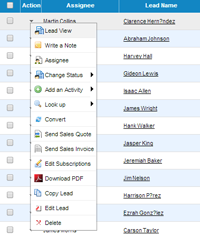 Or in Lead View

Here at the top lead view, you have number of helpful options for use, such as log a call, add event, add task. Also, you can convert your leads into contact or opportunities by using Convert button in top menu. In more function, you can look up your potential clients in Google, Google maps, Google news. Furthermore, find linked in profiles and you can try to find Hoovers profile of the client in Hoover, Inc.