Multi-Company Accounting and Subsidiary Management
Nowadays a lot of businesses have several different companies, businesses or branches working under the reporting umbrella. As importance of information about resources and expenditures affects business decisions, be in the known of stock management helps maximizing resource utilization across companies and locations. With kpi.com you can manage multi-company accounting and interact with the subsidiary companies.
Multi-company accounting feature is enabled upon request, kindly send us an email to support@kpi.com.
After passing Accounting & Finance "Getting Started", locate your name from the top right corner and click "Settings" link, which will lead to the following screen: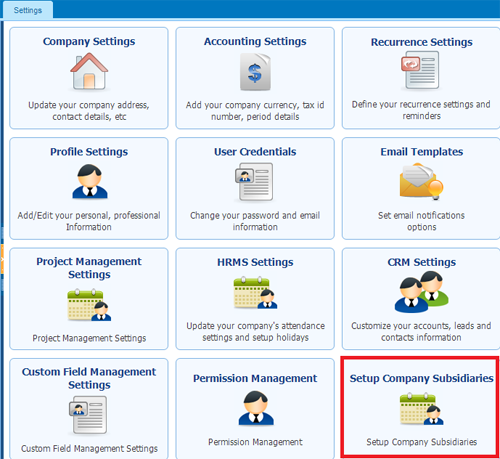 Once "Multi company" feature is enabled for your company, you will find additional settings "Setup Company Subsidiaries" on this page.
Proceed with the link to arrive at Subsidiaries listings page. Click Add New button to invite your subsidiary company or companies.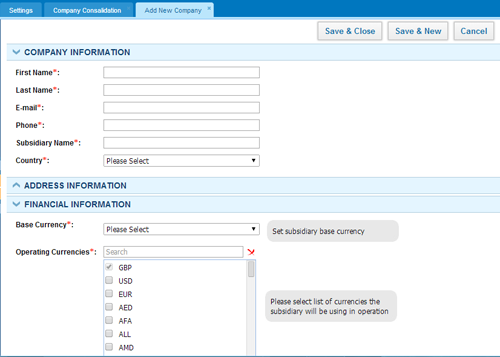 In adding a subsidiary company you will need to provide basic information under Company information, Address information and Financial information.
Note: Under Financial Information  you will need to provide subsidiary's Base Currency and select other currencies if child company deals with its currencies in their daily activities under Operating Currencies.
Note:   You need to make sure that Parent Company's base currency coincides with the child companies Base Currency or is listed under Operating Currencies
To conduct intercompany sales, which could be between subsidiaries from bottom to up sales, from parent company to subsidiaries or vice versa, you need to add a customer and relate one of the companies in the network.
Adding Intercompany as a Customer
In adding a customer, you would have an additional field "Subsidiary", which will be visible only if Multi-Company feature is enabled.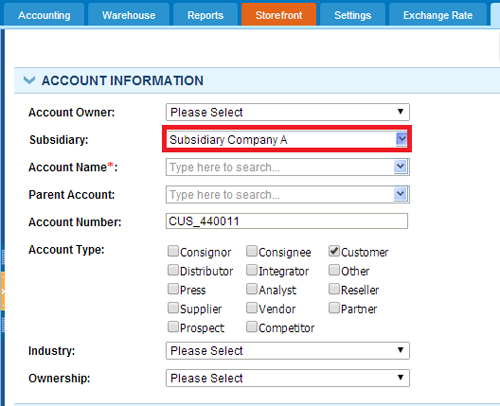 In order to relate a customer to subsidiary you will need to select from the list of active subsidiaries in your company. After you have subsidiary as a customer you can start selling services and inventory items. (Product Group and Assembly items cannot participate in intercompany sales).
Note: If the items you are selling to your subsidiary are not listed in that company's Products/Services listings page, those items will be automatically created in child company's account.
Creating Intercompany Sales Invoice
Select the customer related to a subsidiary company and choose the right currency, which is limited to the base currencies of the parent and subsidiary company.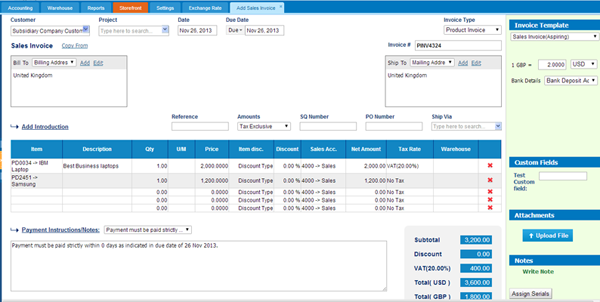 Once a sales invoice is issued by a parent company, it will be listed in Purchase Invoice listing page of the child company with "Pending" status. Accountant of the subsidiary company will then need to login to their account and click the button under "Action" in Purchase Invoice listings as is shown in the screenshot to the right.
Child company accountant or admin would need to set Purchase Invoice number and double check the exchange rate in the right bar and click "Draft" button, which would set the status of the purchase invoice to Draft. Accountant will need to revisit the purchase Invoice and click "Approve Invoice" button to finalize inter-company sales.
Consolidation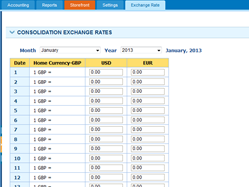 To consolidate Profit & Loss and Balance Sheet reports, parent company administrator or accountant need to set proper exchange rates under Exchange Rates tab, which is available only in parent company account and lock the ex-rates by clicking "Save". After saving, ex-rates cannot be altered.
Note: If no exchange rates are set in the Exchange Rate tab, in consolidation, transactions will be divided by 1 for the missing date.
Once the exchange rates are set and locked, parent company can see consolidated Profit & Loss and Balance Sheet statements, all they need to do for this purpose is to check "Consolidation" and click "Update" button to see up-to-date report.