Inventory control and multi-warehouse management
Inventory item is a product purchased for resale and tracked in Stock and on the Balance Sheet. Firstly, to add inventory item go to Accounting >> Products/Services and click Add. The following window will appear.
Add Product/service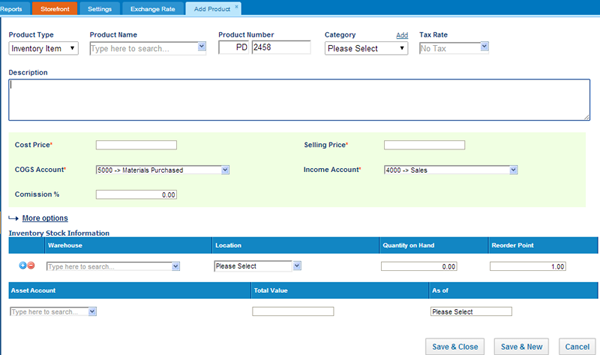 In the new window, you can type product name, number, category, cost, sales price of the product and so on.
You can also import products/services list into the system.  In order to import:
Before uploading the file with the products/services list, save it in .CSV format.
You should click Import in Products/Services list.
After uploading the file, you will be asked to match columns of your file with the system columns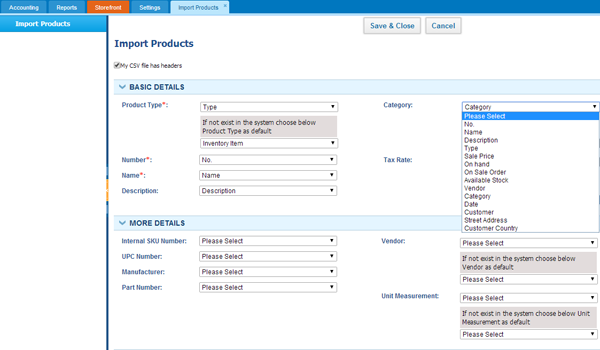 Once you have matched the columns and saved, your products/services will be successfully imported into the system.
Multi-warehouse management
Multi-warehouse management feature is available for KPI Pro or Enterprise packages. This feature is enabled upon request. If you would like to enable it, kindly send request to support team, on email: support@kpi.com. Or go to Accounting >> Settings >> Add-ons and click Request.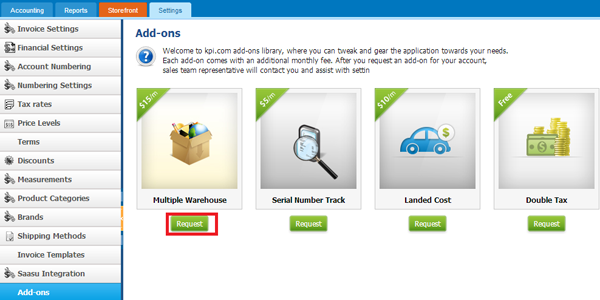 When you add inventory item you can indicate a warehouse where it will be stored and mention the location of the item in the warehouse.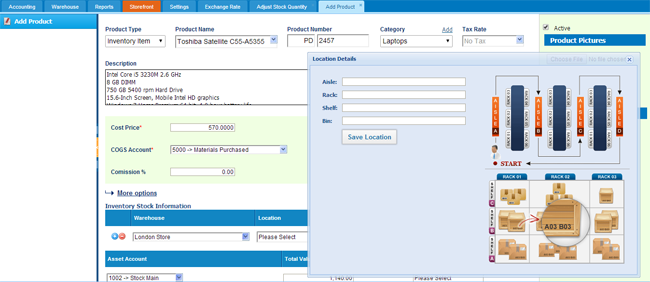 If you have not added warehouse, go to Accounting >> Warehouse and click New warehouse. The following window will appear and you should fill the required fields.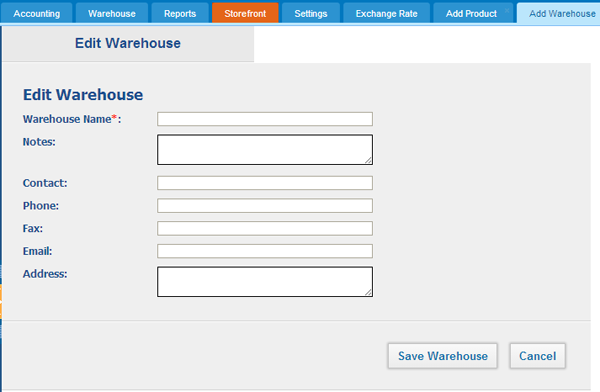 Stock valuation
Furthermore, in Stock Valuation you can track the inventories number. In order to see information about inventory
Specify product
Specify warehouse it is stored
Point out period
After that, you will be able to see information about entry date, transaction date, number, quantity and balance value.

Stock adjustment
Sometimes number of items in warehouses is not the same as in balance sheet, as company could use inventory for company needs or for other reasons. In this case, accountants should adjust the number of items in warehouses to balance sheet in order to avoid confusion. Kpi.com users can adjust stock with the Stock adjustment, they should go to Accounting >> Warehouse >> Stock adjustment and click Add. The following window will appear. Where you should input data about date, number of the adjustment, specify adjustment account, product name, warehouse.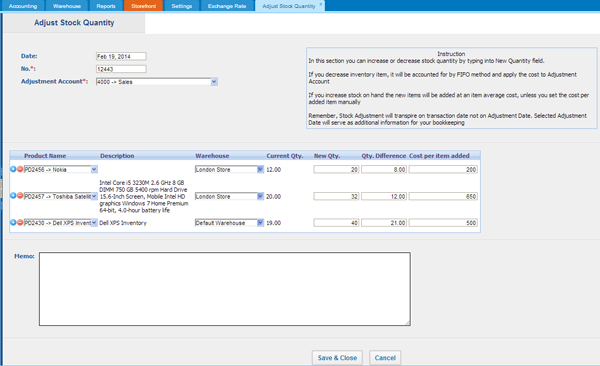 After you select the inventory, you will be able to see current quantity. If you type New Quantity, you will be able to see the difference from the initial quantity. If you are going to add items, you can point out new cost for added items. It means that your remaining items will be sold for the initial cost and new added ones for the new cost.
Stock transfer
If you have several warehouses and want to move product from one warehouse to another, you can use Stock transfer feature in Products/Services section. Click on the product and the following window will appear.

Indicate warehouse you are going to move product from
Indicate account
Indicate warehouse, where product will be moved
Choose product
Type the quantity which will be moved to another warehouse
You can transfer several products at once
After you have completed these steps, click Save and product will be moved to the mentioned warehouse.