Learn How the Reporting System Generates Reports being Integrated with Other Modules
Corporate report is a valuable document that provides feedback supporting employees and executives for decision making. It also gives a basic supervision to the administration for solving problems faced by a company. However, report writing (the traditional method) is a time consuming, expensive and extensive activity since it involves compilation of facts, drawing conclusion and making recommendations.
Workflow of Reporting Tool
Kpi.com helps SMEs enhance their reporting processes offering a very useful tool for reporting. There are more than 4 modules such as Customer Relationship Management (CRM), Financials & Payroll, Project Management, HR Management System (HRMS) and others. All information created by employees i.e. in CRM section, the leads list created by your employee, goes to the first Database of kpi.com and in the same time, this information is saved in the second Database (also called as Secure Backup which is read only). The Reporting System takes all information (in our example, Leads list) and lets the user to create a report using the default templates.
Here's the actual flow we want to track and understand: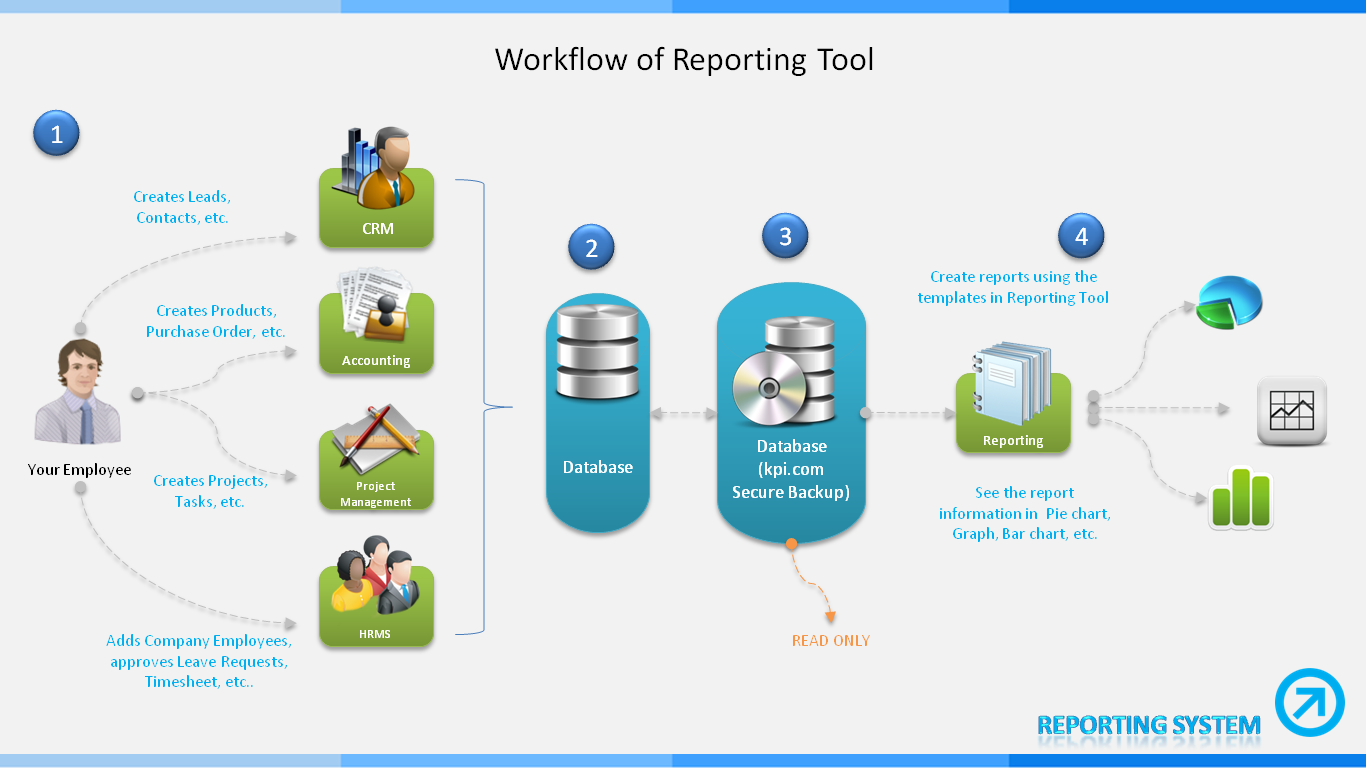 Generating Reports
You have three ways to generate reports:
Customizing reports through the Advanced Search option

Creating a new report manually

Using the Templates that are located on the default page
Advanced Search
The Reporting System provides an advanced search where you need to choose a category from the dropdown then according to your choice, the system generates report types in the next dropdown option. You need to choose a report type and in a while two panels will be activated on your screen. Using the Filters panel, you can modify the information that you need to see in your report. Also, the columns appeared in your report can be customized manually on the Columns panel. Once you have completed the Advanced Search process, you will be able to View the results, Export the report in Excel or PDF formats.
Create New Report
This way is far detailed and accurate. To create a report, open a popup window that is appeared after clicking on the New Report button on the top of the default page of Reporting Tool. Select a data type from the list appeared on your screen and after choosing one of the data types by scrolling up/down, click on OK and go through the following reporting process:

Default Templates by Source
There are five essential panels, Accounting & Finance, CRM, Project Management, My Library and My Favourites, that maintain the templates/reports associated with their sources. If you want to generate a report in a very easy way without any custom activities, you may click on one of the templates i.e. Leads by Source in CRM panel which collects all the relevant data on Run Report page. There you may view other kinds of reports, share the generated one, filter the information out and export it as CSV, XLS and PDF. Besides, you can return back to the previous processes to reset the columns and change the chart type. You may mark this report as your preferred which is found in My Favourites panel.
You can find the detailed guide on our Wiki section.