What Is SEO on a Next Level?
People who have come to read this article already know what SEO (Search Engine Optimization) is, yet I still would like to point out that when somebody searches for queries in Google, they only see the web pages that are indexed by Google, so in other words, when you search for something on Google, you are only seeing what Google wants you to see. Sounds manipulative? Actually, Google is now doing its best to present you the most relative content.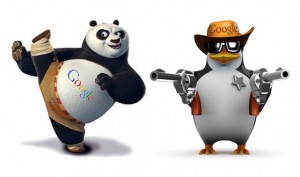 We all know that in older era Google was bit naïve and used to fall for bunch of keywords instead of a meaningful content. Backlinks had also similar positive effect regardless they are from great quality web sites or the scam ones. Google introduced "Farmer Update"- Penguin and Panda and you cannot fool the Google anymore like you used to. For those who do not know what above two mean I will briefly summarize below:
Penguin is a complicated algorithm that is aimed at fighting against spam links- those from low quality sites or simply containing keywords as anchor text.
Panda is another algorithm with slightly different purpose- to watch out and penalize sites which has duplicate or thin content. If you are copying content from other web sites or creating pages that contain way too few sentences then you are running the risk of being hit by Panda.
What conclusions can be drawn from above? Well, Google has evolved over the past years and now it sees your pages like any other human does and they try to find the most relevant page for the queries searched for.
Below are Dos and Don'ts that help you move higher in the SERP (Search Engine Results Page)
DO
Know your audience– make a unique and appealing content and keep it updated
Be active in social networking –  Promote your blogs, articles actively in social sites
Become a guest blogger – If you are new blogger and not have a large audience, you should really think of becoming a guest blogger for popular and high-quality sites
DON'T
Fall for SEO scam– You must be getting a lot of emails from self-claimed SEO Experts. You may wish to contact if you think you really need their help but beware that Google recently admitted to have received similar claims from them- that "google.com is not on top of the search list and there are couple of fixes that need to be applied"
Agree to exchange links with everyone– Since Penguin is now checking for your backlinks place them in a quality sites. Agreeing to exchange links with sites you do not have enough information about may harm your reputation. There is also a concept called "Unnatural links" penalty which is monitored by a Google employee manually.
To sum up, links still being a primary area to monitor, you need to low quality web sites. The most effective way to improve your place in SERPs is putting out a unique content for your audience and do not forget to keep an eye on your Webmaster Alert Messages.
I would be happy to read your thoughts and suggestions.
*Image Source: http://www.seogeezer.com/google-penguin-panda-not-about-links-reversed-engineered-and-outs-penguin-negative-seo