Partnership with kpi.com may be developed in two directions:
White-label partnership packages
We bill white-label partners on yearly basis. Partners can sell limited licenses and support packages, if limit is exceeded, additional charges will be setup;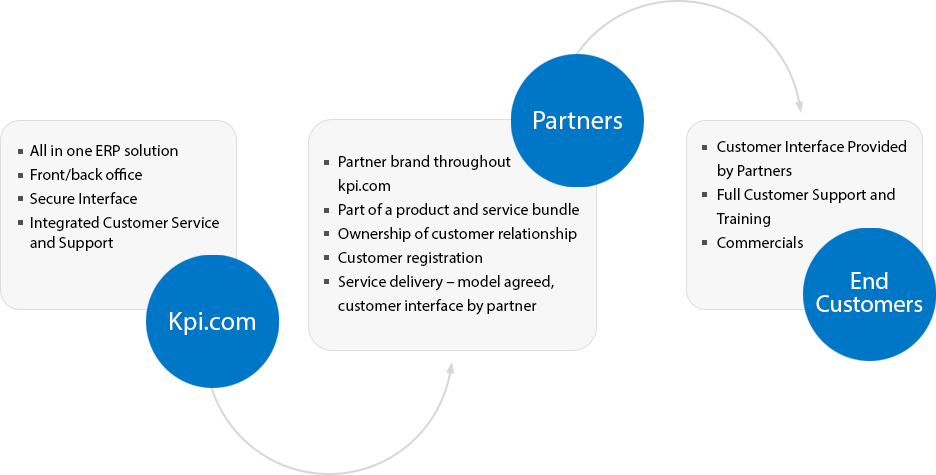 Reseller Partner Program
Participate in KPI.com's Reseller Partner Program and be among the first to offer KPI.com's ERP solution to your clients.
As a KPI.com Reseller Partner you will have a unique opportunity to introduce KPI.com's Online Business Management solution to your clients and benefit from increased revenues from your referred accounts.
The referral procedure is very easy. You are only required to identify potential customers, direct them to the KPI.com web site and provide them a special Promotion code. All sales processes and billing will be handled by KPI.com.
Your Benefits:
– Increase your profit without having to deal with the entire sales process, service implementation or customer support.
– No need to change your current business processes.
– Participation in KPI.com™s Reseller Partners Program is totally free.
Strategic Partnership and White Labeling Packages – 2013 Updates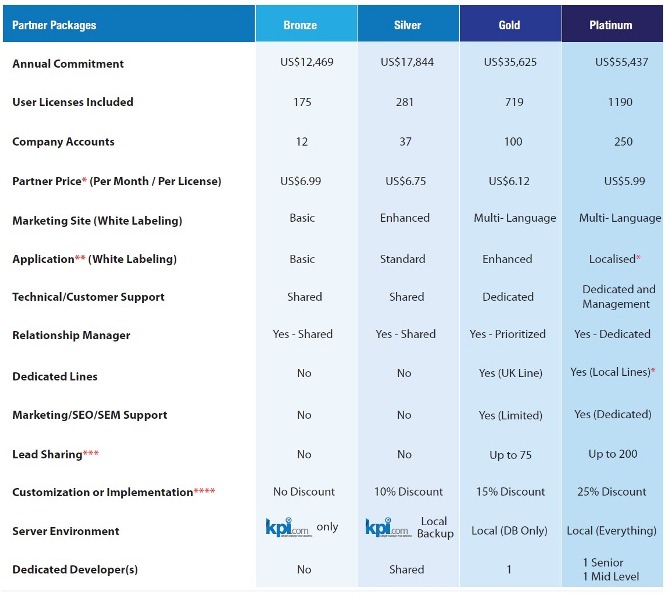 * End user prices must be disclosed to KPI – any pricing above $10 per user is shared on 50/50 basis with KPI.
For customers using with higher bandwith and/or storage (ie. Email and Data Storage, Massmailing. etc),
mutually agreed pay-as-you-go scheme will be applied.
** Lead time is required to set up relationship, priority is given to more premium partners
*** Subject to availability
**** Fees charged more than 100% on KPI side will be shared 50/50 with KPI and must be disclosed
Note: Customizations or extra service charges must be disclosed to kpi.com. Our minimum rate for partners is $25/hour
for new developments and $99 for activation services (such as mass mailing, custom pdf. etc.).